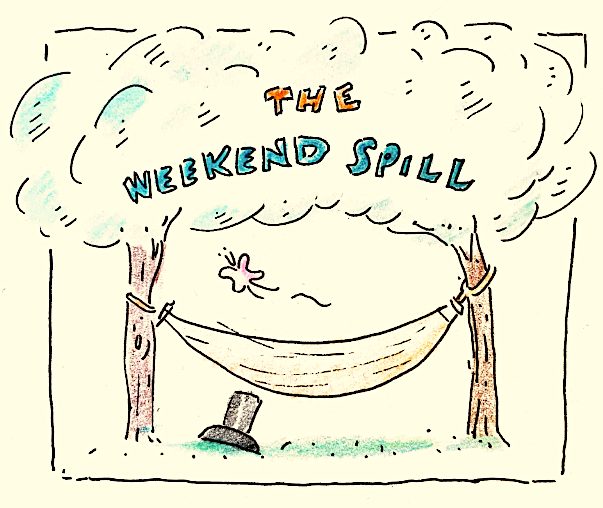 Video Interview Of Interest: Victor Varnado & Akeem Roberts on NBC
From NBC, this interview with Victor Varnado (left above) and Akeem Roberts on the just opened exhibit, Cartooning While Black, and The Anti-Racism Activity Book shown below:
Both Mr. Varnado and Mr. Roberts began contributing to The New Yorker in the very same issue: July 8, 2019.
_________________________________________________
All In Fun CBS Fact Check

I really enjoy the CBS Sunday Morning slide show of New Yorker cartoons. This morning's left me scratching my head though. The host tells us, "Time to turn a page and offer you a sampling of some recent humor from The New Yorker."
The first and second cartoons are relatively recent, but then there's this cartoon:
Not sure how CBS defines "recent"… this cartoon, by the great Warren Miller appeared in The New Yorker twenty-five years ago, in the issue of July 29, 1996.
____________________________________________________
Toonstack is a weekly get together of cartoonists (mostly from The New Yorker) publishing themed work. This week the theme is Recurring Themes. Check it out here .
________________________________________________
Andy Friedman's Baseball Cards
From wbgo.org, July 16, 2021, "New York[er] Cartoonist, Pop Culture Artist, Musician and Writer, Andy Friedman Presents Spotlight70 With Topps"
— Mr. Friedman (aka Larry Hat) speaks on a variety of things, including The New Yorker.
______________________________________
A Steig Illustrated Book: Listen, Little Man!
Listen, Little Man! was brought to my attention the other day by a visitor to this site (my thanks to him for that, and for some of the scans posted here).
Written by Wilhelm Reich, and illustrated by the great William Steig, it was originally published in 1948 by The Orgone Institute Press. It's had several lives afterward (with various covers). You can find more recent editions online for several dollars. The first edition is a bit pricey.
Way too much about this book's author to go into here, so I'll just link to Reich's Wikipedia page.
When I've thought about Steig over the years, there's always that split-second of remembering he kept a box in his home that he'd sit in. Here's Roger Angell mentioning it in his appreciation of Steig in The New Yorker issue of October 20, 2003: [Steig]"famously kept a Wilhelm Reichian Orgone Box at home, as well, which he visited daily in search of energy."
If my memory is correct the aforementioned Andy Friedman/Larry Hat was invited to sit in Steig's Orgone box when he visited Steig in Boston many moons ago (does anyone out there have a link to Mr. Friedman's Steig piece?…unable to find at the moment).
Here's William Steig's A-Z Spill entry:
William Steig (photo above) Born in Brooklyn, NY, Nov. 14, 1907, died in Boston, Mass., Oct. 3, 2003. In a New Yorker career that lasted well over half a century and a publishing history that contains more than a cart load of books, both children's and otherwise, it's impossible to sum up Steig's influence here on Ink Spill. He was among the giants of the New Yorker cartoon world, along with James Thurber, Saul Steinberg, Charles Addams, Helen Hokinson and Peter Arno. Lee Lorenz's World of William Steig (Artisan, 1998) is an excellent way to begin exploring Steig's life and work. NYer work: 1930 -2003.