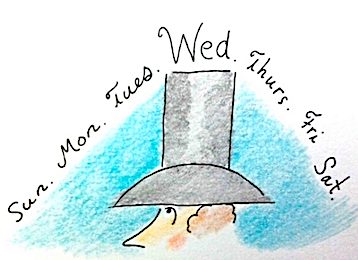 The Blank Piece Of Paper Awaits
One of the constants here every morning at Spill headquarters (besides the sun rising) is the site you see above that greets me at my desk (it's really not a desk — it's a table): a blank piece of paper, along with my Rapidograph. The small stack of paper rests on a 1964 edition of Hammond's New Era Atlas Of The World I've had since I was a kid, gifted to me by Mr. O'Brien, the Harley riding downstairs neighbor in my childhood home. Mr. O'Brien, who worked in a printing plant in Nutley, New Jersey, knocked on our door one day and handed me a stack of reference books he'd brought home from work. The Atlas was the thinnest book in the stack, and the best suited to anchor a stack of drawing paper.
If what goes down on the blank page this morning doesn't go anywhere, there's another blank page just below it. The paper is cheap — it's copy paper bought by the case. Ten reams in a case. 500 sheets in a ream.
_____________________________________________________
A package arrived in yesterday's mail from a good friend of the Spill, Warren Bernard (thank you, Warren!). Mr. Bernard is the wizard behind SPX, and beyond that, a collector extraordinaire.
The package included these two Peter Arno handkerchiefs.
Mr. Bernard tells me these are often found in red, but as frequently found in blue. Whether red or blue, I found them somehow relevant to what's been going on lately… politically that is.
The Spill's A-Z entry for Peter Arno:
Peter Arno
Born Curtis Arnoux Peters, Jr., January 8, 1904, New York City. Died February 22, 1968, Port Chester, NY. New Yorker work: 1925 -1968. Key collection: Ladies & Gentlemen (Simon & Schuster, 1951) The Foreword is by Arno. For far more on Arno please check out my biography of him, Peter Arno: The Mad Mad World of The New Yorker's Greatest Cartoonist (Regan Arts, 2016).
_____________________________________________________
Today's Daily Cartoonist & Cartoon
Ward Sutton, on who we aren't. Mr. Sutton began contributing to The New Yorker in October of 2007.