A Stevenson Show At The Bruce Museum
Here's James Stevenson's entry on the Spill's A-Z:
James Stevenson Born, NYC, 1929. Died, February 17, 2017, Cos Cob, Connecticut. New Yorker work: March 10, 1956 -. Stevenson interned as an office boy at The New Yorker in the mid 1940s when he began supplying ideas for other New Yorker artists. Nine years later he was hired a full-time ideaman, given an office at the magazine and instructed not to tell anyone what he did. He eventually began publishing his own cartoons and covers as well as a ground-breaking Talk of the Town pieces (ground breaking in that the pieces were illustrated). His contributions to the magazine number over 2000. Key collections: Sorry Lady — This Beach is Private! ( MacMillan, 1963), Let's Boogie ( Dodd, Mead, 1978). Stevenson was a children's book author, with roughly one hundred titles to his credit. He was a frequent contributor to the Op-Ed page of The New York Times, under the heading Lost and Found New York. Stevenson's The Life, Loves and Laughs of Frank Modell, published in 2013, is essential reading. Sally Williams' 2019 documentary film, Stevenson Lost & Found is essential viewing.
________________________________________________________________
Article Of Interest: Peter Steiner
From The Oconee Enterprise, November 24, 2020, "Famous cartoonist once worked for The Enterprise"
— this piece (partial, unless one subscribes) on Peter Steiner, who began contributing to The New Yorker in 1979. Visit his website here.
Here's Mr. Steiner's A-Z Spill entry:
Peter Steiner Born, Cincinnati, 1940. New Yorker work: 1979 – . Collection: "I Didn't Bite the Man, I Bit the Office" ( 1994). Mr. Steiner is responsible for one of the most famous (and most republished) New Yorker cartoons in modern times, "On the Internet, nobody knows you're a dog." (published July 5, 1993). An indication of its enduring popularity in our culture: a wikipedia page is devoted to it. He has also had novels published, as well as the limited edition "An Atheist in Heaven." Key cartoon collection: I Didn't Bite The Man. I Bit The Office. Washington Times, 1994.
____________________________________________________________
Today's Daily Cartoonist & Cartoon
Tim Hamilton, on who's behind the tool shed.
Mr. Hamilton began contributing to The New Yorker in February of 2016. Visit his website here.
_______________________________________________________________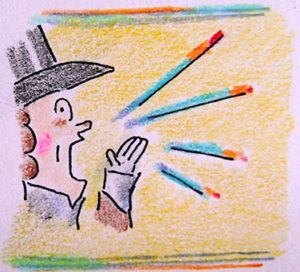 Today's Daily Shouts Cartoonist
Today's Daily Shouts: "America! Coup Or Coo? Pigeons Discuss" by Ali Fitzgerald.