The New Yorker's editor, David Remnick threw a Hello Goodbye party last night (Hello, Emma Allen, the magazine's new cartoon editor; Goodbye, Bob Mankoff, the former cartoon editor). It was, by far, the largest gathering of New Yorker cartoonists since  1997, when forty-one gathered for an Arnold Newman group photo (it appeared in the magazine's first cartoon issue, December 15, 1997). Here are a bunch of photos from the evening, courtesy of Liza Donnelly, the Spill's official photographer for the evening; additional  photos by  Sarah Booth, Marshall Hopkins, and Paul Karasik.
Photo above, l-r: Drew Dernavich, Sarah Booth, John Klossner, George Booth, Chad Darbyshire (back to camera), Matt Diffee, (New Yorker writer) Sarah Larson, Ken Krimstein, Bob Mankoff, Eric Lewis, Bob Eckstein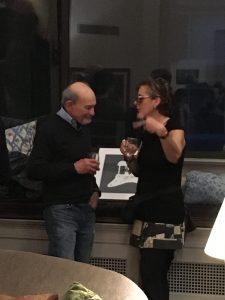 Edward Koren and Francoise Mouly (The New Yorker's Art Editor)
Emma Allen, The New Yorker's Cartoon Editor, and Stanley Ledbetter, the magazine's jack-of-all trades.
George Booth and Roz Chast.  That's Lars Kenseth in the background (photo courtesy of Sarah Booth)
Paul Karasik, Liana Finck and Gabrielle Bell (photo courtesy of Paul Karasik)
Jason Adam Katzenstein, unidentified, Roz Chast speaking with Sara Lautman (back to camera), and Chris Weyant far right.
Chris Weyant (partially obscured), Farley Katz, unidentified, David Sipress, New Yorker writer Matt Dellinger (in checked shirt), Andy Friedman, Danny Shanahan. The group in the back: Drew Panckeri, Mitra Farmand, Sara Lautman, Kendra Allenby
Sam Gross and Robert Leighton
Bob Mankoff and David Remnick
Chris Cater, with the New Yorker's assistant cartoon editor, Colin Stokes, and Avi Steinberg
George Booth and David Borchart
Joe Dator and Peter Kuper
Felipe Galindo and Carolita Johnson
John O'Brien and Bob Eckstein
Three former cartoon department assistants: Marshall Hopkins, Emily Votruba, and Andy Friedman (photo courtesy of Marshall Hopkins)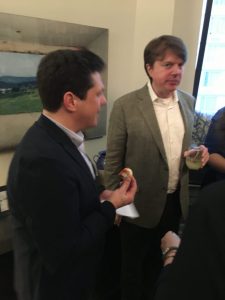 Chris Weyant and Paul Noth
Matt Dellinger with  Stanley Ledbetter, and Matt Diffee (and way back by the window: Chad Darbyshire to the left, and Amy Hwang to the right)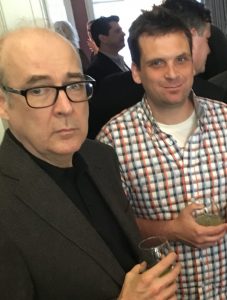 P.C. Vey and Trevor Hoey
Kim Warp, Pat Byrnes, and George Booth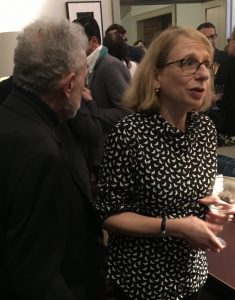 Sam Gross and Roz Chast
l-r: P.C. Vey, Liza Donnelly, Danny Shanahan, George Booth, and Michael Maslin (photo courtesy of Sarah Booth)
Chris Weyant and Liana Finck.
Sam Gross and Lars Kenseth
Eric Lewis, Andy Friedman, and Barbara Smaller
Pat Byrnes, Paul Karasik, and Peter Kuper
Marc Philippe Eskenazi and Ben Schwartz
Charlie Hankin, Amy Hwang, Jeremy Nguyen (mostly obscured), Kendra Allenby, and Avi Steinberg
Marshall Hopkins with Bob Mankoff's first assistant, Emily Votruba (Mr. Hopkins was also at one time Mr. Mankoff's assistant)
Far left: David Sipress speaks with Andy Friedman.  Foreground: Barbara Smaller, Emily Flake and P.C. Vey.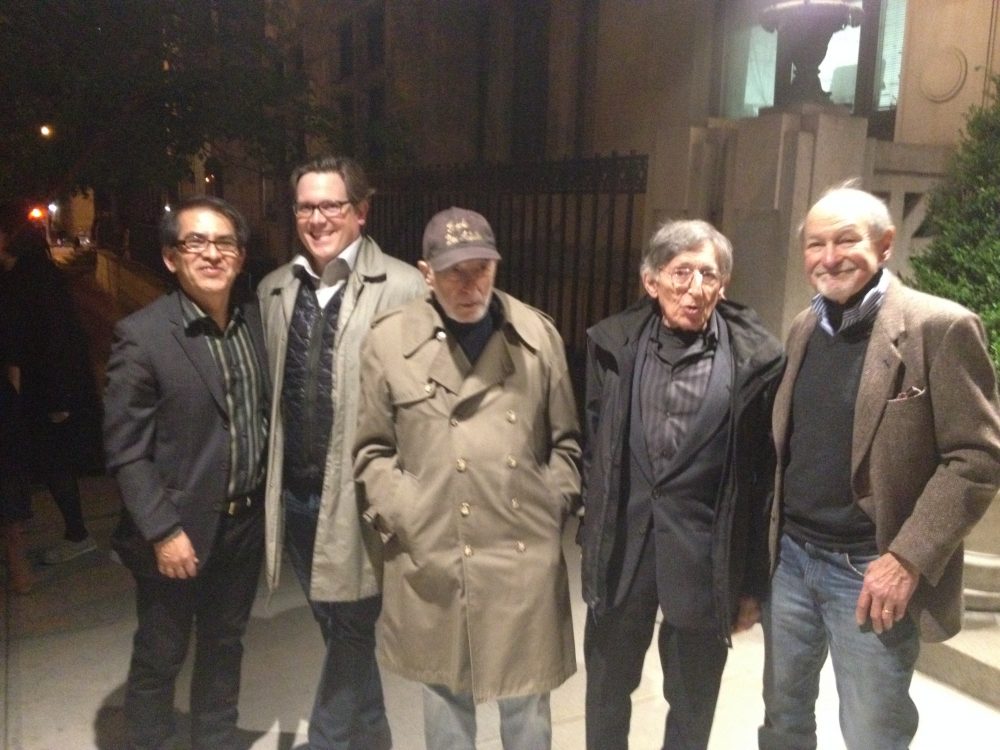 l-r: Felipe Galindo, Marshall Hopkins, Sam Gross, Mort Gerberg, and Ed Koren
Edward Koren, Michael Maslin, Liza Donnelly and a photobombing David Remnick. That's Charlie Hankin in the back, far right.
Here's an incomplete list of all the cartoonists who were there (if you were there and don't appear on this list, please let me know)
Kendra Allenby, George Booth, David Borchart, Pat Byrnes, Chris Cater, Roz Chast, Joe Dator, Chad Darbyshire, Drew Dernavich, Matt Diffee, Liza Donnelly, Bob Eckstein, Mitra Farmand, Liana Finck, Emily Flake, Andy Friedman (aka Larry Hat), Felipe Galindo(aka feggo), Mort Gerberg,  Sam Gross, Charlie Hankin, Marshall Hopkins, Amy Hwang, Edward Koren, Trevor Hoey, Carolita Johnson, Paul Karasik, Farley Katz, Jason Adam Katzenstein, Lars Kenseth,  John Klossner, Ken Krimstein, Peter Kuper, Amy Kurzweil, Sara Lautman, Robert Leighton, Eric Lewis, Bob Mankoff, Sam Marlow, Michael Maslin,  Paul Noth,  Jeremy Nguyen, John O'Brien, Drew Panckeri, Corey Pandolph, Ellis Rosen, Jennifer Saura, Ben Schwartz, Danny Shanahan, David Sipress,  Avi Steinberg, P.C. Vey, Kim Warp, Chris Weyant.