"All cartoonists are geniuses, but Arnold Roth is especially so. The first time I saw a Roth drawing, I was zapped…A superabundant creative spirit surges through a Roth drawing like electricity; the lines sizzle."
— From John Updike's introduction to Poor Arnold's Almanac (Fantagraphic Books, 1998).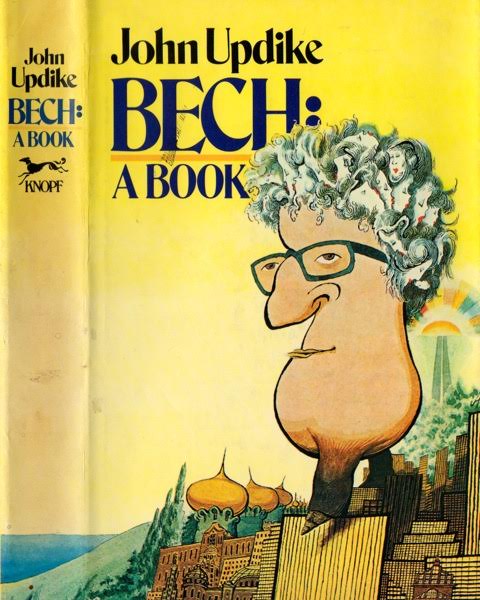 I've been running into Arnold Roth at cartoonist gatherings for about forty years, but it wasn't until the other day that I heard him mention the covers he created for John Updike's trio of Bech books, Bech: A Book (published in 1970), Bech Is Back (1982) and Bech at Bay (1998). We continued the subject a few days later over the telephone. Mr. Roth was in his Manhattan studio.
Michael Maslin: Did you ever meet Updike?
Arnold Roth: Yes, we were at a party on Madison Avenue before they put up all the high rises, and we were on the roof; there are still a few left here and there, with the chimneys. I was up there because I was smoking — which I still do. Caroline, my wife, appeared with him and he said he was very glad to meet me — I was astonished.
And then, one year we invited him to the National Cartoonists Society Christmas party. He sat at the president's table with Mel Lazarus [creator of the comic strips 'Momma' and 'Miss Peach']. But I did get to chat with him and I met his wife. But mostly it was done through letters and [laughs] very quick phone calls.
In addition to the three covers I did, I did various other drawings for him…two or three personal Christmas cards. I was also involved in those very small printings with hand set type…monographs. I did additional drawings for them. I did send him all the original drawings [of the Bech covers] and he was very nice and gracious and accepted them.
[Updike mentions these drawings by Mr. Roth in his Introduction to
The World of William Steig
, edited by Lee Lorenz. In a list of original art he owned, Mr. Updike wrote: "The originals of watercolors Arnold Roth painted for the jackets of my three books about Henry Bech, also three terrific ink sketches of Bech that Roth just jotted down, the way you and I would make a quick grocery list." Also in Mr. Updike's collection: a Thurber drawing, a Steig drawing, an Arthur Getz
New Yorker
cover and a caricature by David Levine. "All of these artworks," Updike wrote, "cheer me up."]
AR: One of the monographs reprinted a portion of the Beck book when he goes to Europe for the first time. I did at least four additional drawings and maybe more. He sent me a note and he said make sure you draw the four women. Which I did. He called me up afterward and he said, "I can't believe it. You drew all those women perfectly. They are exactly those women. I don't know how you do it." And I said, "Well, I read your descriptions." [laughs]
MM: Isn't that what was partly so attractive about his writing. Those descriptions really sucked you in.
AR: Absolutely. It was like watching a movie, every scene raced through that little camera in your brain.
AR: I tell this story sometimes, like when I give talks in art schools, because people ask about those covers. We lived in Princeton then. It was a Friday evening. I had my studio in my house, naturally. The phone rang and it was woman who said, "I'm an art director with Knopf. John Updike has instructed us that he wants you to do a cover for a book that will be coming out, Bech a Book." I was honored. We put it in action — I sent him a bunch of drawings — some of them ran on the cover flaps. About 11 years later, again — I got a call, and she said, "We have another Bech book." [Bech Is Back] So same thing, I did the jacket. Thirteen years after that, the phone rings, the same conversation. I raced down to the kitchen where Caroline was making dinner, and said, "Hey — I have a steady gig."
MM: I love the progression of the covers — the way he loses his hair.
AR: Well he does age in the stories. I thought they were wonderful stories.
MM: That first cover, Bech A Book, was pretty surreal.That figure looks like a thumb or something.
AR: I think there are woman's faces in the hair if I remember. I just sent him a collection of drawings. I don't like to do sketches. Because to me it becomes redundant and I feel why not make up a new one. In my hands it would invariably would stiffen up — it's already been seen and blah blah. On that first book jacket he ran some of the sketches — I just sent him 15 or 20 drawings of Bech, and I said, "Is this okay for what I'm reading? I think it's a guy that would look like this." He loved them all and asked if they could use the other ones, and I said sure.
The second cover, I had huge breasts pointed up on the bird, and he asked me if I could take them down a little. Which I did. He and I had invented breast reduction.
MM: On the last cover I looked for women, but I didn't see any.
AR: Because he's old. I think what I did — I wouldn't bet on this — on the last one, I might've sent 2 or 3 variations. Usually I didn't do the finished drawing. You know — if you like it, send it back and I'll paint it. But I'm pretty sure I just did finished drawings for that last one and that was the one he chose.
MM: Did you base your drawing of Bech on any one person, or combination of persons — or was he conjured straight out of your imagination?
AR: I would have had in mind any description of Bech's features mentioned in the text but I made up what you see in the drawings. All based on any of the descriptive bits and my "feeling" for how such a guy might look. How others react to him, his own considerations of his general appearance, etc.. No Laurence Olivier he. But not Stan Laurel, either.
_____________________________________________________________