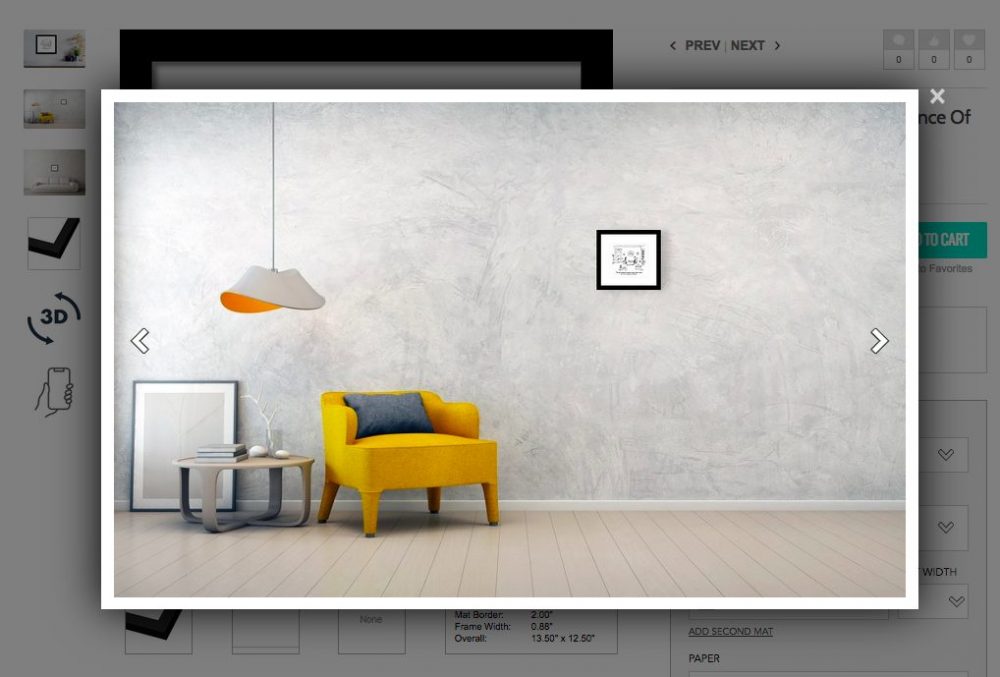 New Yorker cartoonists gain additional cartoon income from the sale of all kinds of stuff associated with our drawings, from shower curtains, to coffee mugs, umbrellas, towels, phone cases, hats, etc., etc.. One of those extra income producers are prints.
Looking up one of my own New Yorker drawings on the Fine Art America site (they're one of the vendors selling items for us) I came across the photo (shown above) of one of my drawings in a frame. I burst out laughing. Honest! This is one of three generic photos they pop every cartoonist's framed prints into.
Of the objects shown in the photo — a photo that exists specifically to sell the print — I'd say that the bright yellow armchair is really the star of the photograph, with that subterranean looking side table getting second billing. Or maybe it's the Handmaid's Tale bonnet-like hanging lamp. It might even be the empty frame leaning against the wall.
Bit players include the comfy looking rectangular pillow on the chair, and the little white branch in a glass on the side table, or the pretty rocks next to the glass. But wait! What's the little framed something-or-other off in its own lonesome orbit, detached from the fun stuff on the left?
To be fair, one of the three photos bearing our framed work is perfectly fine:
But there's also this, which might be as hysterically funny as the top photo. I assume Fine Art America also offers a telescope you can place in the room to view the cartoon, or, less expensive, one could climb up on those supremely clean white sofa pillows to get a good look at the piece.
Here's A Roz Chast drawing in the same "situation"…
I wonder if Ms. Chast's print comes with a giant magnifying glass for guests to use as they kneel on the back pillows. Here's her drawing, up close:
All of this, except for that one fine Fine Art America photo (the one with the camera), reminds me of the title of one of Mick Stevens's cartoon collections…