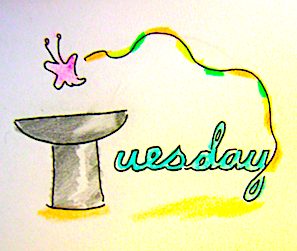 Rake Leaves Or Organize Back Issues Of The New Yorker?
This is the time of year for raking leaves. Instead, this year, I decided to finally gather in one place (the Spill cartoon library) all the back issues of The New Yorker that are here, there, and nearly everywhere around Spill headquarters. This need to organize came out of a fruitless hunt for an issue (with a beautiful cover by C.E.M.) I mentioned here the other day.
The organizing has just begun. In the foreground are 1940s issues (and out of range of the photo, some late 1930s); just beyond the front row are issues from the 1960s. Further back, on the bottom shelf of the wobbly bookcase are some of the Spill's bound copies. Part II of organizing will involve gathering the bound volumes and shelving them all in one place. Part III will be an ongoing project of filing New Yorker clippings and ephemera. Part IV will be organizing original art by colleagues, past and present.
But for now it's all about carrying stacks of ancient copies of The New Yorker to the library, setting them down on a long table and placing the issues in chronological order (of course!), in their proper year. Besides reducing disorganization, I'm getting a re-education of sorts, by seeing all these fantastic issues. The leaves can wait.
__________________________________________________
Today's Daily Shouts Cartoonist
From Joe Dator, who began contributing to The New Yorker in 2006. Visit his website here.
__________________________________________________
From Kim Warp, who began contributing to The New Yorker in 1999. Visit her website here.