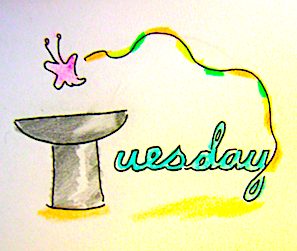 Podcast Of Interest: Liza Donnelly
From Drawing Inspiration, April 5, 2021, this hour plus podcast featuring Ms. Donnelly.
Here's Donnelly's Spill A-Z entry:
Liza Donnelly Born, Washington, D.C. New Yorker work: June 21, 1982 – Key book: Funny Ladies: The New Yorker's Greatest Women Cartoonists and Their Cartoons (Prometheus, 2005). Edited: Sex & Sensibility: Ten Women Examine the Lunacy of Modern Love…in 200 Cartoons ( Twelve, 2008). Co-authored with Michael Maslin: Husbands & Wives ( Ballantine 1995), Call Me When You Reach Nirvana ( Andrew & McMeel, 1995), Cartoon Marriage ( with Michael Maslin) (Random House, 2009), When Do They Serve the Wine?( Chronicle, 2010). Women On Men (Narrative Library, 2013). Donnelly also wrote and illustrated a popular series of dinosaur books for children ( Dinosaur Day, Dinosaur Beach, Dinosaur Halloween, etc.) all published by Scholastic. Website: lizadonnelly.com
__________________________________________________________________
Where Are Dorothy Parker's Thurber Drawings?
This little tale begins, as so many do on the Spill, with me staring at the walls here at home. I was looking at an original Gluyas Williams illustration my wife and I won at a local auction decades ago. It's the drawing you see on the cover of Robert Benchley's 1942 collection, Inside Benchley. The original is signed to "J. Bryan"; two letters from Gluyas Williams to Bryan came with the piece, one of which includes this:
"I didn't have many of the Benchley drawings left. But I picked one out which I am glad to give you in memory of one we both loved. As who didn't?"
Until the other day it hadn't occurred to me to look up J. Bryan. I typed "J. Bryan" + Benchley into Google's search box and in less than a second I knew who J. Bryan was: Joseph Bryan III. I'll drop in a small concise bio here found on that link:
Joseph Bryan was a journalist and writer who was born into the influential Bryan family of newspaper publishers and industrialists. He edited and wrote for many national publications, including the family-owned Richmond News Leader and Chicago Daily Journal, as well as Parade, Time, Fortune, Town and Country, Reader's Digest, the Saturday Evening Post, and the New Yorker. He wrote numerous articles on travel, humor, and celebrities, some of which evolved into books or reappeared as portions of his books.
Mr. Bryan's life was too interesting to drop after reading that online piece (as well as his New York Times obit) so I got hold of his book, Merry Gentlemen (And One Lady). It turns out that Mr. Bryan did indeed know Benchley (as well as Frank Sullivan, Corey Ford, Dorothy Parker, and on and on). The first piece I read was the Dorothy Parker chapter, titled "Bittersweet." The piece concludes with this (edited) final paragraph:
"She left no family, nor any estate except her literary rights (which went to the NAACP), nor any personal possessions except a few books and some clothing…almost everything given her, she handed over to someone else — including six original drawings by James Thurber, which she gave to me…"
Well that got my attention.
It's no secret that there was a very strong Parker/Thurber connection. She provided the introduction to Thurber's first collection of drawings, The Seal In The Bedroom And Other Predicaments in which she famously described Thurber's people as "having the outer semblance of unbaked cookies." According to Parker biographer, Marion Meade, "she [Parker] admired his drawings, which she liked to present as Christmas gifts to her friends." Parker herself wrote about Thurber's dogs in her Seal In The Bedroom intro:
"Those tender puppies, those fainthearted hounds…one goes all weak with sentiment. No man could have drawn, much less thought of, those creatures unless he felt really right about animals. One gathers that Mr. Thurber does…"
And now, via my just-skimming-the-surface-dive into Mr. Bryan's biography, there's a bit of a mystery: where are Dorothy Parker's Thurber drawings, and which drawings were they? I don't know the answer to either question. I'm hoping a cartoon sleuth, a Thurber expert, a Dorothy Parker expert, or a Bryan family member might.
(to save anyone some trouble, I've already looked in both books of Thurber's letters, as well as the aforementioned Parker biography by Ms. Meade)