A long-held desire for Ink Spill has been the posting of contributions from my New Yorker colleagues. I'm pleased and grateful that Bob Eckstein — jack-of-all-cartoon-trades — has, in an Ink Spill first, contributed the following piece…
Love In The New Normal
A couple of years ago I was approached by a publisher to produce a humor book on divorce—the head of the company had a friend going through one. I suggested a book with equal focus on marriage and dating so it be a more enjoyable and created a cartoon collection book with all those themes. I reached out to thirty of the best and wisest cartoonists to share their thoughts on the subject. I contend that tackling this ticklish subject is more helpful through cartoons…and certainly
funnier. As the wife's lover hiding in this Sam Gross cartoon tells the husband: "I can explain everything."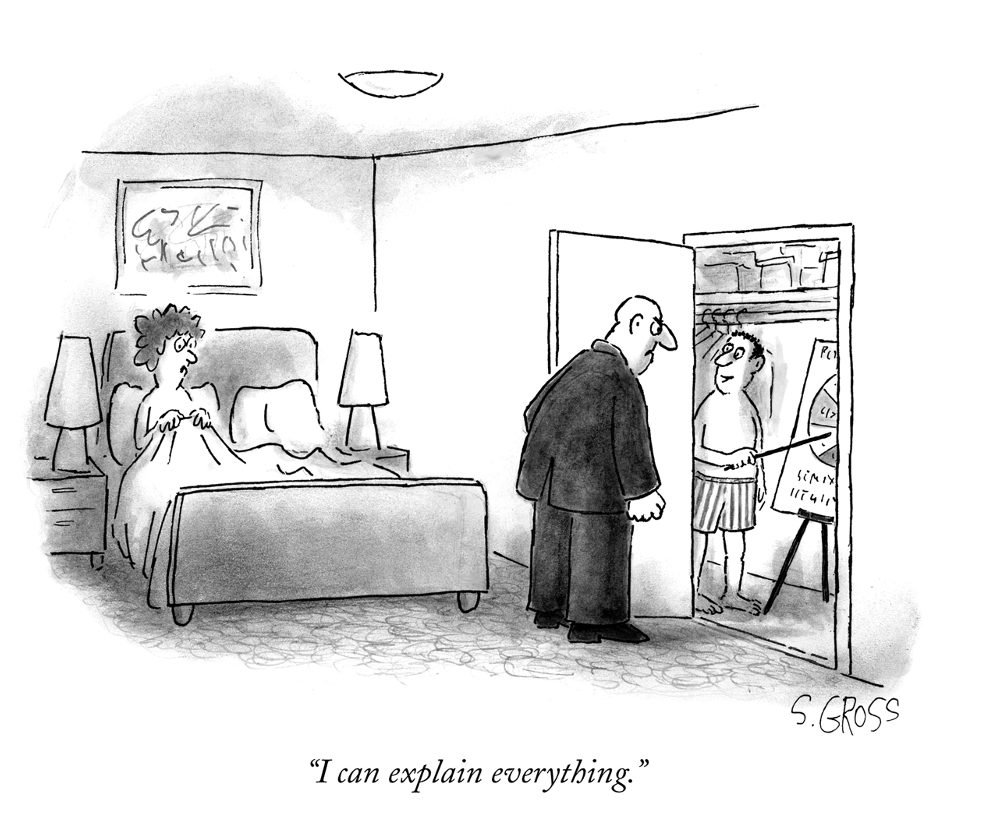 Studies show humor is an important component to any successful relationship and to finding love. Humor is a primary sexual attraction for partners seeking a mate, perhaps because one's comic chops are a demonstration of intelligence.
I have found, personally, that to have a solid five or ten minutes of good material is crucial in love and your love isn't really tested until after the object of your desire has heard all your stories. For most of us that's about six weeks, about the average time any dating relationship lasts. I suspect the real reason so many of us get divorced—we've simply run out of things to say.
Love is not easy but more like cartoonist Warren Miller's Sisyphus pushing a humongous "Be My Valentine" Sweethearts candy up a hill.
What love will be like post-pandemic is hard to guess but the cartoonists would insist the best advice is to just keep your sense of humor. I asked contributors to share their love stories here and will start with my own to get that ball rolling, up the hill.
Like most everyone, I too, had a nemesis in college. Like nearly nobody else I married mine after we I ran into each other a dozen years later at the funeral of a mutual friend. We got along better this time around and eventually eloped to Iceland. I've now been sleeping with my enemy for over twenty years. If the story wasn't weird enough, our initials spell the name of our deceased friend who inadvertently brought us back together again.
I asked New Yorker cartoonist, Teresa Burns Parkhurst, if she had a love story she could share for this story. "Get out a tissue, here is mine: Back in 1988 I started going out with this
guy, when my birthday came around he bought me a small kitchen appliance. Then I married him, and stayed married."
Cartoonist Kim Warp had this story which sounds like a cartoon, "My siblings and I had a trophy made congratulating my parents on making it to their 50th wedding anniversary—they wanted individual trophies."
The cartoonist, Mort Gerberg, shared, "After a fire left me apartment-less during freezing February, a photographer friend 'hired' me to assist him on assignment in St. Thomas. At the hotel, still in shock, I didn't respond to a cute brunette's invitations to dance/dine. Coincidentally, we were seat mates on the return flight and she said she had an empty apartment. We married the following February—51 years ago."
Finally I would like to leave the last word to cartoonist, Robert Leighton and his grandma, "My grandmother, who died a few years ago at 105, was always very proud that nobody in our family ever divorced. Her last words after such a long life were, 'No divorces!'"
Bob Eckstein is a New York Times bestselling author; he had two new books in 2021: All is Fair in Love & War and The Elements of Stress.
________________________________________________________________
All of the drawings above are included in Bob Eckstein's All's Fair In Love & War (Princeton Architectural Press, 2021) and are reproduced here with permission.
Sam Gross's official Facebook page.
Some of Warren Miller's New Yorker work can be found here.