In 1929 E.B. White spotted a drawing "of a seal on a rock looking at two far-off specks and saying, 'Hm, explorers'" in his office-mate's trash can (his office-mate was James Thurber). White rescued the drawing, inked it in, and sent it off to The New Yorker's art meeting.  Rea Irvin, the magazine's art supervisor, rejected the drawing, "drew a realistic seal's head on the same piece of paper and sent it back to White." Irvin noted on the rejected drawing, "This is the way a seal's whiskers go." White resubmitted the rejected drawing and added, "This is the way a Thurber seal's whiskers go."*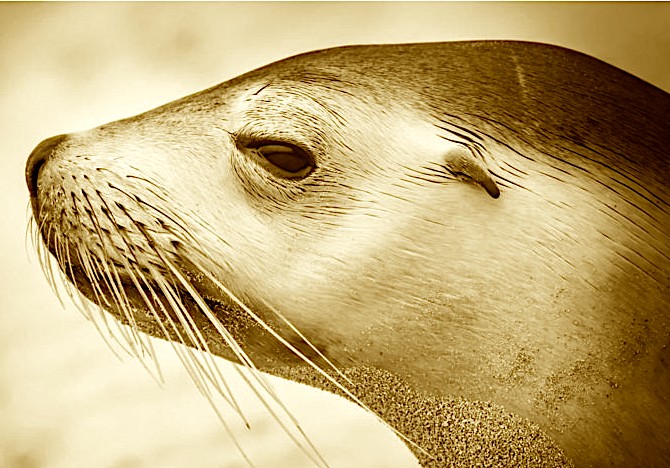 The story  would've ended there (there was no response from Irvin to White's resubmitted Thurber drawing) if not for the success of White & Thurber's 1929 book, Is Sex Necessary, which included numerous Thurber drawings.  According to Thurber** the book's success prompted the magazine's founder and first editor, Harold Ross, to want to see the seal on the rock  drawing again. But Thurber had tossed it.  Asked to resubmit it — Thurber said Ross kept "pestering" him about it — Thurber began the drawing over (but not until the end of 1931). When he attempted a redraw, the rock became a headboard; he added a couple of folks in bed, with the casual seal overhead. The annoyed looking woman in bed says to the man,  "All right, have it your way — you heard a seal bark." The drawing, published by The New Yorker in January 30, 1932 became one of Thurber's signature drawings, if not his most famous.
As you look at Thurber's seal above and a photo of a "real" seal, it is slightly amusing, I think, that Thurber's seal whiskers weren't that far off the mark — in fact, he nearly got them half right. The downward diagonal whiskers in his drawing are really close to the real thing. Taking cartoonist license into consideration, I'd say Thurber's seal's whiskers are perfect.
*Burton Bernstein, Thurber: A Biography (Dodd, Mead, 1975). p.184
**James Thurber, The Years With Ross (Hamish Hamilton, 1959). p.50
_______________________________________________________________________
Today's Daily Cartoonist & Cartoon
Peter Kuper on delivering the mail. Mr. Kuper began contributing to The New Yorker in 2011.
…More Kuper news: since this past January, Mr. Kuper  has contributed a weekly spot doing a wordless four-panel strip to accompany Charlie Hebdo's column on environmental issues….
…and Mr. Kuper's TRUUMP cartoon (shown here)  has been nominated for a National Cartoonists Society feature illustration award (winners will be announced Sept 12th).
See all the nominees here at the NCS site.
________________________________________________________________________
Interview Of Interest: Liza Donnelly
Here's Liza Donnelly in a radio interview conducted yesterday with Joe Donahue on WAMC's Roundtable.
Ms. Donnelly talks about The New Yorker (where she's been published since 1982) as well as her solo exhibit, "Comic Relief" currently up at The Norman Rockwell Museum.
__________________________________________________________________
Eckstein & Company at The Milford Readers & Writers Festival 
Bob Eckstein, a New Yorker contributor since 2007, will host a virtual panel "Humor In Trying Times" September 12th.
Mr. Eckstein is the editor of the forthcoming cartoon anthology, All Is Fair In Love & War: The Ultimate Cartoon Book  (Princeton Architectural Press).
Mr. Eckstein will be joined by two of the books contributors.