After breezing through a book or three of Thurber's drawings, it's sometimes fun to settle down with either of the two books of his letters. The first published, Selected Letters Of James Thurber (Atlantic, Little & Brown, 1981) was edited by his second wife, Helen Thurber, and Thurber's friend (and Atlantic editor), Edward Weeks. Although Selected Letters was published half a dozen years after Burton Bernstein's Thurber: A Biography, I've always thought of the two as a set. You can't have one without the other (well, you can, but why wouldn't you want more Thurber?). Selected Letters (I wonder if there was ever a book of unselected letters) works beautifully as a concise introduction to Thurber's world. Represented are the main players in his life; sprinkled through the book are Thurber drawings (some captioned, some not). There are short letters, and some not so short — in other words, a little something for every attention span. In one brief letter dated June 30, 1959, to Miss Frances Glennon, I was pleased to see that his list of favorite drawings from 1943's Men, Women, and Dogs led off with "What have you done with Dr. Millmoss?" — a drawing mentioned here on the Spill numerous times over the years.
Now if you really want to dig into Thurber's life via his correspondence, you'll be thrilled with Harrison Kinney & Rosemary Thurber's The Thurber Letters: The Wit, Wisdom, And Surprising Life of James Thurber (Simon & Schuster, 2002). Mr. Kinney's massive Thurber biography, Thurber His Life & Times (Henry Holt, 1995) is the perfect companion to Burton Bernstein's bio (Mr. Kinney was a reporter for The New Yorker  from 1949 through 1954; Mr. Bernstein contributed to The New Yorker for 35 years, beginning in 1957). Kinney's Thurber letters book is the perfect companion to the earlier collection of Thurber letters (Mr. Thurber's daughter, Rosemary is co-credited in this newer larger book). If it was a box of cereal it would have a promotional sticker on it that reads, Previously Unpublished Letters & Drawings!  Like all the other books mentioned this morning, it's a terrific way to time travel to the world of Harold Ross, E.B. and Katharine White, Wolcott Gibbs, etc., etc., etc..
_____________________________________________________________
Today's Daily Cartoonist
Brooke Bourgeois, who began contributing to The New Yorker in 2019, on binge-watching.
 Today's Daily Shouts Cartoonist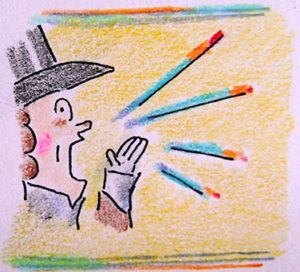 From Suerynn Lee, who began contributing to The New Yorker in 2019: "Some Conversational Models"