Thurber Thursday: Personal History — The Thurber Article That Caused Me To Fly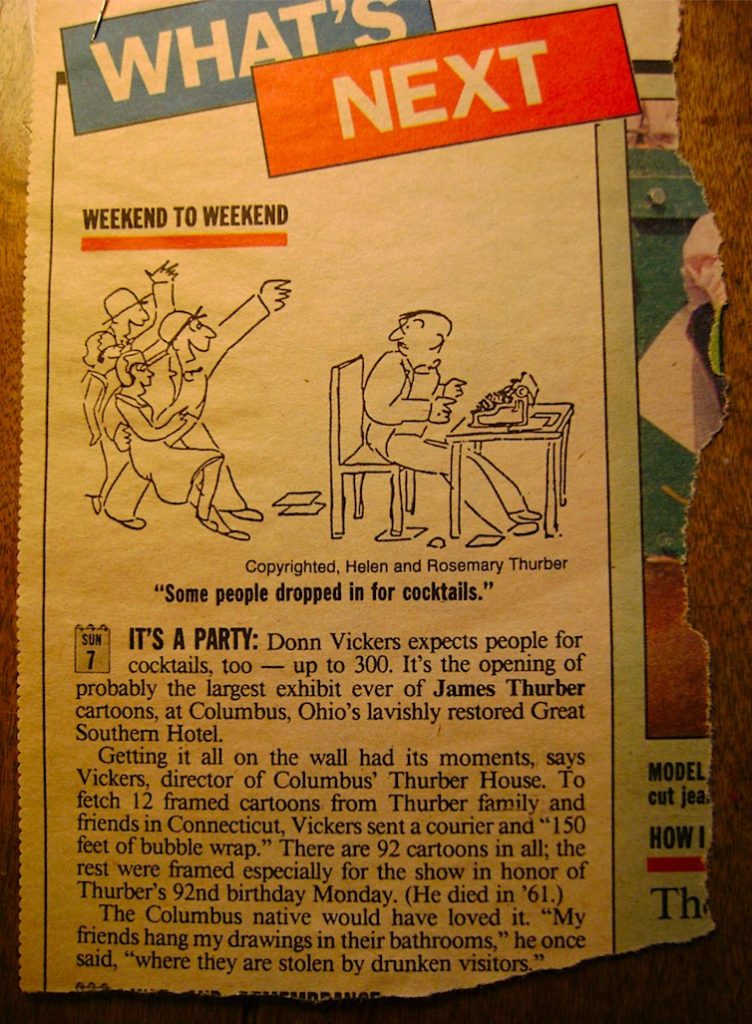 When I ran across the above small article in early 1987, I was in my mid 30s, and had yet to step foot in an airplane. I drove anywhere I needed to go outside of the New York/Metropolitan area.  At the time the furthest south I'd traveled was Washington, D.C., the furthest north, Montreal; the furthest east: Eastport, Maine; the furthest west, Altoona, Pennsylvania (and that was by accident — I got lost taking a friend to State College, Pa).
But the idea of traveling to Ohio by car seemed, well, exhausting, so I agreed to fly to Columbus with fellow New Yorker cartoonist & Thurber fanatic (and soon to be wife), Liza Donnelly.  We booked a room at the Great Southern Hotel, where Thurber's 92 celebratory drawings were hung, and flew out to Columbus in late February. Did I enjoy the flight? No. I can't even go on a see-saw without experiencing "issues," so being in a plane wasn't fun. But what we found in Columbus was worth the anxiety of being up in the air.
The morning we arrived in Columbus we immediately headed over to The Thurber House. It wasn't open yet, so Liza and I took pictures of each other on the front steps. We were standing on the porch of the house where the bed fell and the ghost got in… unbelievable.
We later toured the house, using this swell guide:
What can I say?  Being in the house was, for Thurber obsessives, probably comparable (if, say, you're a Beatlemaniac) to traveling to Abbey Road and walking on the famous crosswalk.
Of our short stay at the Great Southern Hotel (shown left), I don't remember our room, or even the hotel itself (other than it was enormous).
What I do remember was walking the hallways lined with original Thurber drawings. I can't remember focusing on any one drawing while there  — the submersion was overwhelming. Luckily, the organizers provided a catalog of all the work shown.
So, yes, the flight was worth it (I would've preferred driving back home though). Other than flying home to New York from Columbus, the next time I flew was five years later… back to Columbus for this event at the Thurber House: