Imagine you're a New Yorker reader back in 1931, and you've settled in with your issue of January 31. Let's also say you're one of the readers who looks at the cartoons first, so you're flipping through more than taking your time browsing. By the time you're about to turn to page 16, you've seen four cartoons (or "drawings" as the magazine often calls them). All four are heavily rendered, beautifully drawn. For instance, look at this one, by Kemp Starrett.
And this terrific drawing by Harold Denison: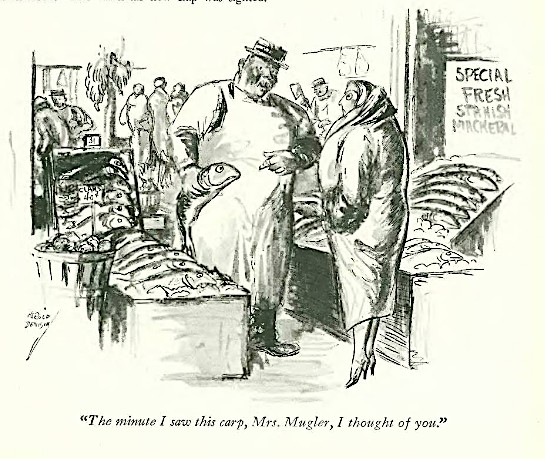 Followed by this full page by W.C. Galbraith: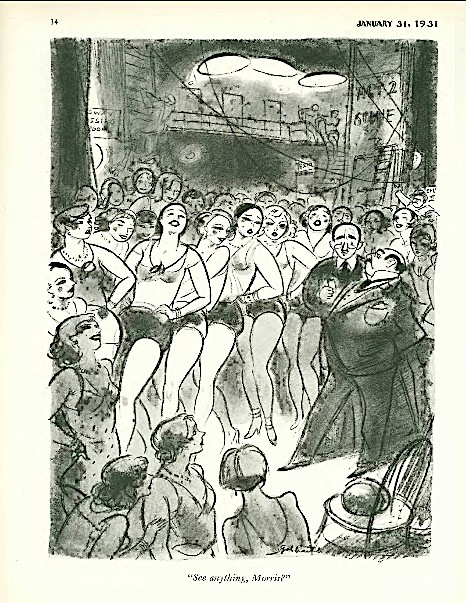 The very next drawing is by a newbie to the artists' stable: James Thurber. The New Yorker readership is already  familiar with him as a contributing writer, and, it's even likely they're already familiar with his drawings.  Is Sex Necessary? a book co-authored with E.B. White, and loaded with Thurber's drawings (at White's insistence) was published in 1929 (See Thurber talk about that moment, and more here).
Still, this somewhat awkward cartoon, barely grasping human anatomy, now joins The New Yorker's gallery of art. I find it amusing that his drawing appears opposite Alan Dunn's cartoon. Mr. Dunn's style was among the most graphically dense in the magazine's history.
There are only two eyes total among the five people in the Thurber drawing (drawn as tiny circles), and three distinct fingers (stretching the definition of a digit, possibly two more).  Three of the people lack any facial features and their arms seem as loops, with no break for wrists or hands. The fellow speaking looks like an early stage tadpole. The fellow opening his Speakeasy door ("Tony" — I'm assuming after the real Tony) is drawn with real flair. He has a nice sway to him — his body is beautifully balanced. Tony is supposed to take a good look at the three featureless people — and is asked to remember them.  So, okay, is it funny? (as Harold Ross would ask in Art Meetings).  Fast forward to 2020, and for me at least, the question is irrelevant: it's James Thurber's first New Yorker drawing — a landmark moment in the magazine, and for the magazine…and, as we know, there is a large basket of Thurber diamonds still to come.