Of all the Thurber books published in his lifetime it's the cover of Let your Mind Alone! that I've always liked best. Notice I said the cover, and not the book (I like the book too, but it's not my favorite).
The cover relies on a single Thurber drawing, "Motorman Concealing His Sex Life from a Woman Psychologist" (it appears, run vertically, in Chapter 9).
I've never thought too much about why the cover is so appealing (and I won't now) — it's just one of those things. A quick thought is that the cover drawing seems an odd choice considering the other choices within. Perhaps it's the oddity that's appealing.
According to Bowden's James Thurber: A Bibliography , the first edition (published September of '37) was  5000 copies. By year's end there were six editions.
A few things about my copy: someone glued the dust jacket flap — just the flap — on the inside front cover of my copy. And: next to the fellow on the right, there's a barely visible white line impression of the fellow walking off under the glued down flap.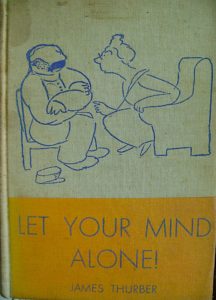 Funnily enough, even though the dust jacket cover is my fave, I do not have it (other than that glued inside flap mentioned above). My copy, a first edition, bought for $2.50 ('as is") decades ago, was coverless.
There are a number of later editions, with other covers, but for me, the first is the best (the Armed Services Edition is pretty great too).
_____________________________________________________________________
Today's Daily Cartoonist & Cartoon
Maddie Dai on a deep-sixed Christopher Columbus.
Ms. Dai began contributing to The New Yorker in 2017.  Visit her website here.
_______________________________________________________________________
From The Elective, June 11, 2020, "School Days Influences: Inside The World Of New Yorker Cartoonists"
Eight* New Yorker cartoonists and one** cover artist on their schooling.
*Lila Ash, Liza Donnelly, Amy Hwang, Navied Mahdavian, Sam Marlow, Liz Montague, Jeremy Nguyen, Ellis Rosen, **Robert Sikoryak.
Illustration: Michael Witte's cover for The New Yorker Book Of Teacher Cartoons