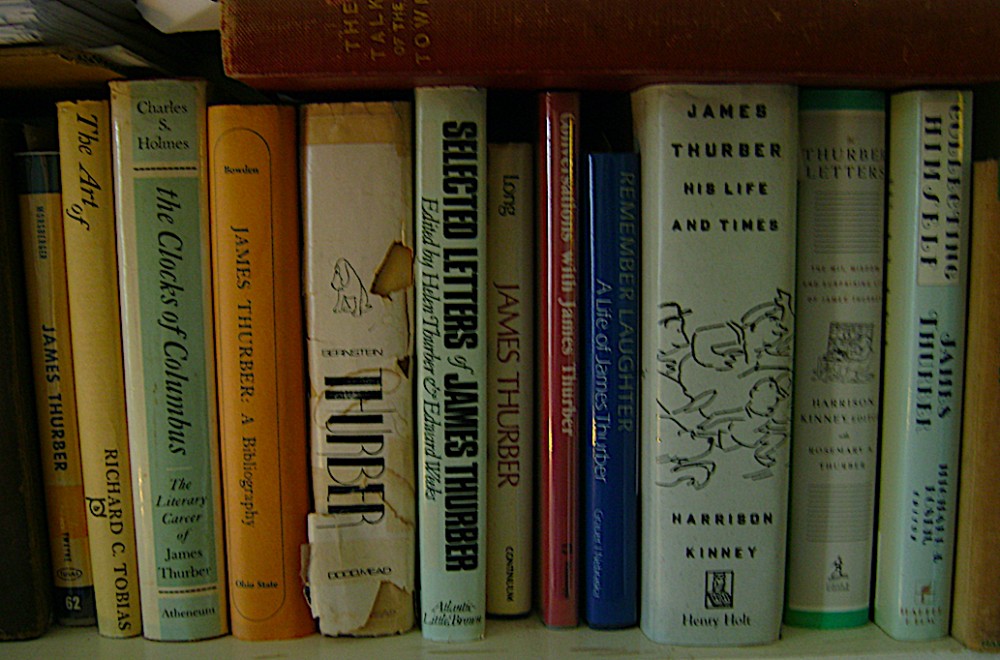 Thurber Thursday
Above are all the (specifically) Thurber reference books in the Spill cartoon library. Thurber of course makes appearances in numerous New Yorker-centric books, such as Ross And The New Yorker; Genius In Disguise; Ross, The New Yorker & Me, etc., etc.), but these are the core group examining Thurber's life.
Of the above, I use three on a regular basis: Bowden's James Thurber: A Bibliography, Burton Bernstein's Thurber: A Biography, and Harrison Kinney's James Thurber: His Life and Times. Of the remaining titles, Helen Thurber & Edward Weeks' Selected Letter of James Thurber has long been a favorite. The more recent volume of letters by Harrison Kinney & Rosemary Thurber is almost (for me) like Volume 2 to Mr. Kinney's massive Thurber biography. It's been incredibly helpful filling in some admittedly weedsy questions I come up with.
The book on the far left is part of Twayne's United States Author Series (Thurber's is #62). While this is a good bare-bones read, I've found other titles in the series helpful for biographical info needed on others in The New Yorkersphere. Peter DeVries volume is an example ((#448). Another is Philip Wylie's (#285) — it came in handy during my Peter Arno research.
All of these books are within an arm's reach from my work table on the chance there's a Thurber emergency.
________________________________________________________
News from Tom Toro of his first kids book, out May 12th, from Little, Brown.
This from the publisher:
Two children bring home a pet porcupine, but they can only keep her if she's house-trained! After a whirlwind of increasingly zany approaches, the kids learn that sometimes the best way to solve a problem is to ask nicely. With Tom's wit and dynamic artwork, this delightful story about learning to pee will bring joy and heart to young readers.
Here's Mr. Toro's entry on the Spill's A-Z:
Tom Toro (self portrait  & bio courtesy of Mr. Toro) Born in Richmond, California on May 22, 1982. Graduated valedictorian from El Cerrito High School and matriculated to Yale. Edited cartoons for The Yale Herald and won a national championship in lightweight rowing in 2002, elected captain of the rowing team in 2004. Earned a degree cum laude in art history specializing in cinema studies. Attended NYU Film School for two years, shooting shorts and features that went to Sundance, Tribeca and Cannes. Began submitting cartoons to The New Yorker in 2007, first got published in 2010 – after the 610th try. Also a writer of literary fiction, short stories, screenplays and children's picture books of the "unpublished" variety [Ed.: until now!]. New Yorker work: May 24, 2010 – . Visit his website here.

__________________________________________________________
Today's Daily Cartoonist & Cartoon
Paul Noth on time travel in the time of Trump.
Mr. Noth began contributing to The New Yorker in 2004. Visit his website here.
___________________________________________________________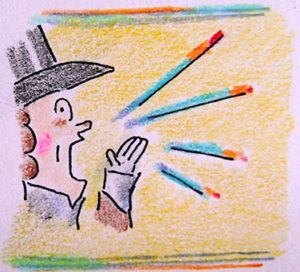 Today's Daily Shouts Cartoonist…
From Olivia de Recat, "My New Friends!"
— Ms. de Recat has been contributing her cartoons to The New Yorker since February of 2018. Visit her website here.
…and Yesterday's 
From Sara Lautman, "P.S.A. Posters For Living Indoors"
— Ms. Lautman has been contributing to The New Yorker since March of 2016. Visit her website here.