Thurber Thursday: A Thurber House Reading
On June 10th, Michael Rosen, who has a long association with  The Thurber House and has edited many a modern Thurber book (including the one pictured here and the fabulous A Mile And A Half Of Lines: The Art of James Thurber) will be appearing, online, in an event described this way on the Thurber House site:
Michael and special guest readers will read from Collected Fables, an anthology of James Thurber's beloved fables that includes a foreword by Keith Olbermann and ten previously uncollected or unpublished stories. Featuring Thurber's original illustrations, Collected Fables is a must-have for Thurber lovers, scholars, and readers of all ages.
____________________________________________________________________
Fave Photo Of The Day: More Zoomin' Cartoonists
From Wednesday night's Zoomed Society of Illustrators event, "The Funny Ladies At The New Yorker": top left, then clockwise: Roz Chast, Liza Donnelly, and Liana Finck. The hour long online conversation can be seen here on Youtube.
Roz Chast began contributing to The New Yorker in 1978, Liza Donnelly in 1982; Liana Finck in 2013
________________________________________________________________________
Today's Daily Shouts Cartoonist…Today's Daily Cartoonist & Yesterday's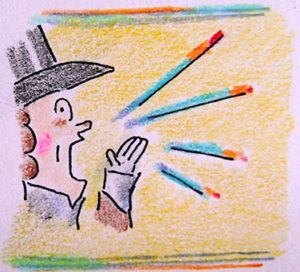 Today's Daily Shouts Cartoonist
From Teresa Burns Parkhurst: "The New Army Men"
Ms. Parkhurst began contributing to The New Yorker in October of 2017. See more of her New Yorker work here.
Today's Daily Cartoonist & Cartoon: Ben Schwartz on the future, or not. Dr. Schwartz began contributing in 2011.
…Yesterday's Daily Cartoonist was Drew Dernavich, who began contributing to the magazine in 2002.
_______________________________________________________________
Purchase Peter Kuper's Little Donald's Sneeze Print For A Worthy Cause
You'll probably recall seeing Peter Kuper's Little Donald's Sneeze in the April 27th issue of The  New Yorker. Now there's a print available.  All profits go to a worthy cause.
Here's the press release:
Peter Kuper has joined forces with Sunday Press to do a fund raiser. You get a beautifully printed 11×17″ poster of his "Little Donald's Sneeze" comic that appeared in The New Yorker. 100% of ALL profits will be donated to FEEDING AMERICA. Just click the link below to order and please pass along to anyone else you think might be interested. Of course you can also skip the poster and just give directly to them through the link above.
Poster link: https://sundaypressbooks.com/LittleDonald.php
Here's Peter Kuper's entry on The Spill's A-Z:
Peter Kuper  (above) Born, 1958, Summit, New Jersey. New Yorker work: June 6, 2011 – . Website: peterkuper.com  For more biographical information, visit his Wikipedia page.