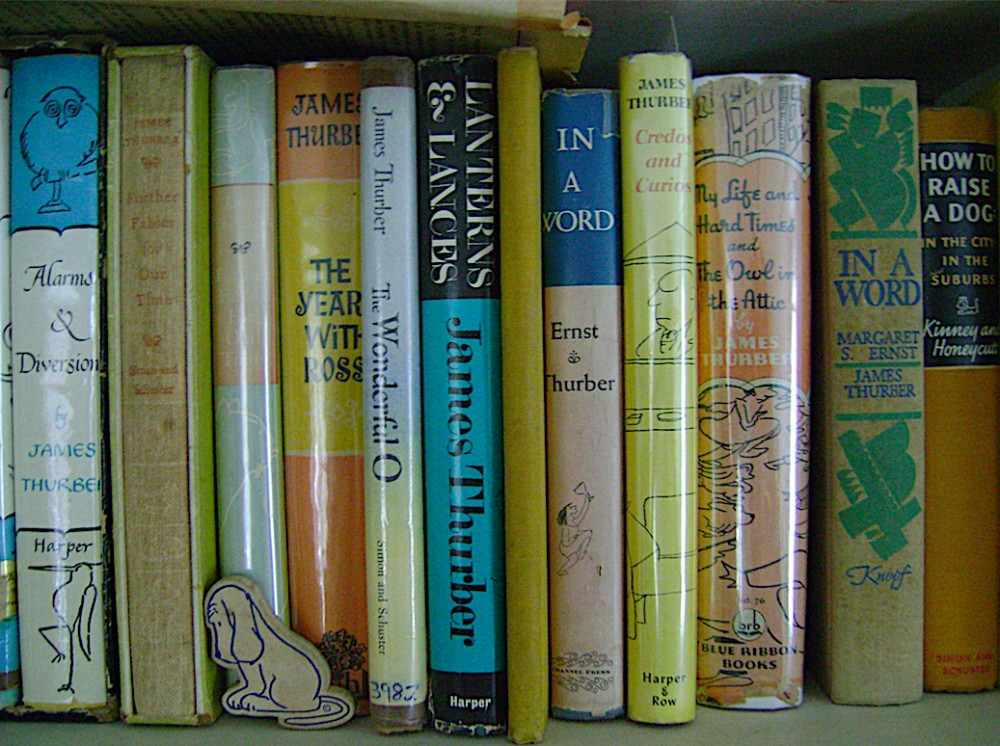 So Much To See
I recently came across this Facebook page of Thurber photos while Thurber surfing on the www. I've never seen so many hitherto unseen (by me) Thurber covers before (there's other stuff here too, but book jackets are in the majority). A real treat.
Mixed in among the more familiar book jackets are plenty of foreign covers. Although I've spent some time over the years looking for variations on Thurber cover art, this is the first time I've seen so many in one place.
A for instance of something that immediately caught my eye:
the below grouping showing the two familiar Seal In The Bedrooms on the top. The little German book below dated 1956 is completely new to me.
Here's a page of Last Flower covers from around the globe.
So you get the idea…fascinating stuff for those who think they've seen (most of) it all. Now off to find a copy of that 1948 Swedish edition of The Last Flower!
–James Thurber's entry on the Spill's A-Z:
James Thurber Born, Columbus, Ohio, December 8, 1894. Died 1961, New York City. New Yorker work: 1927 -1961, with several pieces run posthumously. According to the New Yorker's legendary editor, William Shawn, "In the early days, a small company of writers, artists, and editors — E.B. White, James Thurber, Peter Arno, and Katharine White among them — did more to make the magazine what it is than can be measured."
Key cartoon collection: The Seal in the Bedroom and Other Predicaments (Harper & Bros., 1932). Key anthology (writings & drawings): The Thurber Carnival (Harper & Row, 1945). There have been a number of Thurber biographies. Burton Bernstein's Thurber (Dodd, Mead, 1975) and Harrison Kinney's James Thurber: His Life and Times (Henry Holt & Co., 1995) are essential. A short bio appears on the Thurber House website: http://www.thurberhouse.org/about-james-thurber/
_________________________________________________
Opening Tonight!
…and from the Interrobang, July 15, 2021, "The Childishness Of Racism comes alive in 'Cartooning While Black'" — this article on the Anti-racism activity book and the exhibit opening today (all the info in the poster above) featuring work by Victor Varnado, Akeem Roberts, Yasin Osman, and Jerald Lewis.
______________________________________________
Lila Ash, on sand & books.