With the New Yorker's 93rd Anniversary issue soon on the horizon I thought it would be fun to take a look at first Tilley covers by Harold Ross, William Shawn, Robert Gottlieb, Tina Brown and David Remnick. I've thrown in tidbits of Tilley trivia — mostly non-Tilley trivia — along the way.
February 21, 1925: Harold Ross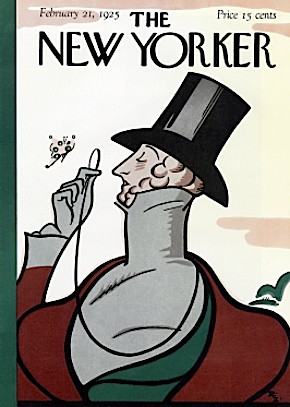 A no-brainer. It was the very first issue of the magazine. We could've ended up with curtains being parted on a big stage (you know, sort of an unveiling thing), but Ross wisely decided to go with Rea Irvin's mysterious dandy for the cover of his debut issue.
February 23, 1952: William Shawn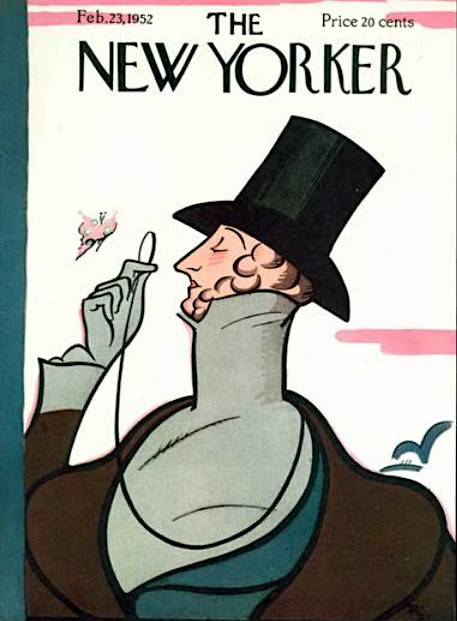 Although Harold Ross passed away in early December of 1951, his successor, William Shawn wasn't appointed until late January of 1952. One of Mr. Shawn's first issues following that stamp of approval from the magazine's publisher, Raoul Fleischmann, was the magazine's twenty-seventh anniversary edition.
February 20, 1989: Robert Gottlieb
Robert Gottlieb officially began his tenure as the magazine's editor, February 16, 1987. As the latest issue of the magazine is dated a week past its actual pub date (the day it appears on newsstands), the anniversary issue of 1988 would seem to have been the last edited by Mr. Shawn. Thus Mr. Gottlieb's first anniversary issue was the following year, the issue of February 20, 1989 (if anyone out there has a different take, please advise). What made news was the return of cartoons in color. Specifically, the cartoons in a four page spread by William Steig, "Scenes From The Thousand And One Nights." As noted in the New York Times piece I linked to above, there hadn't been color cartoons since a Rea Irvin double page spread in 1926.
February 22, 1993: Tina Brown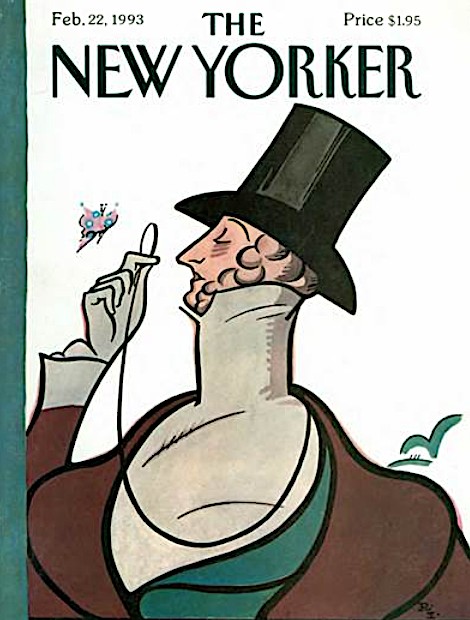 Ms. Brown allowed classic Tilley on a cover just once in her tenure at the magazine. The issue of 1993 was the last in an unbroken line of Tilley anniversary issues. Ms. Brown's choice for 1994 made news — how could it not. It was a not-so-sly-nod to Eustace, titled "Elvis Tilley" courtesy of Robert Crumb. Following Elvis we saw a gold(!) Tilley for the magazine's 70th birthday; "Eustacia Tilley" by R.O. Blechman in 1996; "Dick Tilley" by Art Spiegelman in 1997, and finally, a complete departure from Tilley, Michael Roberts' "California Sighting" cover in 1998.
February 19 & 26, 2001: David Remnick
Although David Remnick's first shot at an anniversary cover came in 1999, it wasn't until 2001 that he returned Rea Irvin's classic Tilley to the cover. What a long strange trip it had been for Tilley since we last saw him in 1993.
Mr. Remnick's first two anniversary covers belonged to Edward Sorel in 1999 and a William Wegman dog in 2000.
Since the classic Tilley cover in 2001, Mr. Remnick has put classic Tilley on the following covers: 2002, 2003, 2004, 2006, 2007,2009, and 2011.
For more on Eustace Tilley and the anniversary issues link here to "Tilley Over Time" a piece I wrote for newyorker.com in 2008, on the occasion of the magazine's 83rd birthday.