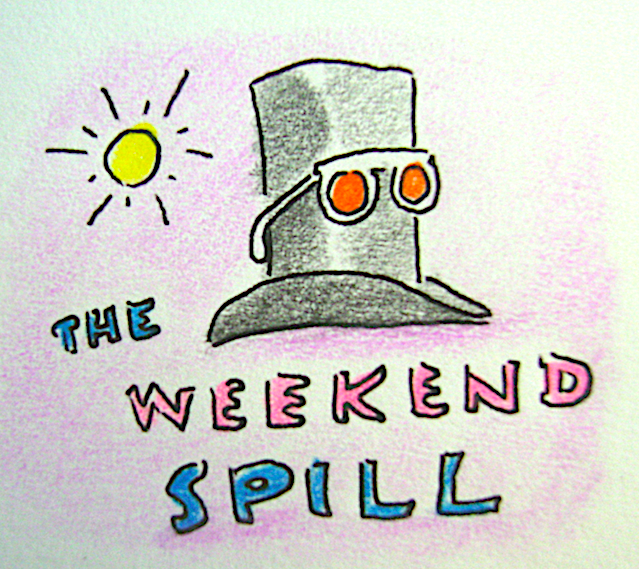 Fave Photo Of The Day
Courtesy of Sarah Booth, this fab photo of New Yorker artists Mort Gerberg and George Booth, taken this past Friday following Mr. Gerberg's gig playing Cole Porter's piano at The New York Historical Society.
Mr. Gerberg began contributing to The New Yorker in 1965.
Mr. Booth began contributing to The New Yorker in 1969.
________________________________
Thurber's Art Celebrated!
Thurbermaniacs rejoice! Besides two new Thurber books (shown below), there is The Columbus Museum of Art exhibit,  "A Mile and a Half of Lines: The Art of James Thurber" — according to The Columbus Dispatch, it's "the first major and largest exhibit of its kind" of Thurber's drawings. The exhibit will not tour, so catch it while you can. There is also a terrific new Thurber website from Michael J. Rosen, who's central to this 125th anniversary celebration.  Visit the Thurber site here.
James Thurber's entry on the Spill's A-Z:
James Thurber Born, Columbus, Ohio, December 8, 1894. Died 1961, New York City. New Yorker work: 1927 -1961, with several pieces run posthumously.  According to the New Yorker's legendary editor, William Shawn, "In the early days, a small company of writers, artists, and editors — E.B. White, James Thurber, Peter Arno, and Katharine White among them — did more to make the magazine what it is than can be measured."  
Key cartoon collection: The Seal in the Bedroom and Other Predicaments (Harper & Bros., 1932). Key anthology (writings & drawings): The Thurber Carnival (Harper & Row, 1945). There have been a number of Thurber biographies. Burton Bernstein's Thurber (Dodd, Mead, 1975) and Harrison Kinney's James Thurber: His Life and Times (Henry Holt & Co., 1995)  are essential. A short bio appears on the Thurber House website: http://www.thurberhouse.org/about-james-thurber/
______________________________________________________________________
Here's a roundup of the week's New Yorker cartoonist contributors to the Daily Cartoon and Daily Shouts.*
Daily Cartoon: Peter Kuper (twice in the week), Joe Dator, Tim Hamilton, Barry Blitt (a Daily Bonus cartoon), and J.A.K.
Daily Shouts: Emily Flake (with David Bradley Isenberg), Liana Finck (another installment of her "Dear Pepper" series), and Sara Lautman.
* a new (?) entry by Barry Blitt — outside of the Daily headings — appeared this week: Blitt's Kvetchbook (not to be confused with "Barry Blitt's Sketchbook" published in Graydon Carter's  Air Mail).
_____________________________________
Event of Interest: Roz Chast
Ms. Chast, who began contributing to The New Yorker in 1978,  will speak at The Museum of The City of New York in October. Details here.