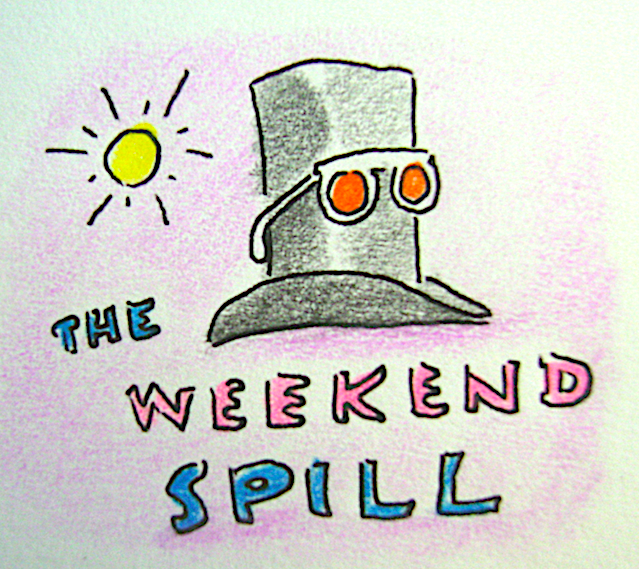 _________________________________________________________________________
New Addition To The Spill Library
Part of the Spill's (self charged) charge is to keep in mind all those cartoonists who have been and are part of The New Yorker, not just the names up in lights. Larry Reynolds, having contributed to several of the biggest magazines of his day (including Collier's, and The Saturday Evening Post) also had three drawings in The New Yorker.  In the July 1st Spill post I showed you a collection of his ongoing character, Butch, who appeared in Collier's.  Above is the only other example (to my knowledge) of Reynolds' work in book form. Lines Of Least Resistance, published in 1941 by E.P. Dutton & company, Inc., contains work from all three of the magazines just mentioned as well as drawings from Elks Magazine.  If my count is correct, there are 24 of his drawings in the book, plus the cover and back cover (3 drawings found in the book).
In the drawing shown above you clearly see a Gluyas Williams influence in his work — old man Kelly and two of the other characters — the men — on the right side of the drawing could've been in a Gluyas Williams drawing. The fellow in the forefront right, smoking a pipe, and the man running just below the Pelham sign look similar to George Price's style (especially the way Reynolds drew the running fellow's legs).  Other drawings seem to carry a heavy influence of a number of other cartoonists. Look at the one below: shades of Syd Hoff and the early work of William Steig (even, a hint of a Helen Hokinson luncheon lady in the frame). I'm led to wonder if Reynolds ever quite settled on a look of his very own.
Larry Reynolds entry on the Spill's A-Z:
Larry Reynolds (Photo from I Feel Like A Cad, 1944; self portrait above right from Colliers Collects Its Wits, Harcourt Brace & Co., 1941) Born, Mt. Vernon, NY, c. 1912.  Died, March 4, 2002, Barnstable County, Massachusetts. New Yorker work: 3 drawings: Jan 7, 1939 / Feb 24, 1940 / April 6, 1940. Collection of Note: I Feel Like A Cad (drawings from Collier's Weekly).  Link to Allan Holtz's Reynold's Stripper's Guide Profile here.
__________________________________________________________________________
An end of week listing of New Yorker artists* who have contributed to newyorker.com features
July 6 -July 10, 2020
The Daily Cartoon: Yasin Osman, Will Santino, Amy Kurzweil, John Cuneo, Patrick McKelvie, J.A.K.
Video: How To Draw A Child by Emma Allen** & Emily Flake
*For clarity, the names of artists who have not yet appeared in the print magazine are not bolded.
**Emma Allen is The New Yorker's Cartoon Editor
_______________________________________________________________
Videos ( And An App) Of Interest: Liza Donnelly Exhibit At The Norman Rockwell Museum
Here are links to two videos that are part of the Liza Donnelly exhibit at The Norman Rockwell Museum (it opens to the public tomorrow).
This link takes you to a video of Donnelly talking about her live drawing.
And this link takes you to an in depth look at her career.
Also: there's an app that features Donnelly speaking about individual pieces in the exhibit. See the video about it here.
Personal History: Attended Donnelly's "virtual art opening" last night, except it wasn't virtual for me — I was there. Watched as Donnelly (who besides being a colleague, is also my wife) gave a tour, being followed by a cameraman wielding a "live" camera and a photographer documenting the moment (the above photo was not taken by the photographer — it was taken by me with my flip-phone camera as the cartoonist spoke about her sketchbooks in the display case).
For me, the most touching piece on display is also, I believe, the most modest in scale — it may be the smallest piece in the exhibit. It's the drawing that leaped Ms. Donnelly into The New Yorker;   the first drawing of hers bought, but not the first run. Though OKed (bought) in 1979, it did not run until the issue of November 22, 1982. I believe she speaks about it in the longer video I've linked to above.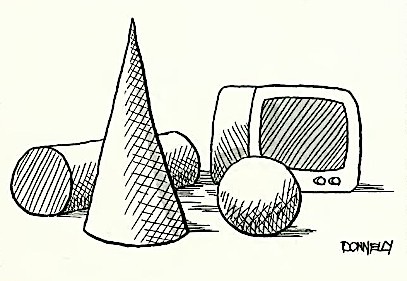 Go see the exhibit, non-virtually, if you're up that way. It's a real treat.