______________________________________________________________________________
The Tilley Watch Online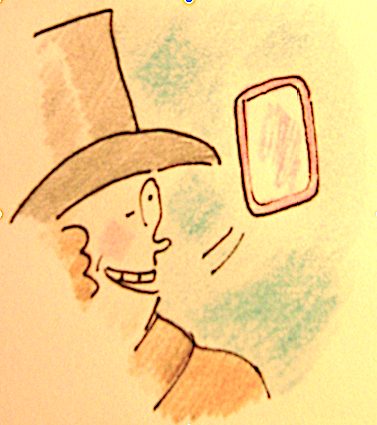 An end of week listing of artists who've contributed to newyorker.com features.
The Daily Cartoon: Yasin Osman (an online contributor), David Sipress, Victor Varnado, Amy Hwang, Tim Hamilton.
Daily Shouts: Ali Fitzgerald.
Barry Blitt's Kvetchbook
___________________________________________________________________
A Little Grouping
I realized this morning that this little grouping of framed & unframed cartoons resting on our old piano seem to fit together (it's an odd fit, but a fit). The two pieces in the front are by Garrett Price; a couple of Charles Saxon drawings center and left, and far right, a splash of color courtesy of Helen Hokinson.
Garrett Price ( Photo source: Esquire Cartoon Album, 1957) Born, 1897, Bucyrus, Kansas. Died, April, 1979, Norwalk, Conn. Collection: Drawing Room Only / A Book of Cartoons (Coward -McCann, 1946). NYer work: 1925 -1974.
Charles Saxon (self portrait from Best Cartoons of the Year 1947) Born in Brooklyn, Nov 13, 1920, died in Stamford, Conn., Dec 6, 1988. New Yorker work: 1943 – 1991 (2 drawings published posthumously). Key collection: One Man's Fancy ( Dodd, Mead, 1977). One of the giants of the New Yorker's stable of artists. He could do it all: covers, spreads, single panels.
Helen Hokinson Born, Illinois,1893; died, Washington, D.C., 1949. New Yorker work: 1925 -1949, with some work published posthumously. All of Hokinson's collections are wonderful, but here are two favorites. Her first collection: So You're Going To Buy A Book! (Minton, Balch & Co, 1931) and what was billed as "the final Hokinson collection": The Hokinson Festival (Dutton & Co., 1956). According to a New Yorker document produced during Harold Ross's editorship (1925-1951) rating their artists, Ms. Hokinson and Peter Arno occupied a special category unto themselves above all others.