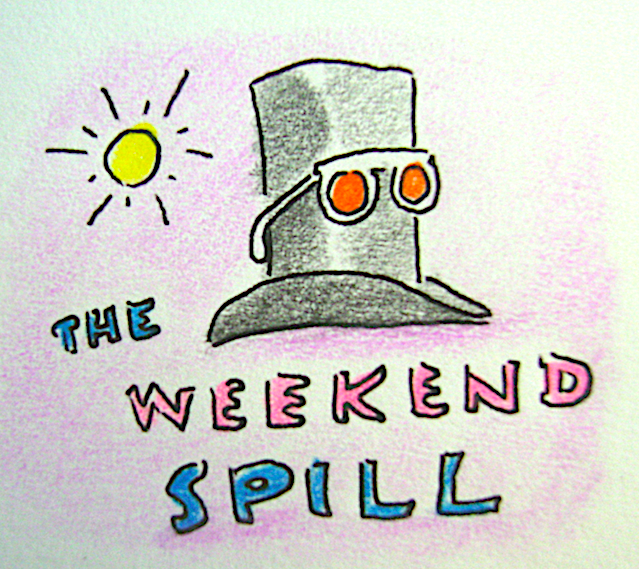 New Yorker-Centric Books Stepping Up
Here at Spill headquarters we ran out of bookshelf space quite awhile ago; even the places to "temporarily" place them have become crowded. A few weeks ago, a few old favorites and new favorites — all New Yorker-centric (but one) — began being placed at the bottom step of our thirteen hallway steps. Then a few more books were placed on the next step up, and so on and so on, until eleven steps were filled (not so that we couldn't continue to use the steps as steps — the books take up approximately half the width of each step). With just two empty steps left, I'm beginning to wonder: where next.
_______________________________________________________________________
Article Of Interest: "Behind The Covers"
From Otega Daily Times, June 8, 2020, "Behind The Covers" — this article on filmmaker Sally Williams, whose Stevenson Lost And Found is a must-see for all those who love New Yorker cartoons.
Here's James Stevenson's entry on the Spill's A-Z:
James Stevenson Born, NYC, 1929. Died, February 17, 2017, Cos Cob, Connecticut. New Yorker work: March 10, 1956 -. Stevenson interned as an office boy at The New Yorker in the mid 1940s when he began supplying ideas for other New Yorker artists. Nine years later he was hired a full-time ideaman, given an office at the magazine and instructed not to tell anyone what he did. He eventually began publishing his own cartoons and covers as well as a ground-breaking Talk of the Town pieces (ground breaking in that the pieces were illustrated). His contributions to the magazine number over 2000. Key collections: Sorry Lady — This Beach is Private! ( MacMillan, 1963), Let's Boogie ( Dodd, Mead, 1978). Stevenson was a children's book author, with roughly one hundred titles to his credit. He was a frequent contributor to the Op-Ed page of The New York Times, under the heading Lost and Found New York. Stevenson's The Life, Loves and Laughs of Frank Modell, published in 2013, is essential reading. Sally Williams' 2019 documentary film, Stevenson Lost & Found is essential viewing.
_______________________________________________________________________
An end of week listing of New Yorker artists contributing to newyorker.com features
The Daily Cartoon: Yasin Osman, Victor Varnado, Tim Hamilton, Adam Douglas Thompson, Elisabeth McNair.
Daily Shouts:  Ali Fitzgerald, Emily Flake.
…and Barry Blitt's Kvetchbook.
To see all the above, and more, link here.