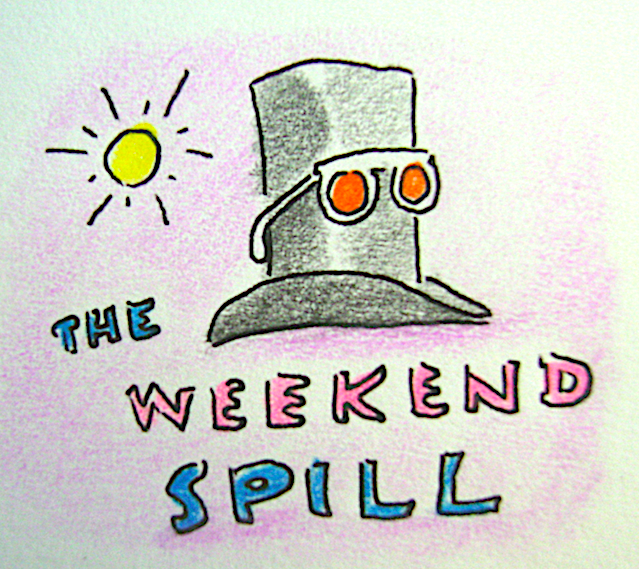 From The Spill's Library: A Look At New Yorker Biographies (Etc.)
If you've been spending as much time as I have online, you've seen multiple postings by individuals of their personal library (or parts of). Since visiting my fave bookstore is out of the question for now, I've found  browsing book collections by others a ton 'o fun.  I've seen a number of (possible) must-have books over the past few weeks — books I didn't know existed, or books I'd forgotten about. Over the years, I've done a few posts on what's on the Spill's shelves. Thurber biographies most recently, and not too long ago, a few of Thurber's books here at Spill headquarters.
Below you'll see another group that is ordered by subject (the subjects being folks who were or are New Yorker contributors).  This group of books is an arm's length from where I sit; I like being able to lean back in my office chair and grab a needed title. I've included the whole of the Spill's E.B  White collection (mostly books by him, and the great White bio by Scott Elledge) because much of his work seems (to me) to fit into autobiography. The A-Z section begins just to the right of Katharine White's Onward And Upward in the Garden with Renata Adler's Gone. Not everything New Yorker contributor/autobiographical/biographical is shown here. Books by the subjects (that is, books by New Yorker contributors) are on the other side of my desk — not arm's length, but close enough. There's plenty of autobiographical material in many of them (the Updike and Roth books alone take up a couple of shelves). There are also books that haven't yet found a shelf (I need to build more). But the ones shown here are the core — the go-to books that help me determine what was what and who was who at The New Yorker.
The Ross section includes a title that might cause some head-scratching: Good Food For Bad Stomachs by Sara M. Jordan, M.D. & Sheila Hibben. It's there because the (4 page)  Introduction was written by Harold Ross.
_______________________________________________________________________
The Tilley Watch Online, May 11-15, 2020
An end of the week listing of New Yorker artists who contributed to newyorker.com features
The Daily Cartoon: Colin Tom, Tom Toro, Lars Kenseth, David Sipress, Elisabeth McNair.
Daily Shouts: Olivia de Recat, Gabrielle Bell.
__________________________________________________________________________
The fab Joe Dator has posted a four minute animation. Mr. Dator had this to say about it on Facebook:
My quarantine project for several weeks has been writing and directing this animated short film, called "EARTH", about an alien invasion gone wrong. I'm thrilled to finally to be able to show it to you guys!  
Joe Dator began contributing to The New Yorker in August of 2006.  Visit his website here.