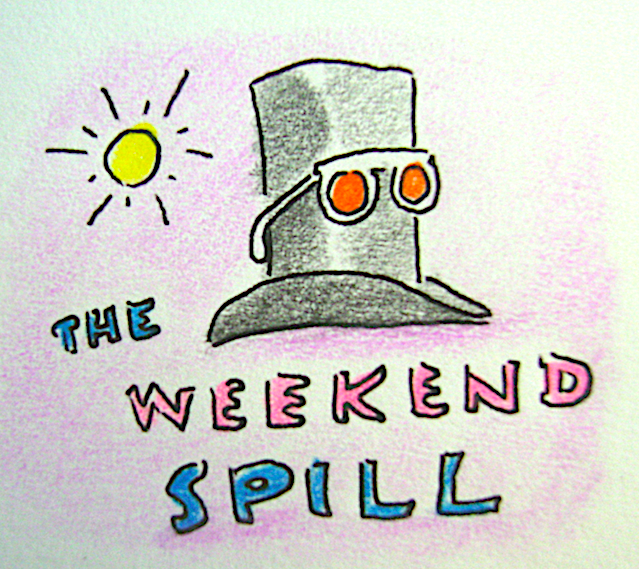 _____________________________________________________________________________
From Attempted Bloggery, July 19, 2020, "…Rea Irvin's Killed New Yorker Cover Art Printing Plate"
— an interesting item  rescued from a long-ago  flooded New Yorker basement  courtesy of a Spill fave blogger.
Left: Rea Irvin, The New Yorker's jack-of-all-graphics
___________________________________________________________________________
A New Yorker State OF Mind Dives Deep into the July 4th & July 11th 1931 Issues
Anothe fave Spill blog, A New Yorker State Of Mind: Reading Every Issue Of The New Yorker Magazine looks at two summer issues from 89 years ago. Read here!.
Cover on the left by Theodore Haupt, cover on the right by Rose Silver
__________________________________________________________________________
A Few Thoughts On The Recent Swann Galleries Auction of New Yorker Art
No huge surprises reading through the realized prices from the July 16th Swann Galleries Illustration auction.  Bringing in the big bucks ($10,625.) was a classic 1958 Charles Addams New Yorker drawing.On the other end of the price range, a Charles E. Martin (C.E.M.) drawing went for a whoppingly low $169.00. In between those extremes, three middle-period Barbara Shermund color pieces ($281.,$469., $1,188. ), a trio of Steinbergs for six grand (that does seem like a deal!). Other New Yorker artists work from the Golden Age did very well, including three Arthur Getz covers and three Garrett Price covers.
I come to auctions of New Yorker art with a split personality: the cartoonist side of me wants to see the work sell high, while the shoe-string collector side of me wants deals, especially for pieces I'm interested in. This latest Swann auction included several pieces by Lee Lorenz and Frank Modell I would've loved to have had; the cartoonist side of me felt they went too low, the collector side thought they were a steal. I suppose that sums up auctions in a nutshell: anxiety & fun.
To see all the work — the realized prices, as well as the unsolds, go here.  The New Yorker artist work begins in earnest around the #180 lot, but some appear before that as well.
_______________________________________________________________________________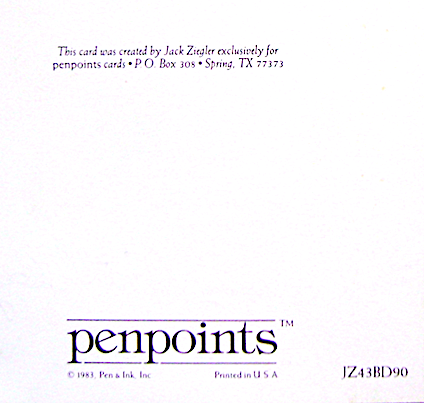 From The Spill Archive: A Jack Ziegler Greeting Card
I've been using this extra at home time to sort through the unsorted materials in the Spill archives. Came across this really great Jack Ziegler greeting card yesterday — I haven't seen it since the mid 1980s.
As you can see from the scan to the left it was "created exclusively for penpoint cards" — I wonder if he did more of these (or if any other New Yorker cartoonists did one for penpoint).
Here's Jack Ziegler's entry on the Spill's A-Z:
Jack Ziegler (photo above, by Michael Maslin, taken at The Museum of Comic and Cartoon Art, NYC, 2008) Born, Brooklyn, NY July 13, 1942. Died, March 29, 2017. New Yorker work: 1974 – 2017. Key collections: all of Ziegler's collections are must-haves. Here're some favorites: Hamburger Madness (Harcourt Brace Jovanovich, 1978), Filthy Little Things ( Doubleday/Dolphin, 1981) and The Essential Jack Ziegler, Complied and Edited by Lee Lorenz ( Workman, 2000). Link here for Ink Spill's Jack Ziegler interview from late 2016.
______________________________________________________________________________
An end of week listing of New Yorker contributors (and newyorker.com contributors — noted with an *) whose work has appeared on newyorker.com features
Daily Cartoon: Marcos Sorenson*, Tim Hamilton, Natalie Dupille*, Keith Knight, Teresa Burns Parkhurst, Liz Montague.
Daily Shouts: Christine Mi, Victor Varnado (and Susan Shapiro).
…and Barry Blitt's Kvetchbook: "Testing Trump's Fitness"