Another Harvey In The House
I fell for this Alice Harvey original drawing the instant I spied it online. Luckily it has found its way to the Spill's archives. Published in The New Yorker March 20, 1926, it was one of Harvey's first dozen cartoons in the magazine (the Spill collection includes Ms. Harvey's first captioned New Yorker drawing, published October 24, 1925).
Here's the he/she caption (or in this case, a she/he caption) — a rarity in the magazine:
I love the way Ms. Harvey went out of the box (so to speak) with the column. That the New Yorker shoved the text over to allow for the column was really nothing unusual for the magazine in those early days. Open any early issue of The New Yorker and you're likely to run into some creative dance between art and text. Here are a couple of instances from one issue alone, December 11th, 1926, followed by a few other from 1926. The first drawing is by Alan Dunn, one of the magazine's most published artists.
..and here's one from Harold Denison:
One of the most dramatic drawing/text relationships appeared in the issue of May 8, 1926. Al Frueh is the artist (this drawing, sans text, can be found in The New Yorker 25th Anniversary Album):
And just one more. From the issue of November 20, 1926, this terrific drawing by Julian de Miskey:
The Spill's A-Z entry for each artist mentioned in this piece:
Alice Harvey Born 1894, Austin, Illinois. Died, 1983. New Yorker work: Oct. 17th, 1925 – May 1, 1943. An illustration by Ms. Harvey accompanied Ellin Mackay's celebrated November 28, 1925 New Yorker article, "Why We Go To Cabarets" — the piece often credited with helping boost the fledgling New Yorker's circulation.
Alan Dunn (self portrait above from Meet the Artist) Born in Belmar, New Jersey, August 11, 1900, died in New York City, 1975. NYer work: 1926 – 1974 Key collections: Rejections (Knopf, 1931), Who's Paying For This Cab? (Simon & Schuster, 1945), A Portfolio of Social Cartoons ( Simon & Schuster, 1968). One of the most published New Yorker cartoonists (1,906 cartoons) , Mr. Dunn was married to Mary Petty — together they lived and worked at 12 East 88th Street, where, according to the NYTs, Alan worked "seated in a small chair at a card table, drawing in charcoal and grease pencil."
Harold Denison Born, 1876. Died, 1940. New Yorker work: July 31, 1926 – July 25, 1931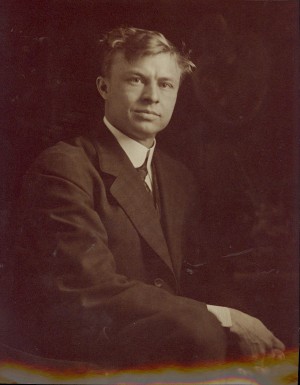 Al Frueh (pictured) Born, Lima, Ohio 1880; died, Sharon, Connecticut, 1968. NYer work: 1925 – 1962. Here's a good piece about Mr. Frueh's life.
Julian de Miskey Born 1898, died 1976. NYer work: 1925 – 1962. The New Yorker's database indicates he contributed 82 cartoons and 62 covers. His first published New Yorker piece was a cover for the issue of May 23, 1925. The following information from de Miskey's bio on the Papillion Gallery site: born in Hungry, came to the United States in 1914. After attending the NYC's Art Students League, he began contributing to various publications, eventually contributing to the New Yorker in its first year of publication.
_____________________________________________________
The Tilley Watch Online, October 19-23, 2020
A listing of New Yorker artists who have contributed to newyorker.com features this past week.
The Daily Cartoon: J.A.K., Jason Chatfield (with Scott Dooley), John Klossner, Zoe Si, Amy Kurzweil.
Daily Shouts: Ali Fitzgerald, J.A.K. (with Ginny Hogan & Randall Otis), Ali Solomon.
Barry Blitt's Kvetchbook: "Biden's Secret Debate-Prep Techniques"
Video Department: The New Yorker's cartoon editor, Emma Allen & cartoonist, Liana Finck, "How To Draw Feelings"