Wow! What A Cover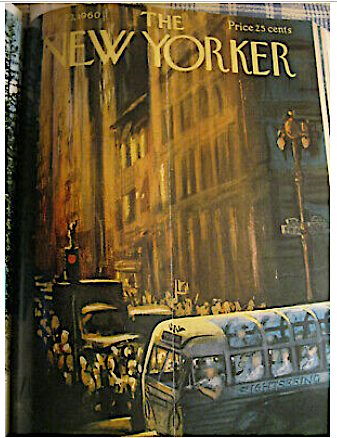 On one of my daily Ebay hunts for bound volumes of New Yorkers, the photo above got my attention. From a volume containing June 11th — September 10, 1960 issues, the seller chose to showcase the Arthur Getz cover shown here. Mr. Getz holds the record as most prolific New Yorker cover artist of all time (see his Spill A-Z entry below). Wanting a better look at his cover I went to the digital New Yorker archive (if you subscribe, the entire run of the magazine is available to you). Two things I noticed when the 1960 issues popped up:
The Getz cover is even more beautiful seen up close (onscreen). I'm betting that the print cover is even better (I have it somewhere, and when found will post a scan):
If you happen to have a copy of Seasons Of The New Yorker (United Technologies Corp., 1984), you might be familiar with the late great Charles Saxon's intro, titled "A special moment, fleetingly observed" — the quote itself belongs to another New Yorker giant, William Steig, who said, "For me, a cover is a moment of Haiku — a special moment fleetingly observed." The Getz cover above certainly is that.
The other thing I noticed looking over the covers of 1960 (online) was how many were as spectacular as the July 23rd Getz. I can't show them to you here, but they're (obviously) available within the online archive; or, see them in The Complete Book Of Covers From The New Yorker 1925 – 1989 (Knopf, 1989); best yet, actual copies of the magazine from 1960.
Here, from The Complete Book Of Covers is the list of cover artists for 1960:
If I began noting the most spectacular covers, I think I'd end up naming almost every issue. If you're wondering about the cartoons in the Getz issue, there's a full page Peter Arno, a multi-panel spread by Claude Smith, and single panel drawings by Everett Opie, Frank Modell, James Stevenson, Stan Hunt, Robert Day, James Mulligan, Whitney Darrow, Jr., Lee Lorenz, and Steinberg.
Here's Mr. Getz's A-Z Spill entry:
Arthur Getz Born, Passaic, New Jersey, 1913; died, 1996. New Yorker work: 1938 -1988. Primarily a cover artist, he had one cartoon published: March 15, 1958. (You might say his career was a mirror image of George Price's, who was one of the most prolific cartoonists, with over 1200 published, and one cover). According to the official Getz website, he was the most prolific of all New Yorker cover artists, having 213 appear during the fifty years he contributed to the magazine. The official Getz website, containing his biography: www.getzart.com/
_______________________________________________________________
Today's Daily Cartoonist & Cartoon
Teresa Burns Parkhurst on election year leaf peeping.
Ms. Parkhurst began contributing to The New Yorker in 2017.
…and there's an animated bonus Daily.
Yesterday's Daily Shouts cartoonist
From the above mentioned Ms. Parkhurst:
"Taking Some Of The 'Virtch' Out Of The Virtual Wedding You're Attending"