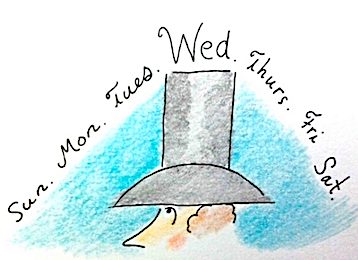 Some Clip Files
Here at Spill headquarters, three black binders share space with some "special" bound New Yorkers (pulled out of the larger collection).  I've found these binders useful when triple-checking what I believe to be true (in other words: fact-checking), but the clippings within are also just plain interesting as mini-biographies of colleagues who've passed on. While he internet is truly a gift for finding just all sorts of once obscure material, there's also nothing quite like having  clippings at hand (or, in one volume, original correspondence, pre-email days, from cartoonist colleagues). The cartoonists obits are the most leafed through of the three binders; I re-read them, usually finding something I missed the first (or second, or third, etc., etc.) time around. Cartoon class is never out.
__________________________________________________
Today's Daily Cartoonist & Cartoon
Amy Kurzweil on finding the right (vacation)  spot.
Ms. Kurzweil began contributing to The New Yorker in 2016.