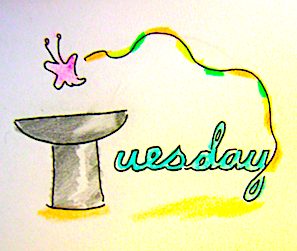 An Obscure Program With Art By Addams, Arno, Thurber, Soglow…And More
Stephen Nadler's Attempted Bloggery takes a close look at a rare Navy Relief Show Program from 1942, provided to him by Joel Jacobus. As you can see from the page below, the event included work by a number of The New Yorker's star artists, including Charles Addams, Constantin Alajalov, Peter Arno (it's an Arno I'd never seen before), Robert Day (one of his drawings is shown above), Richard Decker, Alan Dunn, Syd Hoff, Garrett Price, Richard Taylor, James Thurber, and Otto Soglow. Some of the work had appeared in The New Yorker, some not. Attempted Bloggery sorts it all out for us.
____________________________________________________
Today's Daily Cartoonist & Cartoon…
Today's Daily Cartoonist is Zoe Si, who began contributing to The New Yorker in February of this year. Visit her website here.
…And Yesterday's: J.A.K. on which party to avoid. Mr. K. has been contributing to The New Yorker since 2014.