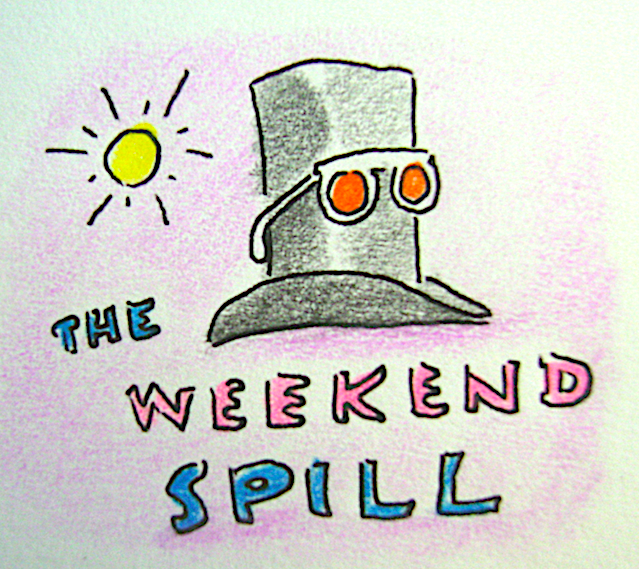 ___________________________________________________________________________________
So often when I go on a hunt for something in the Spill's archives I come upon some other thing that takes me off onto another track. Today for instance, while poking around piles of boxes, I came across the box you see above.  Many years ago I filled the box with issues of The New Yorker bearing  Steinberg covers and Steig covers — then I stuck a label on the box and put the box on a shelf where it remained unopened for at least a decade, if not more. Today I opened the box and placed most of the issues out on a table.
Gems all! Maybe a dozen more issues didn't make it into the photograph, but you get the idea. What I find interesting about this group is that I cannot remember why I bothered to gather these particular issues.
After photographing them, I put them all back in their beat-up box. I have plans to incorporate them into the loose issue New Yorker collection — but not today; maybe in 2030, when I come across the box again.
___________________________________________________________________________
A listing of New Yorker artists who contributed to newyorker.com features this past week
The Daily Cartoon: Christopher Weyant, David Sipress, Ellis Rosen, Elisabeth McNair, Ali Solomon.
Daily Shouts: Ward Sutton.
…and Barry Blitt's Kvetchbook.
_____________________________________________________________________
Sally Williams fab 2019 documentary Stevenson Lost & Found will be shown March 29th at The Martha's Vineyard Film Fest. Info here.  Lucky you if you're on the island and able to attend.
Mr. Stevenson's entry on the Spill's A-Z:
James Stevenson Born, NYC, 1929. Died, February 17, 2017, Cos Cob, Connecticut. New Yorker work: March 10, 1956 -. Stevenson interned as an office boy at The New Yorker in the mid 1940s when he began supplying ideas for other New Yorker artists. Nine years later he was hired a full-time ideaman, given an office at the magazine and instructed not to tell anyone what he did. He eventually began publishing his own cartoons and covers as well as a ground-breaking Talk of the Town pieces (ground breaking in that the pieces were illustrated). His contributions to the magazine number over 2000. Key collections: Sorry Lady — This Beach is Private! ( MacMillan, 1963), Let's Boogie ( Dodd, Mead, 1978). Stevenson was a children's book author, with roughly one hundred titles to his credit. He was a frequent contributor to the Op-Ed page of The New York Times, under the heading Lost and Found New York. Stevenson's The Life, Loves and Laughs of Frank Modell, published in 2013, is essential reading.  Sally Williams' 2019 documentary film, Stevenson Lost & Found is essential viewing.

____________________________________________________________
…Just a few days ago while browsing through a bound volume of New Yorkers I came across a drawing by Ihrie Means (in the issue of May 14, 2007). Ms. Means name has now been added to the Spill's A-Z. My apologies for not adding her sooner.
…Work by Liz Montague, a newer addition to the New Yorker's stable (March, 2019), is in (A Mini) Zine Fest, later this month.  Details here.
…The late great Syd Hoff's name came up in yesterday's New York Times crossword puzzle: the clue (if that's what it's called — I'm not a crossword puzzler) was Cartoonist Hoff. 
Here's Syd Hoff's entry on the Spill's A-Z:
Syd Hoff ( Photo source: Esquire Cartoon album, 1957) Born 1912, New York City, died May 12, 2004, Miami Beach, Florida. New Yorker work: 1931 – 1975. Visit the Syd Hoff website here.