Among the magazine's Daily cartoons this week: Kim Warp's weary winter weather drawing; Brendan Loper's tweeter-in-chief cartoon; Lars Kenseth's take on this week's unusual White House media moment, and Peter Kuper's Trumpian map of the world.
Over on Daily Shouts, these were the contributing New Yorker cartoonists: Ellis Rosen and Liana Finck
_______________________________________________________________________
Photos From the Kovarsky Opening at The Society of Illustrators
A packed house last night at the Society of Illustrators Opening Reception for Kovarsky's World: Covers and Cartoons From the New Yorker. Here's an array of photos (all by Liza Donnelly, with one exception: the photo of Liza Donnelly and her husband– that's courtesy of Gina Kovarsky)
Above: a wall of Kovarskys.
Below: Anatol Kovarsky's daughter, Gina, and Mr. Kovarsky's wife, Lucille Patton; Ellen Lind and John Lind. Gina Kovarsky and John Lind co-curated the exhibit.
Below: New Yorker cartoonists Sam Gross and Felipe Galindo
Below: New Yorker cartoonists Liza Donnelly and Michael Maslin
Below: Sam Gross and New Yorker cartoonist Bob Eckstein
Below: Writer/illustrator Mo Willems, Columbia University's Curator for Comics and Cartoons, Karen Green, and John Lind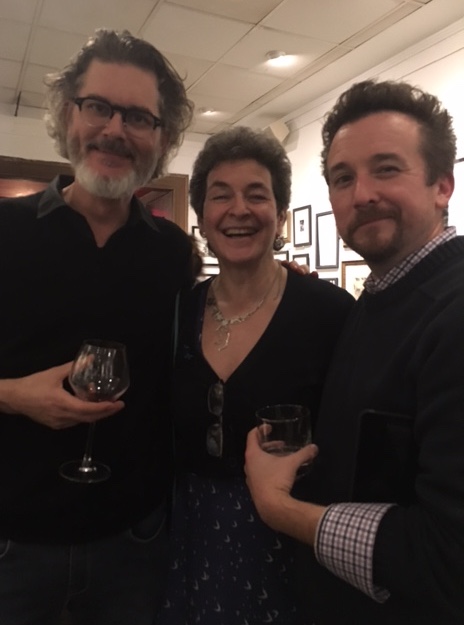 A closing thought on the exhibit, which runs til March 3 of this year:
This is a terrific show. The energy bouncing off Mr. Kovarsky's work on the walls is inspiring. After looking at all of the covers and drawings I went back and spent more time looking at Mr. Kovarsky's very first cartoon for the New Yorker. It was published in the issue of March 1, 1947; here's how it appeared:
I've always had a special affection for first New Yorker drawings. It is, as they say, a moment. Every cartoonist remembers the details surrounding their first published drawing. The unspoken mini-drama surrounding the first is that no one knows, of course, whether there'll be a second (see the Spill's One Clubbers on the A-Z). In Mr. Kovarsky's case there was a second, and then there were hundreds more — close to 300 in fact. If that wasn't something impressive in itself, he also contributed 40 covers. And all this work was done in the relatively short time span of twenty-two years (according to Gina Kovarsky: "In the 1970s, Kovarsky shifted his main focus from cartooning to fine art…"). It will not come as a surprise to anyone seeing this exhibit how Kovarsky accomplished so much in a mere two decades. It is as if he never set his pen or his brush down for a moment. Kovarsky's world seemed to be abuzz 24/7. How lucky for us all.
_______________________________________________________________
"Not OK" Cartoonists in Westchester
From Westchester Magazine, January 12, 2018, "You Can Meet New Yorker Cartoonists…"
Here's a capsule description from the article:
"Not OK" — Great Cartoons That Weren't Good Enough is a collection of works by previous New Yorker-published cartoonists that fit exactly that bill. Curated by artist and Brooklynite David Ostow, this series has come to Westchester for a month-long showing following the completion of its original gallery run in Bushwick.