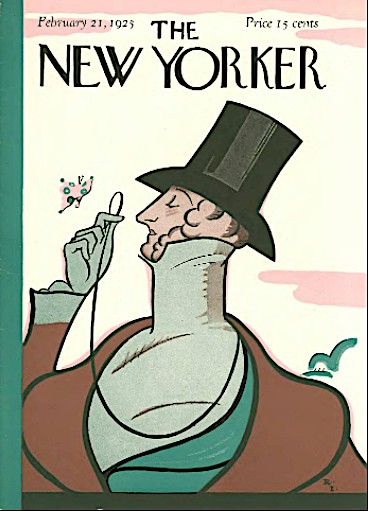 The very first issue of The New Yorker (shown here) was dated February 21, 1925 — exactly 96 years ago today. Many years back while reading Dale Kramer's Ross And The New Yorker (Doubleday, 1951)* I came across this passage on page 64, talking about that first issue's cover:
"The most inviting feature of the first issue came about by accident. Ross had wanted for the cover a picture of a theatrical curtain rising over New York City's bright lights. The artist had failed to put much life into his sketch. At the last moment Ross had asked Rea Irvin to provide something he thought would better symbolize the magazine's attitude."
I've often wondered about that first rejected cover. There was the hope I'd run into it while combing through the magazine's archives during my research on Peter Arno's biography. No such luck. This morning I thought, oh what the hell, I'll make my own first rejected cover sketch. So below is a cobbled together mock cover using three elements:
It so happens that the magazine's fifth cover, by Carl Fornaro**, dated March 21, 1925, features a New York City skyline, with two silhouetted figures (and two cats) in the foreground. Hmmm. I wondered if Mr. Fornaro was the artist responsible for the rejected 1st cover. I also wondered if he then reworked and recycled his effort for this accepted cover, just a few weeks later. We'll probably never know.
I lifted Mr. Fornaro's beautiful skyline and then multiplied his silhouetted people as theatergoers (sorry, I had to leave out the cats), added my own version of rising theater curtains, and lastly, threw in a touch of Rea Irvin rays of sun (from his Talk masthead), and here's what I got:
This little effort (which I can also be accused of failing to put much life into) satisfied some small part of my desire to see a graphic trace of that first rejected cover, even if I had to throw it together almost a hundred years after the original. I'd obviously still love to see the real rejected 1st cover.
It's not at all difficult to suggest that what Rea Irvin gave us — under deadline, no less! — was the right odd cover at the right time. 96 years later people still scratch their heads over why that top hatted fellow appeared on the cover of a brand new magazine published in 1925, not 1898. Had the first cover been a curtain rising to reveal the Manhattan skyline, I'm certain we all would've moved on to some other puzzling Ross element, but we wouldn't have had Eustace Tilley to forever baffle us.
*E.B White called Kramer's book "dismal" and "simply inadequate"…p.307 & p. 598, Letters Of E.B. White: Revised Edition, Harper Collins, 2006. According to Harrison Kinney's excellent Thurber: His Life And Times (Henry Holt, 1995), "Thurber not only praised it but offered jacket endorsements" …p.950.
**This was Mr. Fornaro's one and only New Yorker cover.
_______________________________________________________________________
Audio Of Interest: Dale Kramer, Author Of 1951's "Ross And The New Yorker"
From WNYC, The NYPR Archive, 1951, "Ross And The New Yorker"
An interview that lasts a little over fifteen minutes. It ends abruptly.