The Cover: Kara Walker's early release Toni Morrison cover was mentioned here previously.
The Cartoonists & Cartoons:
Good to see Tom Bachtell's fab "Spots" work this week…As you can see, there's another duo effort from Pia Guerra and her husband, Ian Boothby…No Newbie (or Newbies) this week…Cartoon placement (sizing) in this issue: a few look just right (Bruce Kaplan's fun beach drawing for instance) and Danny Shanahan's uncovered flooring); Liana Finck's perhaps needed to be run larger so we could easily make out the lettering on the caps her folks are wearing (this may be an online issue — won't know til the print copy is in hand); a few drawings would've benefited, graphically, by being run smaller. Fewer than average number of cartoons in this issue (just eleven) but we are after all in the waning weeks of summer.
The Spill's (Please) Bring Back Rea Irvin's Classic Talk Masthead Campaign: Mr. Irvin's beautiful iconic masthead (below), sadly disappeared in May of 2017 and was amazingly (amazing to me anyway) replaced by a redrawn(!) version. Read about it here.
________________________________
Today's Daily Cartoonist & Cartoon
Fish in a tube, by J.A.K. who began contributing to The New Yorker in 2014.
___________________________________
Today's Daily Shouts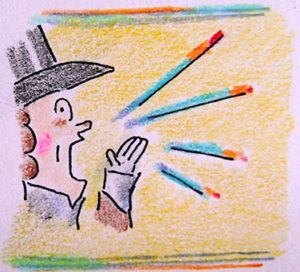 "Mysterious Summer Abrasions: An Investigation" by Sara Lautman, who began contributing to The New Yorker in 2016.