Fall Covers: Despite the pandemic, mother nature continues on doing her thing. There's something reassuring about that (some of the best New Yorker covers have appeared this time of year).
Back in 1984 the magazine's seasonal covers inspired a gallery show and an accompanying book, Seasons At The New Yorker. Besides J.C. Suares's September 23, 1974 cover that appears on the book's cover, the Autumn section includes Charles Saxon's couple in a car driving through an explosion of brilliant Fall leaves — they're in an unending caravan of cars (the cover appeared Oct. 7, 1974); a wonderful Steig Halloween cover (Oct. 31, 1959); a beautiful Charles Addams Halloween cover (Oct. 31, 1983)…then there's a classic Steinberg, a beautiful Stevenson, an Arno, a Searle, a Bemelmans…well, you get the idea. Get hold of The Complete Covers Of The New Yorker 1925-1989 and I guarantee you'll be dazzled by scores more seasonal works. One of my favorites in the Seasons collection is this one below by Charles Martin (he signed his work C.E.M.). I've always found an appealing soulfulness to his work. Looking at his cover of October 28, 1974, it occurred to me that it could've run now (here's a link to a Q&A with the artist responsible for the current cover).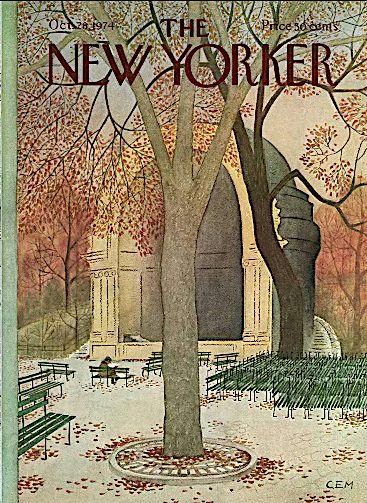 The Cartoonists:
The Cartoons: Seventeen cartoons, nineteen cartoonists (Barry Blitt has a Sketchbook, and Emily Flake has a Sketchpad).
Frank Cotham's limo drawing (squeezed into a space at the bottom of page 47) is terrific. I believe I'm right in saying that Mr. Cotham has explored the cartoon limo as a source of humor more than anyone else (someone please correct me if I'm mistaken). Liam Walsh's surveying cowboys (page 19) works beautifully. He's taken the old this town ain't big enough for the two of us and inserted exactly the right twist. Especially liked Roz Chast's covering all the NO bases drawing (page 42). Chris Weyant's desert island drawing (p.69) proves there's plenty of life left in one of magazine cartoonists' fave go-to situations. Soooo funny. Drew Panckeri's drawing is a Bernie Schoenbaum-ish excellent take on these modern times (fans are s-l-o-w-l-y being allowed back in to some major sports events). Lastly, Joe Dator's speaking coffee machine (p.13) drawing is a fine addition to the ever-expanding universe of coffee-related cartoons.
The Rea Irvin Talk Masthead Watch
You won't see the below in the magazine. Read about it here.
_________________________________________________________________
Online Event Of Interest With Peter Kuper
Peter Kuper, who has been contributing to The New Yorker since 2011, will be part of a (free!/online ) New York Comics & Picture-Story Symposium panel tomorrow evening discussing WW3, the annual comic book and graphics magazine founded by Mr. Kuper and Seth Tobocman in 1979.
________________________________________________________________
Today's Daily Cartoonist & Cartoon
Amy Kurzweil on the everyday.
Ms. Kurzweil began contributing to The New Yorker in 2016.