The Cover: a somewhat menacing image by Mark Ulriksen that could've easily been used for Halloween (all it needs is a witch riding through the sky on a broom). But its title "Towering Wealth" heavily suggests a tie-in to this special Money Issue. Read a Q&A with Mr. Ulriksen about his cover here.
The Cartoonists:
The Cartoons:
Random thoughts after a few tours through the the issue…
Was much fun immediately running into Robert Leighton's observatory cartoon (page 25). We don't see too many observatory cartoons anymore.  One that will forever stick in my mind is John O'Brien's fabulous Coca-Cola bottle telescope from October 9, 2000.
Any issue of The New Yorker with a George Booth cartoon (p.38) is an issue off to an excellent start. It is simply a delight seeing his work in the magazine.
As enjoyable as seeing a Booth cartoon is seeing a Koren cartoon. He is this issue's most veteran artist, having begun contributing to The New Yorker in 1962 (Mr. Booth began contributing in 1969).  To my eye, Both Mr. Booth's drawing and Mr. Koren's sit perfectly on the page, the better for us to enjoy them.
Bruce Kaplan's dishtowel drawing (p.55) wins the award for most unexpected cartoon of the issue. There is nothing more fun in The New Yorker cartoon universe than the unexpected; it's a cartoon moment.
Liana Finck's drawing (p.46) is another solid cartoon moment.  Drawing + perfect caption = job well done.
The Rea Irvin Talk Masthead Watch:
Mr. Irvin's wonderful design (below) was removed in the Spring of 2017 and replaced by a redrawn version. Further reading here. It remains puzzling (to me anyway) how something so perfect can be mothballed.
______________________________________________________________
Head-Scratching Quote Of The Year
This from Francoise Mouly, The New Yorker's art editor in an October 11th Washington Post piece on Charles Addams.
"Addams is one of the few New Yorker cartoonists who was consistently laugh-out funny," says Francoise Mouly, the magazine's art editor since 1993."
_____________________________________________
Addams's Wednesday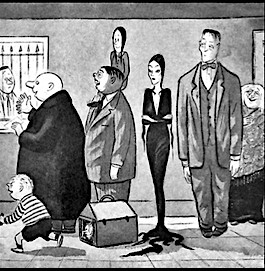 From The New York Times, October 14, 2019, "The Many Shades Of Wednesday Addams"
Miss Addams is shown above sitting on her father's shoulder. According to Linda Davis's wonderful biography of Charles Addams, Addams wrote in his production notes for the television series that "he found [Wednesday] 'secretive and imaginative, and  poetic.'"