The Monday Tilley Watch is a meandering take on the cartoons in the current issue of The New Yorker.
Wowzers! 23 cartoons in this issue, and it's not even a double issue.
The cover was mentioned here last week. If you want to read what David Plunkert, the cover artist had to say about his design, go here.
Without pausing at the renovated Rea Irvin Talk of The Town masthead (yes, that's still an "issue" here at the Spill) we move onto the very first cartoon — it appears on page 22. Bruce Kaplan's been on a roll these past many weeks, with two covers and weekly appearances. This makes sense to me, and reminds me of the system once in place at the magazine that kept us in touch with a number of artists over time. In this case, Mr. Kaplan gives us a Kaplanesque restaurant scene with a Kaplanesque caption. Nice.
Nine pages later, following David Remnick's "Postscript" about the late Si Newhouse, we come to a well-placed Mick Stevens caveman drawing. I wonder sometimes if we will ever reach the end of the road, cave people drawings-wise. Hope not. Imagine how much material has come from so little: cave people, their caves and rocks. Someone should really do a book of these drawings. Five pages later we come to a Sara Lautman art museum cartoon. From a distance (that is, viewing it on a tablet) its use of blocks of black ink resembles an Ariel Molvig drawing. As I've mentioned a few times on the Monday Tilley Watch, certain brand new drawings immediately summon up drawings out of the magazine's deep catalog. I cannot see an art museum cartoon these days without recalling this (captionless) Helen Hokinson classic from the issue of February 6, 1926.
Three pages later a gingerbread man-inspired drawing by the one-and-only Danny Shanahan. I'm assuming the carrot cake man's hair(?) is made of frosting. The world could use more talking cake drawings right about now; Mr. Shanahan is the cartoonist for the job.
Five pages later P.C Vey dips into the literary world as well as the world of apartment plumbing. Men-in-bathtub drawings always make me think of George Booth's recurring guy in a claw foot tub (usually viewed from an adjoining room). Here, Mr. Vey takes us right into the bathroom. I particularly enjoyed the recessed soap tray.
On the very next page is a Liana Finck drawing. I needed to reach out to a family member in her mid 20s for help on this one, and here is what she emailed me, cautioning she is not an expert on the subject, having never used the app:
I believe it's a Tinder thing. I think if you like someone, you swipe right. Then if you match (if they swiped right on you too) you can talk to the person. Some people swipe right for everyone just to increase their chances. I think that's what she's commenting on: people frantically, desperately looking for love on their phones to the point that they're numb to Cupid's arrows.

Three pages later is a drawing by newbie, Maddie Dai. This is graphically ala Roz Chast, utilizing a magazine cover as a humor conveyance vehicle. There's some pointed messaging going on in this cartoon.
On the very next page a drawing by Kate Curtis, a not-so-newbie relative to Ms. Dai. There's some helpful color in this cartoon (pinkish chewing gum). I've spent most of my time on this one trying to understand if the gum was pre-chewed. It looks pre-chewed. I hope it's not though.
Five pages later, A Will McPhail drawing. Somewhat atypical for this cartoonist (at least of his work I've seen in the magazine), the drawing is not a close-up of an individual or individuals. Even enlarging the drawing on my laptop, the mouth of the woman speaking seems a black-hole void. Is that intentional, or smudged ink, or or or…? Bonus(?) element: a guy with a man-bun.
Three pages later a Zach Kanin drawing. Having just yesterday driven past and heard some part of a marching band competition in a nearby metropolis, I'm delighted to see this drawing. Kanin cartoon children are always a treat. On the very next page, a Trevor Spaulding drawing concerning 401(K)s. Interesting drawing style, sort of a mash up of Kim Warp, Marcellus Hall and Herge (the fellow responsible for Tintin).
Four pages later, Roz Chast gives us a Trumpian geography lesson. This would've made for a good New Yorker cover back in late September when the president came up with the nonexistent country, Nambia.
A Tom Toro Frankenstein-related kitty drawing is next. As with all of Mr. Toro's drawings, we get more than our money's worth in the detail department. Two Frankenstein-ish drawings in two weeks (Liana Finck's drawing of last week had some Frankensteinian elements) — we must be getting close to Halloween. Two pages later, a drawing I momentarily mistook (again, while looking at the small screen of my handheld tablet) for a Charles Addams drawing. But it's an illustration by Bill Bragg, not an Addams cartoon. It would've been quite a shock had it been a full page cartoon. As mentioned here from time-to-time, full page single panel cartoons are rarities in The New Yorker.
Speaking of rarities, the very next cartoon is a duo effort: Emily Flake and Rob Kutner. Here's a Spill post from 2013 about collaborating cartoonists. This cartoon, based on one of the classic scenes in the film, Casablanca, was also the subject of a Bob Eckstein cartoon not too long ago (November 30, 2015, to be precise):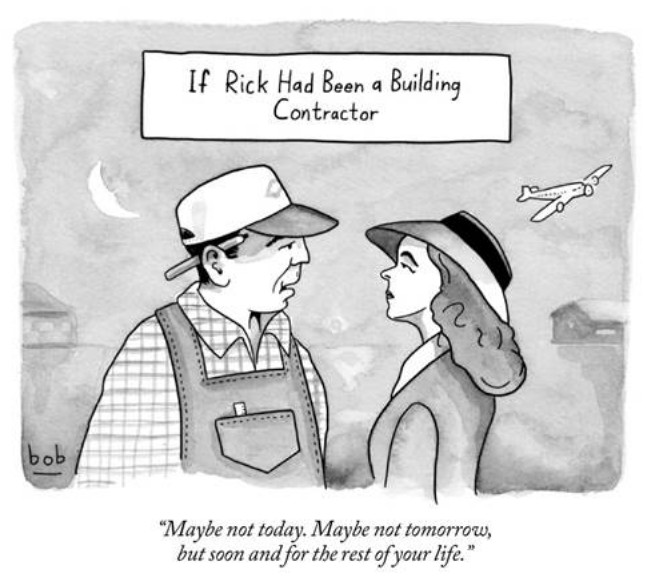 Perhaps Casablanca airport farewell scenes will take the place of desert island cartoons. Nah…
Two pages following the collaborative effort is a drawing by Frank Cotham. A sparser look than usual for Mr. Cotham, but the subject matter is as Cothamy as you can get. As much as I love his horses I think I love the little hut in the background even more.
Two pages later, a cartoonist making his debut in The New Yorker (if I'm wrong about this, someone please advise). Joseph Dottino delivers a prayer at bedtime cartoon; a seldom seen scene (seldom anymore that is. They were once nearly as plentiful as talking parrot drawings). Again, my thoughts go to several from the archives, but I'll mention just one, by one of the masters, Dana Fradon (from the issue of September 23, 2002).
Opposite Mr. Dottino's drawing is a beautifully placed John O'Brien cartoon. Mr. O'Brien is the magazine's contemporary master of caption-less drawings. This time round though, he provides a caption (in a speech balloon). As I've said in almost every one of these Monday posts, I try to stay away from heaping praise on any one drawing, but I can't resist applauding this particular drawing (there are a few others in this issue as well, but once I begin applauding this one and that one, or holding my applause for that one or this one, I'm well into Cartoon Companion territory).
Following Mr. O'Brien's drawing is another reliable cartoonist scenario: human evolution. This one's from J.A.K. (Jason Adam Katzenstein). I'm a big fan of evolution drawings having returned to the standard human evolution graphic (seen below) a number of times.
Five pages later, yet another brand new cartoonist (again, if I'm wrong, someone please let me know). Sophia Wiedeman debuts with a drawing of a person experiencing a mole or crumb moment. Five pages later, Robert Leighton has us in space. The floating woman astronaut is close to Thurber-like. Thurber-like is always a very good thing. Three pages later, is a William Haefeli drawing, the polar opposite of Thurber's minimalism. Mr. Haefeli's caption reminds me of Kevin Bacon's line in the Chisholm Trail scene in Diner: "You ever get the feeling there's something going on we don't know about."
Three pages later work by yet another newbie. Teresa Burns Parkhurst brings us a touch of Fall with a farm stand-like setting featuring apples. A nicely placed drawing.
And lastly in the issue (not counting the contest drawings on the last page) is a Harry Bliss drawing incorporating Sherlock Holmes, Watson, and a missing, or misplaced illegal substance.
–See you next week