The Monday Tilley Watch Takes A Glancing Look At The Art & Artists Of The Latest Issue Of The New Yorker
The Cover: Barry Blitt on this unusual year's Thanksgiving. He began contributing to The New Yorker in 1994. See his cover and read a Q&A about it here.
As you probably might imagine, Mr. Blitt's image of an outdoors Thanksgiving is not the first out-of-doors Thanksgiving New Yorker cover. In relatively modern times, the late James Stevenson had a couple (December 1, 1980 and November 25, 1974), and his buddy, Frank Modell had one (November 25, 1967). Here's Stevenson's poetic Thanksgiving beauty from 1980:
The Cartoonists:
15 cartoonists, fifteen cartoons, with two duo efforts (the Spill counts duos as one cartoonist). One (non-duo) cartoonist, Emily Steinberg, is making her New Yorker debut. Ms. Steinberg is the 25th new cartoonist in the magazine's stable of (print) artists this year and the 78th cartoonist brought in since Emma Allen became The New Yorker's cartoon editor in the Spring of 2017.
The Cartoons:
A number of cartoons grabbed my attention this morning, for a variety of reasons.
The black hole (or in this case, the tax loophole) cartoon by one of the aforementioned duos, Julia Leigh and Philip Day, reminded me, stylistically, in various ways, of Felipe Galindo, C.E.M., and ever-so-slightly, Edward Gorey — all stellar artists. The loophole itself took me to Felix the Cat's "Magic Hole" he kept in his Bag Of Tricks. Farther afield, the loophole reminded me of the live (i.e., non-animated) short snippet of The Beatles at the very end of their film, Yellow Submarine. Ringo pulls out a "hole" in his pocket ("to keep his mind from wandering").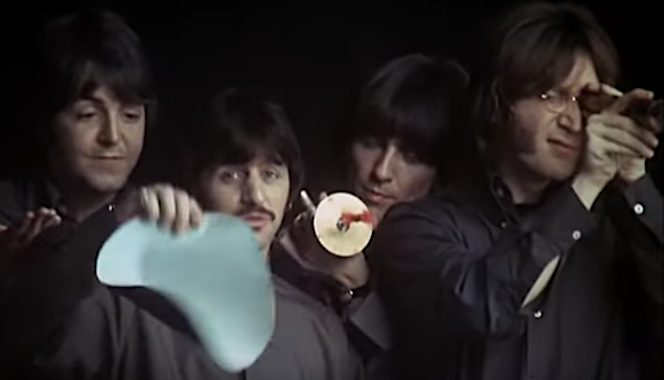 There is also a "Sea Of Holes" in the film.
But I digress…
Speaking of Steinberg, the drawing by Adam Douglas Thompson (it's on page 77) has a bit of Saul Steinberg's playfulness about it…there's a very nice drawing by Brendan Loper (p. 51) who splices the Three Musketeers (not the candy bar) with a dining-out scenario…Ed Steed makes a holiday appearance with a suitably Steedian moment at the oven (that drawing is on page 45)…finally, there's Amy Hwang's gourd-fixated guy (page 26) — I like how Ms. Hwang keeps things succinct (and funny) in her drawings.
The Rea Irvin Talk Masthead Watch:
The above design by the great Rea Irvin once sat atop The New Yorker's Talk of The Town section — a "mere reassuring blur" as Brendan Gill called it. Replaced in the Spring of 2017 by a (gasp!) redrawn version, the classic above remains mothballed.
.