Link here to read what Barry Blitt had to say about his tied-in to the headlines cover (shown above).
****
One of these days I'm going to gather all the New Yorker covers that've incorporated the Statue of Liberty. For now, I took a look back to see when Lady Liberty first appeared on a New Yorker cover. Surprisingly, it took awhile to show up what with the the magazine being, in those earliest of issues, so New York City-centric. Its debut was on the Sue Williams cover of September 7, 1929:
The Statue's next appearance was on the cover of June 24, 1939, when artist Leonard Dove incorporated it humorously:
It wasn't until the end of WW2 that the statue appeared again — in the issue dated the week the war ended with Japan's surrender. Alan Dunn shows us a troop ship arriving home in New York Harbor; soldiers are sticking their heads out of portholes, looking to see Lady Liberty way off in the distance, her silhouette just barely decipherable. Graphically speaking, in this instance less is powerfully more.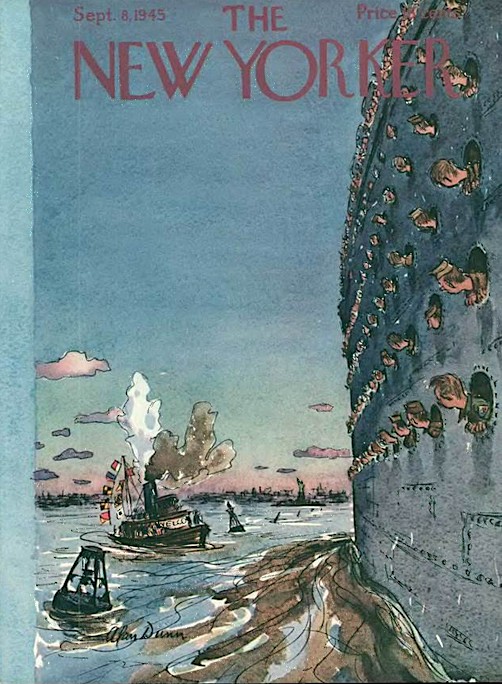 And now on to the current issue, close to seventy-three years later. From the Dept. of Just Sayin': 21 illustrations this week, 3 of them full pages. Just 10 cartoons (plus one full page by Ed Steed).
Noting two of the ten this week: Roz Chast makes excellent use of one of the cartoonist's handiest tools: the hot dog cart. In this case it's floss being sold not franks. What I really like about Ms. Chast's cartoon is that it falls into the wonderful New Yorker cartoon vein of being both surprising and highly relatable. It delivers on Peter Arno's definition of a good cartoon: a drawing that deals a one-two punch. If the Spill handed out ribbons like they do over on the Cartoon Companion site, this cartoon would be awarded one. The Spill does, however, applaud.
The other cartoon noted is by Seth Fleishman. Bulls driving racing cars at Pamplona, with the lead car driven by a person. A lovely drawing. I believe there are at least two Charles Addams cartoons with a moose driving a car, but bulls driving cars is a rarity. One somewhat closer to Mr. Fleishman's that comes readily to mind (forgive me) is a drawing of mine from the ancient times. It appeared in The New Yorker, March 7, 1989 — technically, those are steer.
For the record, your honor, here's the list of cartoonists in the issue (the aforementioned Mr. Steed's page is listed higher up on the Table of Contents):
Lastly, here's Rea Irvin's iconic masthead from The New Yorker. It disappeared in May of 2017, bafflingly replaced by a redrawn version. For more on this, go here.
— See you next week