The Monday Tilley Watch is a meandering take on the cartoons in the current issue of The New Yorker.
And off we go — a new year! Hundreds of new cartoons to look forward to in 2018's 47 issues (there are five double issues). On yesterday's Spill I showed the back flap copy from the Third New Yorker Album, published in 1930. I like it so much I'm repeating it here:
Note that the copy expresses the publisher's pleasure if you've experienced any of these symptoms while looking through the cartoons: amusement, irritation, or nervousness. I think that's about right; the magazine's cartoons shouldn't be just a cozy reassuring sweater, they should — sorry — itch a little every so often. The magazine's cartoons have long had a reputation for sometimes being annoyingly indecipherable. I think that's mostly a myth, but what the heck — it's a fun myth, and cartoons are in the business of being fun.
If you substitute "The New Yorker" for "The Third New Yorker Album" in that ancient flap copy above I think you might agree that we're still in the same boat, cartoon-appreciation-wise. At least for me, the cartoons appearing in every new issue can amuse, irritate, and/or cause some nervousness that produces that sudden clammy feeling that it's finally happened: I'm totally out of it — the world has passed me by. Why just last night I had to Google "Backpack Kid" after Anderson Cooper mentioned him during CNN's live Times Square coverage. Oh, the stress.
Thankfully, it being the first day of the new year, and an enforced happy holiday, no nervousness (for me) while looking through this brand new issue. Some amusement, and some teeny tiny fun irritants here and there (technical cartoon stuff — no cause for alarm).
But before we get to the new cartoons: just above is Rea Irvin's beautiful classic Talk of the Town masthead that's been missing since last Spring (talk about yer irritants!). I hope it returns home soon.
The first cartoon (or "drawing" if you're a New Yorker classicist) is by William Haefeli. Having selected a wine 100% based on its label just two days ago, it's personally relatable (one of several not-so-secret ingredients making for a successful cartoon). And of course the drawing itself is top shelf Haefeli.
Eight pages later, a Victoria Roberts cartoon. A surprise here is that Ms. Roberts has given us an outdoors scene — I've become accustomed to her drawings being set inside, usually in a living room. This new one is fun all around. No one else draws like Mr. Haefeli and the same is true with Ms. Roberts.
Nine pages later yet another New York City subway drawing (I'm going to predict that the fellows over on Cartoon Companion will make special note of this come Friday when they post their rated takes on the issue's cartoons). I spent more time than usually spent looking at a cartoon when I came to Ellis Rosen's well-drawn drawing of an urban underground diarist. At first glance, seeing the drawing on my tablet, I wondered if that was a hot water tank behind the tent. Switching over to my computer I could see it was a trash can.
Below left: Mr. Rosen's trash can. Right: a hot water tank.
In a way, I wish it had been a hot water tank as it would've made zero sense having it there (sometimes/most times, I love something nonsensical in the mix). I also liked that the fellow in the drawing appears to be wearing a Davey Crockett coonskin hat (but I hope it's synthetic and that no raccoons were harmed in the making of the cartoon). By the way, you can still buy these hats. Here's one on Etsy.
I worry a little about Mr. Rosen's diarist's tent. If a subway train ever does blow into the station the tent will likely have serious stability issues as there aren't any stakes holding it down.
Five pages later a Roz Chast cartoon. Like Ms. Roberts, Ms. Chast has gone outdoors. Bonfires bring to mind all sorts of stuff, some good (beach bonfires), some bad (book burning). As with Mr. Rosen's drawing, I lingered on this one a bit more than usual, trying to figure out if the ring of people was made up of children, teenagers, or adults. I think all three.
On the very next page, a Lars Kenseth Moby Dick, uh, Moby Lobster cartoon. As much as I feel for tanked lobsters in restaurants and grocery stores, this is, like Mr. Haefeli's work, top-shelf stuff. I'm dragging out the Spill's graphic applause meter for this one:
Three pages later, a boxed drawing that could only be the work of Harry Bliss. Rarely do we see this much detail in a drawing (if you don't count Mr. Haefeli's work). What I find amusing in this drawing, with its incredible detail — especially the tree in the forefront — is that there are no footprints in the snow created by either father or daughter. Shadows by the shoes, yes…but no indication of prints. Funny. Maybe it's a cleared dry pathway void of snow.
The next drawing, by Teresa Burns Parkhurst, is on the very next page. I could be terribly wrong about this but I don't remember seeing too many public restroom drawings in the New Yorker. There've been many many drawings of private bathrooms. Peter Arno's so-called Man in the Shower immediately comes to mind and of course George Booth's man in the tub series. But a quick look through the New Yorker's database only turns up a few cartoons taking place in restrooms (i.e. bathrooms out of the home). For what that's worth!
Sixteen pages later is a David Sipress television documentary series cartoon. Seeing this I couldn't help but recall one done in the same school of thought published in the New Yorker 35 years ago by a then relative newcomer to the magazine (me). Coincidentally, Mr. Sipress and I share an affection for the word and number "six" in our captions: he uses it once, "…ninety-six part -documentary…" and, as you see below, I used it twice (coincidentally, and unimportantly, I was in my sixth year of contributing when the drawing below appeared in the issue of May 2, 1983).
Five pages later an Emily Flake drawing, set outside. A woman sits on a park bench in what appears to be sweater weather — there's foliage on the trees (with two leaves on the ground). California maybe? I'm reminded of the late great Al Ross who somewhat specialized in park bench drawings. I raise my morning mug of coffee to Ms. Flake for this unexpected opportunity to mention the exceptionally talented and charming Mr. Ross.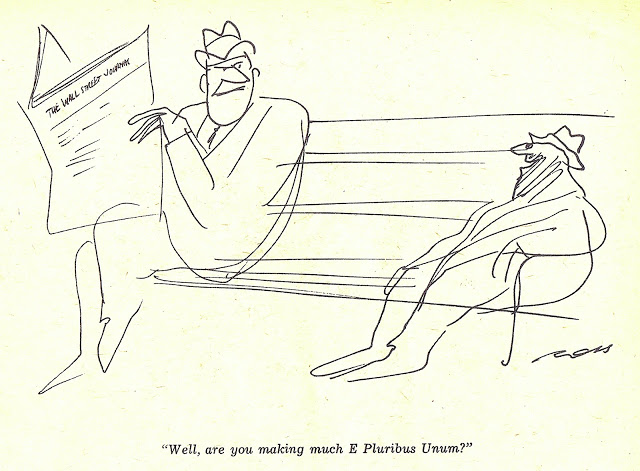 Six pages later a Frank Cotham limo drawing. Without checking the New Yorker's database I think I'm on safe ground in saying that Mr. Cotham has done a good number of limo drawings (and by the way, isn't it well past time for a Cotham anthology of cartoons?). I'm having difficulty deciphering the ears on the passenger. Are they pointy? If they are, is that essential information? Questions, questions…
Three pages later the last drawing of the issue (not counting the Caption Contest drawings). This one, by Andrew Hamm is anchored by the oft-used flock 'o' birds scenario. I pretty much always enjoy these drawings, whether done by Henry Martin or Lee Lorenz, etc., etc… Here we have very heavy appliances heading south…a scary proposition.
— See you next Monday.