The Cover: A retro cover! When I saw this attractive cover I immediately placed its style and structure in the early 1960s, and thought of a particular artist: the most prolific of all New Yorker cover artists, Arthur Getz. To illustrate, here's Mr. Getz's cover from December 18, 1965 side-by-side with this new one by Pascal Campion.
The Cartoonists:
The Cartoons: Some random thoughts on a few of the cartoons in The New Yorker's first issue of the 2020s…
…There's a duo effort by Jose Arroyo and Rob Kutner. Mr. Arroyo first began contributing to the magazine in 2008. Mr. Kutner is a comedy writer.
…Really like Suerynn Lee's breadcrumbs-on-a-trail drawing (it's on page 28) — graphically appealing with a strong caption. Of the breadcrumbs-on-a-trail themed New Yorker cartoons over the years, here's a favorite from the great Arnie Levin, published May 22, 2000.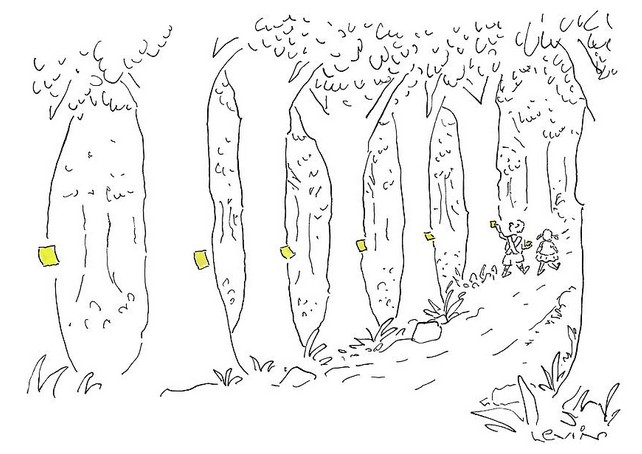 …Zach Kanin's mounted python (on p. 36) is a hoot (or a "ssssssss").  Mr. Kanin's drawings always seem (to me) to contain some kind of Charles Addamsy-ish dna, which is a very good thing.
…Can't see a dog at a computer cartoon, such as Elisabeth's McNair's (p. 34) without thinking of  Peter Steiner's celebrated New Yorker drawing published July 5, 1993:  "On the Internet, nobody knows you're a dog." It remains the most republished New Yorker drawing in modern history.
Joe Dator's procrastinating writer cartoon (p. 39) is fun. The length of the caption — and the time it takes to read it —  becomes another element of delay.
The Rea Irvin Talk Masthead Watch: Last Monday, in this space, I held out the faint hope we might see Rea Irvin's classic Talk masthead return to kick off the new year and decade. No dice. The redraw — plopped-in in the Spring of 2017 — is back after Ed Steed's fun one-off in last week's "Cartoon Takeover" issue.  Read more about the masthead here, and, as always (until something changes for the better… or worse!), here's Mr. Irvin's classic (sadly moth-balled) masthead…