The Cover: a snowy bridge. Read the Q&A with the cover artist here, and see the pretty digital snowflakes fall.
The Cartoonists:
The Cartoons:
In a throw back to earlier Monday Tilley Watches, I'll take a quick tour through all the cartoons in the issue; a mostly text-driven drive-by of the work.
The first drawing, by David Sipress, references the recent demise of Mr. Peanut (is he really gone, or was it just a dream?). The topic of the late legume was recently covered here.
…Julia Suits's pirate in cargo shorts on a gangplank is next (cannot see cargo shorts/pants on a New Yorker cartoon character without thinking of the below cargo pants drawing by the late great Leo Cullum — it appeared in The New Yorker,  August 17, 1998: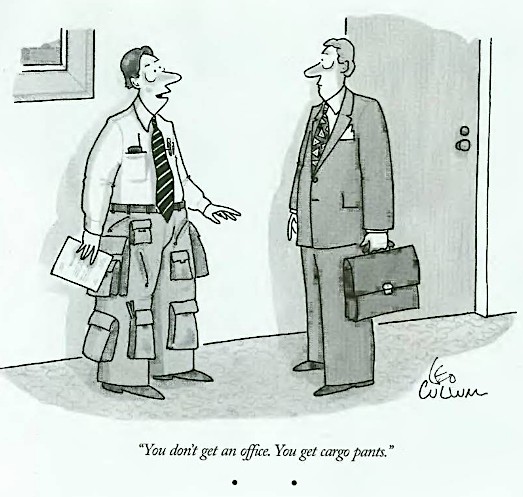 …The third cartoon (oh, alright: drawing) in the issue belongs to Barbara Smaller, who's been contributing to the magazine since 1996.  A bedroom, a married couple, and a reasonable question.
…next is a Zach Kanin poker game (assuming it's poker — I see chips on the table). I really like the three card players Mr. Kanin has drawn. The fellow to the left looks a little like Ernest Borgnine (with a pinch of Broderick Crawford tossed in?):
To me, the guy on the far right resembles Mandy Patinkin.
…next up: Liana Finck on an age-old flooring concern. Nice floating ghost.
…Harry Bliss and one of his collaborators (Steve Martin) address a potential problem for passengers on one of those floating mini-cities sailing the seven seas.
…five pages later: an Emily Flake drawing far far removed from her usual style and cartoon concerns. Think Hindenburg disaster mashed with social media done in a sort of Stuart Leeds style.
…on page 45, a Tersa Burns Parkhurst retirement party. Dunno why but the cartoon reminds me of MAD magazine's Dave Berg's "Lighter Side Of…" drawings (that's a good thing!).
…on page 43 is a drawing by Mick Stevens, one of the most veteran artists in this issue.  He began contributing in December of 1979 (Roz Chast in this issue with a full page color Sketchbook, beats him out by more than a year– her first drawing appeared in June of 1978).  I wonder if the male dancing bird in Mr. Stevens's drawing was originally in color. Either way (color, or b&w), a fab cartoon.
…David Borchart's auto rental drawing (page 43) gets a Spill gold star for the use of the word "rassle." Zeke, the fellow that's prepared to rassle, is also mighty terrific.
…On page 54 is an Ed Steed drawing that at first glance reminds me of Zach Kanin's in this same issue, but only because, in both drawings, the viewer is seeing a table front and center and from near precisely the same angle. Instead of card players (as seen in Mr. Kanin's drawing) we have animated garden utensils and tools. They're plotting something.
…next up is a Robert Leighton drawing of mountain climbers.  I love how Mr. Leighton has immediately tossed us into a situation that would normally demand the best possible equipment available. You gotta feel for the climber who came unprepared.
…Thoroughly enjoyed  — as usual with Lars Kenseth's work — his drawing of campers situated down on the ground, and in much nicer weather than Mr. Leighton's. Look at the care he took in adding the reflection of the moon on the lake.
…next up is a three panel hat x-ray drawing by Liza Donnelly ( who began contributing to The New Yorker in 1982). This drawing answers the oft-asked question of what could possibly occupy all that beanie air space. Love the kitty!
Lastly, Adam Douglas Thompson (the most junior artist in this issue — his first drawing appeared in The New Yorker in the issue of April 8, 2019) gives us a sort of contemporary Chon Day drawing (it's on page 68). "Sort of" because Mr. Thompson's line and Mr. Day's line have different flows.
The Rea Irvin Talk Masthead Watch:
This man (Rea Irvin) is wondering what happened to his beautiful Talk masthead design (shown below). You know — the one that appeared in The New Yorker for 92 years, not the re-draw that's been around since May of 2017.  Who took the iconic masthead away, and why, and where oh where can it be? Actually, the answer to the first question is easy. Perhaps the last question is easy as well.  It likely resides in a file on a desktop, easily accessed. The question of why is the puzzler. Read more about its disappearance here.
____________________________________________________________________________
Today's Daily Cartoonist & Daily Shouts Cartoonist
The Daily Cartoon: by Brendan Loper, who began contributing to The New Yorker in 2016.
…and a Daily Shouts by J. A. K., who began contributing to The New Yorker in 2014.