Ink Spill experienced technical issues for much of the past twelve hours and thus the Monday Tilley Watch will be abbreviated today. Apologies!
The Cover: from Tom Gauld, a starry starry night black & blue paneled cover. Read a Q&A with him here about it.
The Cartoonists & Cartoons:
Two newbies in this issue: Jared Nangle and Mo Welch. They are the 25th and 26th new New Yorker cartoonists of the year, and the 51st and 52nd new cartoonists brought in under the cartoon editorship of Emma Allen since she took the cartoon department reins in the Spring of 2017.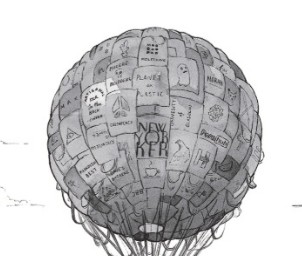 One question: as I zipped through the issue I wondered if Will McPhail's use of The New Yorker's logo within one of the magazine's own cartoons is a first for The New Yorker? Let me know. I think it is, but as always am delighted to be corrected.
A snippet of his drawing showing the logo appears to the left.
The Rea Irvin Masthead Watch: Sadly, nothing to report other than the redrawn version is still in place. The real deal is below (you can read about all this here).
______________________________________
Terry Gross Posts Her 1986 Gahan Wilson Interview
NPR's Terry Gross has re-posted her 1986 interview with the late very great Gahan Wilson. Listen here.
_______________________________________
Today's Daily Cartoonist & Cartoon
Leftovers, by Jon Adams, who has been contributing to The New Yorker since 2017.