The Monday Tilley Watch is a meandering take on the cartoons in the current issue of The New Yorker.
Back in February of 1996, the New Yorker celebrated its 71st anniversary with a "Special Women's Issue." Of the 23 cartoonists in the issue, 20 were men. The three women cartoonists were Victoria Roberts, Roz Chast, and Liza Donnelly. The cover, a take-off on Eustace Tilley, dubbed "Eustacia Tilley" was handled by a man, R.O. Blechman.
Now, just 21 years later, we have what I believe to be a first: this is the first issue of the New Yorker where the number of women artists outnumber the men (if anyone can provide an earlier issue where this was the case, please let me know). Of the 14 cartoonists contributing to this latest issue, 8 are women. The cover is by a woman as well.
Before heading on to the cartoons and cartoonists, I note this modern Tilley take (below left) on page 4, below the list of Contributors:
Poor Eustace! He's lost most of his facial features, and he seems to have gained a large strand of red licorice around his shoulders. Just as a reminder, I've placed Rea Irvin's original Eustace alongside, lest we forget.
Now on to the business at hand (at eye?). The first cartoon is the not-too-often-seen -anymore people-in-line drawing. Memorable people-in-line moments that come to mind: the line waiting for soup in Seinfeld's "Soup Nazi" episode, and this classic Woody Allen scene. Mr. Vey's caption has a faint Horton Hatches The Egg-ness about it. The drawing itself features an abundance of stanchions that immediately reminded me of this wonderful captionless cartoon by Bill Woodman that appeared in The New Yorker, May 8, 1978:
Five pages later is Sofia Warren's second-ever New Yorker drawing (her first appeared last week). Sometimes New Yorker drawings drive me to the closest dictionary (via a search box) to clarify some word or phrase I've felt I generally understood (but didn't really). There are two drawings in this issue that caused me to seek further definition. The use of "vortex" in Ms. Warren's drawing was the first. Webster's defines it as "something resembling a whirlpool" — Aha! That's in the ballpark of what I thought it meant. Ms. Warren, confronted the challenge of drawing a stand-alone whirlpool by giving us an energetic mass somewhat resembling birds nest pasta. Works for me (both the vortex and the pasta).
Three pages later a father/son factory "Someday this will be all yours" drawing. Updated, I suppose, with a reference to offshore shell companies. In tried and true trope fashion, Mr. Noth has shown us framed images of the company's previous generations of owners. Next up, a mash-up drawing by newbie, Jon Adams. Here we have the Michelin Man (in a sash). I had to look that up as well. I didn't picture him in a sash — apparently, he doesn't always wear one. The rubbery fellow is mixed up with the famous Michelin Guide. Also apparently, the Michelin Man is a Michelin Guide food critic who has been escorted out of a restaurant by a chef. The restaurant apparently (yes, the third "apparently") does not allow customers to wear sashes. An awful lot of apparentlys here.
Three pages later another newbie, but not as new as the previous newbie. In this Teresa Burns Parkhurst drawing both of the folks seem to be speaking (both have open mouths). I suppose it doesn't really matter who's doing the talking. The caption works either way. I was surprised that this drawing and the last were so close together as they are graphically similar.
In another three pages we come to the always welcome art of Joe Dator. I can't quite explain how (or why?), but I feel Mr. Dator brings a Mad Magazine/National Lampoon-quality to the New Yorker. And that, of course, is a very very good thing.
Four pages later is a Roz Chast drawing — it's the second drawing of the issue that took me to the search box for a clear definition. I've heard "life hacks" for awhile now, but never took the half-second to look it up. Well, okay…got it now.
Four pages later a Tom Chitty police line-up drawing. Mr. Chitty went at this head-on which almost (almost) makes the fellows in the line-up look like they in a painting or photo on the wall. Maybe they are, but I don't think so. I wondered why it was possibly a #7 missing from the line-up and not #6. Anyway, funny idea. On the opposite page is a Liana Finck drawing — the style recognizable from across the room. Nice grizzly bear.
Twenty-one pages later (!) is a Liza Donnelly drawing of an off the grid little piggy. I can't tell if he's happy to be off the grid or not. Has he made the right decision for him or herself? Only the little piggy knows. Opposite Ms. Donnelly's drawing is a Frank Cotham drawing that caused me to, as Bob Dylan once said (in the song "Belle Isle"), "stay for awhile." I couldn't decide who was "clinging to territory"— the dog or the guy. I still can't decide.
Four pages later a drawing by another newbie, Maggie Larson (but this isn't her first New Yorker drawing). Ms. Larson's style here reminds me of someone we don't hear about much anymore: Charles Sauers. Both Ms. Larson and Mr. Sauers work employs a particular perspective as well as simple line drawing. Here's a Sauers drawing from the August 20, 1984 New Yorker: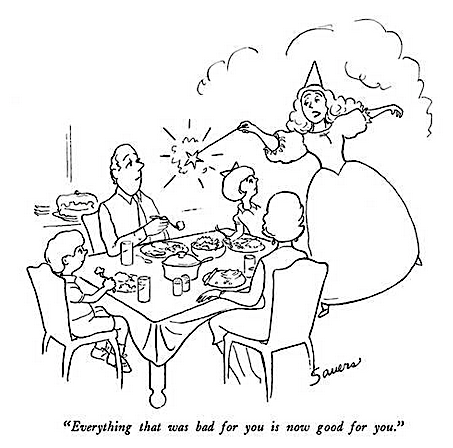 And the last drawing of the issue (not counting the work on the Caption Contest page) is by Kate Curtis. A really well drawn piece, solidly in the Charles Addams school of everything.
So that's that for this week…other than mentioning my campaign to reinstate Rea Irvin's Talk of the Town masthead. Here's Mr. Irvin's original. Perhaps someday it will get back to where it once belonged.