Jack Ziegler, recently referred to on this site as the Godfather of Contemporary New Yorker Cartoonists, has been contributing to the magazine since February of  1974.
Now in 2016 he is solidly in the K Crowd — meaning he's published well over a thousand cartoons and one cover in The New Yorker (we'll get to the cover later).  Considering that Jack has been the subject of former New Yorker Art Editor, Lee Lorenz's The Essential Jack Ziegler and more recently as one of Richard Gehr's subjects in I Only Read It For the Cartoons, I thought it would be interesting to talk about things that, for the most part, weren't brought up in those books. I highly recommend seeking out both those titles for a full account of Jack's personal and public shenanigans over the years.
This is Part 1 of my interview with Jack. Later in the week I'll post Part 2, where we discuss a number of Jack's favorite drawings, and a number of my favorite Ziegler drawings.

__________________________________________________________________________
I'd heard from Jack years ago that he was a CBS page during the Beatles historic Ed Sullivan debut, but what I didn't know was that he also paged for the Jackie Gleason and Garry Moore shows. It seemed the perfect place to begin our interview.
MM: So, this inquiring mind wants to know: did you get to meet  "The Great One" (Jackie Gleason) when you were a page at CBS?
JZ: I never got to meet Gleason.  He wasn't around all that much and when he was in the studio he was referred to as "God."  I think we taped the show on Tuesday nights & he wouldn't show up till sometime that afternoon so that he could watch the dress rehearsal.  That was apparently all he needed to absorb everything he needed to do onstage.  Barney Martin, who eventually played Jerry's father on Seinfeld, was his stand-in.  It was a fat guy to fat guy transference.
As a page, or glorified usher, I did get to watch all the tapings from Studio 50, now the Ed Sullivan Theatre, at Broadway & 53rd in NYC, from the audience until the Gleason Show moved – lock, stock & barrel – to Miami.
[In Gehr's book, Jack mentions an elevator ride with Jackie O.  I wanted details]
MM: What about the elevator ride with Jackie O.  Just the two of you?
JZ: I had sold my second book, Filthy Little Things, to Doubleday – and Jackie Kennedy happened to snag a job there around that time as an editor.  I had just dropped off a bunch of drawings for the book and then took the elevator down.  The car stopped at another floor and she got on and it was just the two of us, sans Secret Service escorts.  Then we rode that baby down another couple of floors before she hopped off, exhausted but elated (they tell me), and I stayed on till I hit the street, at which point I had a chance to exhale.
MM: Do you remember the first time walking into the New Yorker's art department [the magazine's offices were then located at 25 West 43rd St]  What was that like for you? Who'd you meet?
JZ:  It was a Wednesday in November of 1973.  There was to be an annual Cartoonists Guild meeting & cocktail party later and I was wearing a sports coat and a heavy sweater so that I wouldn't have to deal with an overcoat later.  I thought I was just going to drop off my usual batch, but there was a note from Lee Lorenz included in my returns asking me to come back to chat about one of my drawings.  Oh, boy!  Natasha the receptionist opened the gates and pointed me in the direction of the Inner Sanctum.
Left: the New Yorker's Inner Sanctum at 25 West 43rd St.
It was a warmer than usual Nov. day and I was starting to perspire in my excessive outfit.  The first person I saw in the office was Henry Martin, whom I'd already met at True magazine while on rounds.  Sam Gross was there, too; I'd met him a few weeks back at National Lampoon.  I was then introduced to the other people who were there: Dana Fradon, Donald Reilly & Charlie Sauers.  By the time I got to sit down with Lee, the perspiration had turned to flop sweat.  Lee asked if I was OK as he handed me my first OK.  Then he gave me a little pep talk and basically just said to make the drawing a little bit better.  I was a wreck, but in a good way.  When I got back down to earth, i.e., 43rd St., I headed for the nearest pay phone to break the good news to my wife.
MM:  How aware were you of the work of veteran New Yorker cartoonists who were around when you began at the magazine…for example: Frank Modell, Warren Miller, Dana Fradon, Charles Saxon, Mischa Richter and on and on.
JZ: I knew of them all.  When I was a kid, my parents subscribed to a lot of magazines, but not the New Yorker.  Fortunately, a friend of mine's parents did, so from the late '40s, early '50s, I was a big fan.  Some neighbors down the block had a copy of the New Yorker 25th Anniversary Album, with which I was fascinated.
 Every time I went over there, I'd head for a quiet corner with that book.  One day I asked if I could borrow it & the owner said if I could find it, I could have it.  I interpreted "have" as "keep."  I still "have" it.  After that, I started buying the mag on my own.
MM: Let's talk about your one and only (as of this week, anyway) New Yorker cover.  Curious as to why there wasn't a bushel basket full of more Ziegler covers following that one.  You obviously submitted more.   Did more sell that didn't run?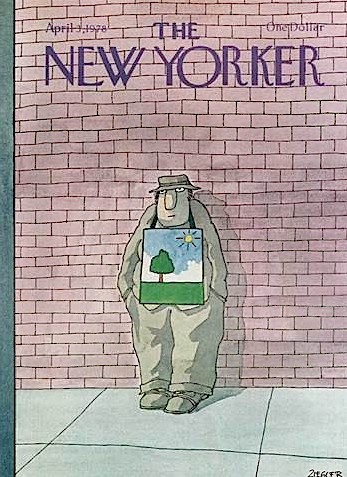 JZ:  Selling that cover was very encouraging, and i submitted a lot of them, but that was the only one that got bought until 1991, when I sold a fall-themed cover.  They weren't able to run it that year because all the fall slots had been taken, so it got pushed back to '92.  Then editor Robert Gottlieb left and Tina Brown took over and killed everything that was scheduled to run.  It was the beginning of The Tina Years.  So – that was that.  It did eventually run inside as a full-color full-pager with the title, Fall Sweeps.  Oh, well.  But I'd love the chance to redo that one cover – ya know, just to make it right.
MM: What about the cover would you change?
JZ: I like the guy.  The bricks should've started higher, instead of going all the way down to the sidewalk.  I had to take 3 stabs at the sandwich board before Lee was satisfied and you can almost see that it's pasted on.  The final (sandwich board) came out OK, though.

MM: I'm going to ask you the same question I asked Woodman [Bill Woodman, who was the subject of an Ink Spill interview in September of this year]: when you began at the New Yorker were you aware your work was quite different than what the magazine had been publishing in its previous fifty years? (Ed Koren, who preceded you in the magazine by  a dozen years would be an exception).
JZ: I had no inkling of that.  I knew that I felt that I wasn't quite seeing the type of cartoons I wanted to see in the magazine.  They were good cartoons, but too many of them weren't making me laugh the way they had when I was a kid.  I wanted to do drawings that were funny to me, & not necessarily to anyone else.  I was out to please myself, so I never asked: Is this a New Yorker cartoon?  Who knows?  Is this a Jack Ziegler cartoon?  Yep.
MM: I remember the first time I saw you in person – it was an enormous book fair in midtown Manhattan, circa 1979.  That cartoon anthology Animals Animals, Animals had just been published and you were on a panel with Sam Gross out there on the street (West 50 something) in front of a large crowd.  Were you comfortable being in the spotlight?
JZ: It was probably either Doubleday or Rizzoli – also could have been part of NY Book Fair that year.  Ruth Gordon and Garson Kanin were also there signing books, but hadn't appeared yet.  I kept telling people that we had them both tied up in the basement & they wouldn't be set free until the cartoonists had sold a certain number of books.  Oddly, some people were there to buy the Gordon/Kanin book and got pissed off.  So far as spotlight goes, I was never uncomfortable.  When I was a page at CBS we used to have to be front and center to give various little speeches and instructions to our captive audiences.  I was uncomfortable with that for awhile, but quickly got over it and began to tell them silly, made-up stuff, as well as the crucial info.  When you're signing a lot of books for a crowd and the books are being passed around from cartoonist to cartoonist, the time goes fast and you start doing riffs on the little drawings that the other cartoonists have done before the book got to you.  It was fun.
Left: Bob Mankoff, Mick Stevens, Richard Cline, Jack Ziegler, Liza Donnelly. New York, 1984.
MM: The next time I saw you was in early 1985, at The New Yorker.  William Shawn had called in a bunch of cartoonists to talk about the impending sale of the magazine to Advance Publications. Besides us "kids" sitting on a table along the back wall, I only remember Steig and Barney Tobey. What do you remember from that somewhat historic meeting?  Besides Lee Lorenz, and the aforementioned Steig and Tobey, what cartoonists do you remember being in the room? And…what do you remember how you felt being there with Shawn, in that crowd?  Had you met Shawn before?
JZ:  I had met (or rather, seen) Shawn before, usually exiting or entering his elevator and sometimes in the hallway (rare).  He gave another speech to the assembled troops several years prior to Advance's acquisition.  It was probably late '70s, when a group of New Yorker employees were attempting to unionize the workers.  The unionization never happened, but as a result, we were promised health insurance and a pension plan.  Not a bad outcome at all.
I sort of remember the Advance meeting being in Lee's office, but that's probably incorrect – there were a lot of people there.  I noted it in my desk diary as Black Wednesday, 2/13/85.  Other than those you mentioned, also present were gagwriter and sometime cartoonist Richard McCallister, cover artist Gretchen Dow Simpson, Charles Addams, George Price, Frank Modell, Joe Farris, Roz Chast, Al Ross, Ed Frascino, George Booth, Ed Fisher, Bud Handelsman, Arnie Levin, Henry Martin, Bob Mankoff, you, and I.  I was quite impressed with Shawn's lucid presentation of the complicated takeover process.
MM: It's risky talking about current New Yorker cartoonists, unless you're all nicey-nice, so I'd like to ask you to comment, however briefly you'd like, about some of our departed colleagues. Either comment on their work, or them personally, if you knew them.
> Richard McCallister
> Charles Saxon
> Steig
> Charles Barsotti
> Al Ross
> Chon Day
> William Hamilton
> George Price
JZ:  When I first moved to New Milford, CT, in 1975 I used to mail in New Yorker finishes from the local PO.  One day there was a gentleman in front of me who was also holding a manila envelope addressed to Lee Lorenz.  I tapped him on the shoulder and introduced myself, told him that he had to be either Richard McCallister or Stan Hunt (I knew that he, too, lived in the area, but had never met him).  It was McCallister.  We – my wife and I – became friends with him and his wife Alice and would occasionally socialize, at which times I would pump him with questions about the magazine and his (kind of) partnership with Peter Arno, for whom he supplied a buttload of ideas.
Bill Steig also lived in the area, about 20 miles north of us in Kent, CT.  We used to meet up by happenstance in various restaurants and would join each others' table for the meal.  Bill was always saying that no matter how old they get, he still always worried about his kids. One day I mentioned that I would occasionally send in some resubmissions to fill out the batch if it was a particularly dry week.  He was amazed.  "You mean you can do that?," he said.  I was stunned that in all his years with the New Yorker it had never occurred to him to do that.
I had communicated with Charley Barsotti for years prior to my moving to Lawrence, KS.  He was living only about 40 miles away in Kansas City, so it was only natural that we get together for lots of lunches & dinners – and we did that a lot, until he was diagnosed with a brain tumor and then died about a year later.  The last time I saw him was for a sun-filled patio dinner at Axois, a great restaurant a block from his house.  He was frail that evening, but still full of spunk, and I've never seen a nattier couple.  In comparison, I looked like a dropout in shorts and a Hawaiian shirt.  He wanted a side of potatoes with his meal, but his wife Rae told him they weren't part of his strict diet.  He just looked at her and ordered the potatoes anyway.  He, as always, just wanted to have a good time.  He died about 2 weeks later.  And, no, it wasn't the damn potatoes.
I still get together with Rae for the occasional meal and we talk about Charley and all the amazing work he left behind.
I would see Al Ross only occasionally at the magazine and he was always friendly and jovial.  I would see both Hamilton and Saxon at the mag, but they seemed more remote.  I never met Chon Day and only had a glimpse of Price once at the aforementioned Shawn meeting.
MM: Lee Lorenz brought you into the magazine. What was it like working with him? Did he just kind of let you do your thing once you began or was he working closely with you — a combination, perhaps?
JZ: My first meeting with Lee was when he invited me back into his office to "discuss" one of my drawings.  That was a big deal, a life-changing deal.  He gave me a few hints, very loose, very casual, about how to approach the finish.  I think I did 3 versions before it looked right to him.  After that, I sold sporadically for about 6 months before they started buying on a fairly regular basis.
Below: Mr. Ziegler's first New Yorker drawing, published February 11, 1974
I do remember having a hard time for some reason drawing older people – I was in my early thirties at the time and I guess I just couldn't identify.  After several attempts with one idea, Lee gave up on me and had Whitney Darrow, Jr. do the finish. But I've come a long way now and drawing old codgers these days comes naturally.
"Hole: The Original Soundtrack" was a 3-page, 8-picture absurdist spread that the New Yorker bought.  Lee had spread out all the drawings on the floor of his office and we were crawling around among them trying to figure out various sizings.  Lee turned to me and mentioned what a ridiculous way this was for two grown men to be earning a living.  And it was.  He was serious about cartoons and great fun to work with.
MM: I know Charles Addams did at least two of your ideas. [Nevermore and the little mail truck…is that right?]  Were there more — and were there ideas given to anyone else other than the Whitney Darrow you mentioned?
JZ: Nope, that's it.  Only those 3 – and they all looked great.  I couldn't have done them better myself – I mean, the Darrow drawing I couldn't do at all – his version is lovely.
Left: drawing by Whitney Darrow, idea by Jack Ziegler
MM: What did you think of Addams' versions of your ideas?
JZ: Addams' Nevermore drawing has a layout that closely follows my original (as I remember it – of course, I never saw it again) – there wasn't anything much different you could have done with it.  His mail truck version is more elaborate and detailed and far, far better than mine.
MM: You began at the New Yorker with Shawn and you've seen Bob Gottlieb, Tina Brown and now David Remnick move into the big chair.  Have any of these changes meant some kind of change for you, your work?
JZ:  There's always a worry when a new editor takes over, but I never had any major problems with any of them.  I didn't have to make any adjustments, with the exception of the Gottlieb years.  For some reason, Bob G. didn't like white space in drawings, so every square centimeter had to be filled with something, sometimes to the detriment of the drawing.  The words in a balloon caption had to rub up against the sides of that balloon.  No air allowed.  Seemed silly to me and the drawings of almost everyone suffered.
Tina Brown was different.  She was an anything-goes girl, the nuttier, the edgier, & sometimes the sexier the drawing, the better.  I submitted a rather rude cartoon, "I just did a huge one in my diaper," a drawing for the hell of it that I knew the New Yorker would never buy.  But, to my surprise, Tina did and it made me very happy.  I love it when a surprise like that happens.
MM: So what's the thrill, some forty-three years since you began at the magazine: is it that moment an idea works for you, the drawing itself, selling the drawing, seeing it published in The New Yorker?
JZ:  It's always a blast when you come up with an idea that you know no one has ever come up with before.  Also, it's fun just thumbing through a stack of old drawings and coming across something that you've totally forgotten about and it makes you laugh out loud.
Selling a drawing is always nice for the bottom line, but the choices of what gets bought are almost invariably a surprise.  Personal favorites rarely get chosen.  Sometimes the worst idea in the batch is bought – and then, once it's published, it turns out to be a huge hit.  Seeing anything of one's own in the magazine is always a thrill, no matter how many times it happens – especially if it's sized correctly.  Judging the value of one's own work has always been impossible.  And I'll always have certain favorites among my thousands of children, no matter how crappy everyone else thinks they are.
MM: Not long ago someone asked me how I could come up with ideas without getting out in the world. Do you think it's necessary to "get out in the world" for your work?
JZ: You certainly have to have some background of having been out in the world, but as far as a day-to-day thing, nah.  I have very little live contact during the week, except for dog walks and buying the newspaper.  I rely on the blank piece of paper on my clipboard to reveal the secrets within.  I had normal jobs and contacts for my ten years between college and cartooning, so I was aware of the ins and outs of daily workplace socializing, so I rely on those not-so-fond memories to get me through the batch.
MM: I know you read everyday before you begin working on drawings.  Does the reading actually translate into drawings or is it something that, let's say, exercises the brain?
JZ: It's more a case of getting the brain moving in the morning.  Sometimes ideas spring from that, but mostly not.  After reading, I check out the New York Times, just the first page of each section, to see if anything leaps out at me.  With all the budget cuts and downsizing of that paper over the past few years, there's far less there, so that formerly useful tool has become kinda useless.  But I still look, just in case.  I rarely get to delve into the interior until lunchtime.
MM: Is there a certain cartoon scenario that your happiest working on/workin in? (marital situations, barbeques, the old west, business people, etc) or are you happiest with whatever you're working on at the moment?
JZ: Whatever I'm working on at the moment, whatever ideas pop into my head, no matter the genre.  I do like drawing cowboys on horses and almost anything to do with the "Wild West," however.  Whenever I'm stuck I invariably start drawing guys on horses, and ninety per cent of the time that leads somewhere.
MM:  I love your  drawing of the cowboy kissing the gal while covering his horse's eyes.  It's one of those not laugh out loud drawings (although it could be), but some other kind of humor.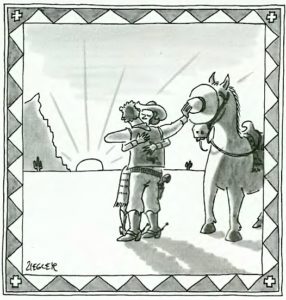 JZ: I really like that one too.  My memory of it is that it's something that emerged totally out of a doodle that I just kept adding things to, including the frame.
MM: I'm not one for dissecting what's successful, but I think of that as a very successful drawing, an evergreen. Any comment on that drawing, or evergreen drawings in general (as in: do you prefer them to topical drawings?). 
JZ:  I do like drawings where there really isn't any joke — or kicker, as Sam Gross would say. The cannon in the bushes is like that.  I'm sure a lot of people scratched their heads over that one, but it's just a cannon poking out of some suburban bushes and that's all it is. There can be many interpretations.  It amuses me and I have no idea why. I far prefer these types of drawings to topical.  They have a longer shelf life, at least in my own mind.
MM: The New Yorker's current cartoon editor, Bob Mankoff memorably said, "It's the think, not the ink."  Agree, disagree?
JZ: Agree.  But it's always nice when cartoonists know how to draw so that they can give us something pleasant and fun to look at.
(Photo of Jack Ziegler at the very top of the piece, taken in 1985;  photo of the New Yorker's Inner Sanctum, taken in 1991: both courtesy of Liza Donnelly)
A Jack Ziegler selected bibliography:
Hamburger Madness  Harcourt Brace Jovanovich, 1978.
Filthy Little Things    Dolphin, 1981.
Marital Blitz   Warner, 1987.
Celebrity Cartoons of the Rich and Famous   Warner, 1987.
Worst Case Scenarios    Fireside, 1990.
The Essential Jack Ziegler (Edited by Lee Lorenz)  Workman Publishing, 2000.
How's the Squid?   Harry N. Abrams, 2004.
Olive or Twist? Harry N. Abrams, 2004.