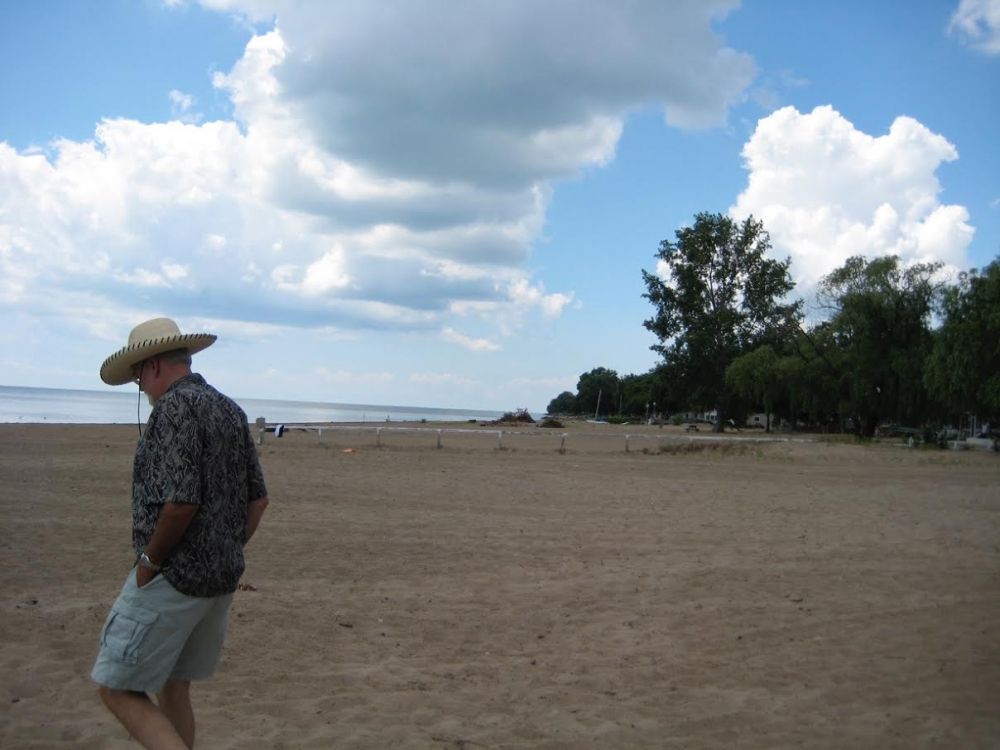 In Part 1 of my interview with Jack Ziegler he mentioned having a few certain favorite drawings among [his] "children." I asked him to name several for us to discuss over the phone. I also picked out a handful of my Ziegler favorites to discuss. As Jack said he'd like to be surprised, I had a number of other drawings in mind to bring up. What follows is a lightly edited transcript of that conversation, recorded less than a week ago.
MM: Let's talk hamburgers.
JZ: Ok, why not.
MM: What is it about hamburgers?
JZ: There's something funny about hamburgers. Hamburgers, toasters. parking meters…
MM: …Mr. Coffees…
JZ: I was thinking at one point of just doing a book about hamburgers, but I thought it might get a little tired.
MM: Well, I don't know…right now I'm looking at the drawing on the back cover of Hamburger Madness.
JZ: That was done especially for the book.
MM: Lee Lorenz's Essential Jack Ziegler has a hamburger drawing on the cover.
JZ: Yeah…that's true.
MM: You're like Mr. Hamburger, or something.
JZ: I guess. People always used to connect me with toasters, but after all these years the hamburgers are starting to shine through.
MM: That's funny, because before I started looking through the collections of your drawings, that's what I thought of: toasters. I thought: I'm gonna have you talk about toasters.
JZ: I still do some toasters. I like those old 1930s toasters.
MM: I looked at one of your latest drawings in the New Yorker… the airplane. The airplane itself – is that sort've based on…
[laughter]
JZ: it's not based on any experience of mine. If you're drawing a regular airplane there's nothing amusing about it. So you try to just make it a little bit nicer.
MM: It's a grand airplane.
JZ: It looks like a big cargo plane that's designed to carry tanks and villages.
MM: I love the way you draw trucks, such as the one in this drawing. Is this truck an amalgam?
JZ: It's not based on any real truck. Nothing I draw is based on anything real. Even when I'm drawing an elephant, it's certainly not anywhere near a real elephant. I like them with shorter legs and fatter than they really are.
MM: So you're suggesting it's an improvement?
JZ: Yes –it's an improvement.
MM: I also like the little guy in the plane window, He looks a bit woeful.
JZ: I always like to put in an onlooker.
MM: That's a good title for a book for you.
JZ: Onlookers Anonymous
MM: I like these vista or panoramic drawings you do, like the Where the Great Wall Ends, the Empire State Building, Pipeline TV, Great Moments from the Silver Screen. This might sound like a stretch, but the Silver Screen drawing looks a little like Steinberg to me.
JZ: Yeah, I guess. This was a drawing that never appeared anywhere but in this book [Hamburger Madness]. I like to get drawings out that I particularly like, that nobody else likes.
MM: All these drawings we're looking at elicited a laugh beyond my brain, if you know what I mean. There's a drawing right across from Silver Screen in Hamburger Madness — a guy in a phone booth saying Hare Krishna…very funny.
JZ: They're essentially really stupid drawings. Y'know, drawings for dopes. Stuff that strikes me funny, a lot of the times for absolutely no reason at all. There's just something there that's funny, and I don't know why. This Hare Krishna one is hardly even a joke, but it is. There's definitely something wrong with me.
MM: Lucky for all of us.
MM: I love the pencil sharpeners with the pencil stub ["Had enough?"]
JZ: A drawing like that is from a doodle. I just started drawing the pencil sharpener that used to be on my desk. I started drawing several of them and they looked like they were looking at something. I had to put something there they were looking at, so I went with the logical.
MM: You feel sorry for the little pencil?
JZ: Yeah, it does look kind of pathetic.
MM: The drawing Hamburger Madness itself I identify with you a lot, back in the early 70s – the quintessential Jack Ziegler drawing.
JZ: When the New Yorker bought it they didn't run it for the longest time and I knew I wanted to use that title [for the book] so I had to kind of pressure Lee [Lorenz] to get that drawing in the mag before this thing got published. He was great about it, and within a couple of weeks it appeared.
MM: Tell me again – maybe I read it in Lee's book [The Essential Jack Ziegler] or somewhere – that you created this idea of the box around the drawing?
JZ: No, I don't think so. Kliban was doing stuff sorta but not quite like this. Almost all of his drawings were in boxes. And a lot of times there'd be a title usually up at the top, almost like a panel newspaper cartoon.
I don't think anybody at the New Yorker was doing it. Right from the beginning I was doing drawings like that, a lot of times they weren't boxed-in though. Eventually I realized they'd be more attractive and logical if there was box around the whole thing.
MM: The drawing with hooty owl took me by surprise, and that's what you want right?
 JZ: That's exactly what you want. I would think you'd want that of all cartoons as you turn the page — that there's a surprise.
MM: What about the Electrolux vacuum cleaner that's in the sea. That's kind of out there.
JZ: Another unpublished drawing as I recall.
MM: Love the drawing. I don't expect you'd remember where it came from?
JZ: I've done a lot of drawings about Moby Dick, y'know. I'm sure this came from a doodle. I Probably drew the vacuum cleaner in the ocean first.
MM: You would agree that this one is fairly on the spectrum of crazy.
JZ: It's unorthodox
[laughter]
MM: Let's talk about "Damn it, man, do I look like I have any yellow ochre?" Another one of those panoramic, sort of vista drawings.
JZ: Yeah, right. I wanted to make it look like a painting by one of the Impressionists. Based on those lines of trees, those tall trees. It might be from a little after I was in France that one time in 2000. There was a New Yorker gig on the QEII and a bunch of us went over and we were drawing for the passengers and the folks in steerage. It was fun –they brought us to England, and then we went over to France and stayed there for awhile. It was so great. We visited Givenchy, Monet's hometown. Really inspirational to look around there. You couldn't help but want to be a painter when you looked at the color and the way things were set up.
MM: A beautiful drawing. You got the little car in there.
JZ: Well he had to get there, right?
[laughter]
MM: True, true. Very practical.
MM: A number of your drawings have a far eastern influence. 30 Sumos Over Tokyo for instance.
JZ: I think that was done after Sunrise on Mount Hibachi. I like looking at Japanese prints. Those woodblock prints.
MM: The clouds [in the Hibachi] drawing are great.
JZ: That's the way the Japanese did the clouds in those days. Very organized.
MM: Bud Handelsman did a bunch of Japanese influenced New Yorker covers…
JZ: Yeah, Japanese type things. I don't remember why.
MM: And Anatol Kovarsky with his Greek urns. Something for others to think about, I suppose. Interesting how a select few got into these different…
JZ: You have these peripheral interests in things and they kind of pop up every once in awhile when you're doodling.
MM: The cowboy thing. We both have that in common. Why are they so fun, cowboys?
JZ: They're just fun to draw. It's an American icon. Everybody loves cowboys. Every guy wants at some point to be a cowboy, or have been a cowboy or hang out with cowboys. When you live out here [Kansas] you can drive up to Montana and see them all over the place.
MM: Munch Munch Munch was another that took me by surprise. I just thought he was munching. I just realized the double meaning today.
JZ: Really? Well you have to look very closely. I've done a whole bunch of drawings about Munch – it's an image everyone knows. It's like Moby Dick if you want to refer to a book, you almost always go to Moby Dick.
MM: Here's another far eastern themed drawing: Fleetwood Mac. I've always loved it because I never understood Fleetwood Mac.
JZ: This was a much earlier Fleetwood Mac I was referring to, around the time they got mega platinum. I just needed the name of a band there.
MM: You just imagined this scene?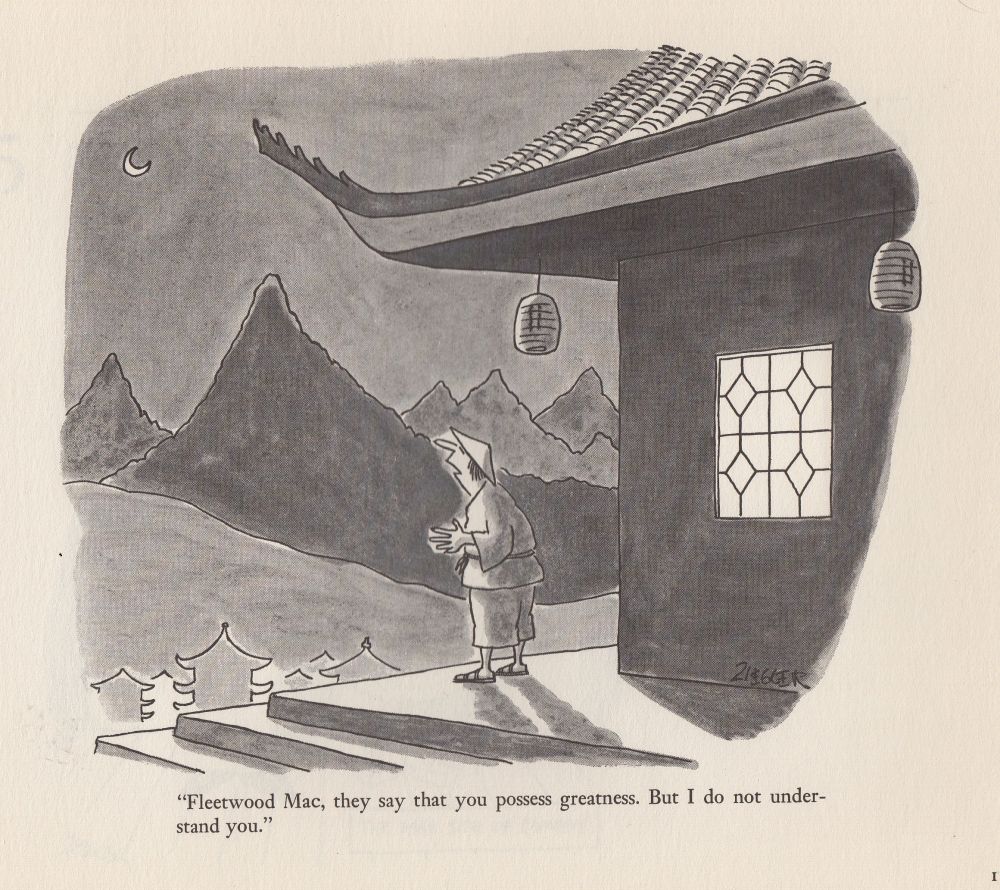 JZ: Yeah, right. Almost everything I do is as far as the scene background settings – it's all made up.
MM: What are those little things off to the left on the bottom.
JZ: Oh those are just little houses down the hill. What did you think they were?
[laughter]
MM: Structures of some kind – I just wanted to be sure.
MM: About the burger hut franchise. I like it when you…draw.
JZ: I like doing a city-scape like that, as it were — a street scene. It just adds so much to it I think.
MM: Yeah, well context, of course. Although I guess you didn't have to have those great buildings there but…
JZ: No, I didn't but it just works so much better that way. It's funnier I think.
MM: And that guy, who's paused, almost paused, stopping and looking back at the work being done.
JZ: My onlooker!
[laughter]
MM: I found myself doing this today while working on a drawing — I kept drawing behind the main thing, adding buildings, rooftops. Is that what happened here?
JZ: It probably did. You know that giant duck on Long Island. You think about selling various things out of various houses… those wiener houses. I just kept drawing buildings in the background until it looked right, until I didn't think it needed anymore.
MM: It looks like it could actually be a thing.
JZ: I know –you drive in, you drive out.
MM: It's all very believable. These guys could be adding sesame seeds — not real sesame seeds. It could happen.
JZ: It probably did happen. I'm sure it has, somewhere.
[laughter]
MM: The cashews drawing: pretty wild drawing.
JZ: I just love the way the cashews are coming out of that spray can.
MM: It in a way reminds me of early underground stuff. It has that freaky quality to it.
MM: And First marriage?
JZ: It's a standard set-up. I thought it's just a funny thing for the new husband to say.
MM: I'm looking at the details, the guy taking the photo, the stained glass. When you're drawing these things are you slightly laughing out loud, amused?
JZ: When I get the original idea yeah, I'm amused. I like that line. I'm not particularly amused when I'm drawing finishes.
MM: That's why I don't draw finishes. Does it happen with you – it happens with me all the time — that you come up with a drawing you really like but know the caption you come up with that moment is terrible, so you wait on it?
JZ: That's true. That happens to me a lot. Well, not a lot, but occasionally.   I have a drawing I think is really nice but I don't have an idea to go with it. And then I hang onto to it until something eventually comes to me.
MM: I can sit here and try to come up with something, and nothing. It happened yesterday. I did a drawing I liked, but there wasn't a caption. And then this morning, I was in the motion of sitting down to look at that drawing and the right caption came to me.
JZ: Yeah, never throw those drawings out. The last drawing I sold The New Yorker was of a cat and dog looking at each other. I didn't have any real caption. I put it away for a week and I got the proper caption.
MM: The Olympic guy. It's a different kind of drawing. The guy's in a little vestibule…
JZ: A little alleyway off the street.
MM: Very little.
JZ: Yes, very little. Very tiny.
MM: Could be a niche.
JZ: Could be a niche. What the hell is that?
MM: How about the doggy in the window drawing. You do a lot of bar drawings.
JZ: Well, I'm a bar guy. I'm always drawing from the bartender's point of view.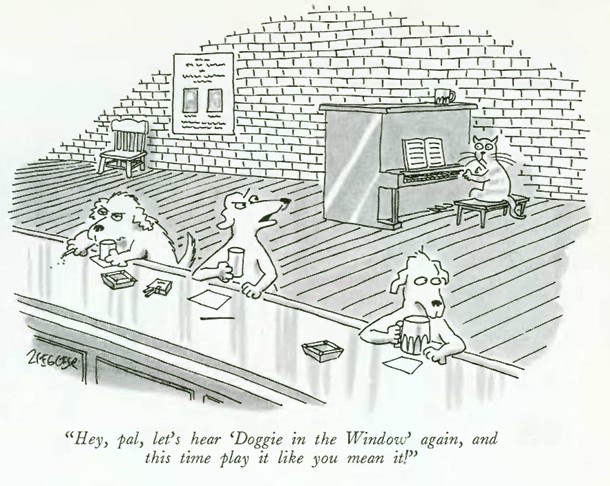 MM: There's a quote that keeps popping up in interviews with you: "I just want to do funny drawings."
JZ: When I say funny drawings, I mean funny to me. A lot of my drawings are funny to me but definitely not funny to anyone else. But I always hope that if it's gonna appeal to me it could possibly appeal to others as well.
MM: What you're saying is fundamentally the way I operate. I'm trying to please my own sense of humor. Several people over the years have said to me, "I wonder what Lee Lorenz finds funny," or "I wonder what Bob [Mankoff] finds funny," or "what does [David] Remnick find funny," and I always say to them, don't think like that.
JZ: You can't — you have to just really think about yourself; whenever I do drawings I never think about the New Yorker – I'm just trying to come up with drawings that I like.
MM: That's the key to success.
JZ: That's what I tell all the new kids.
MM: One more hamburger drawing: the big hamburger on the beach. Wondering if this is a Gulliver's Travels thing?
JZ: Yes, Gulliver's Travels. It has no meaning.
MM: So that's his hamburger that's arrived in the little people's land?
JZ: Your guess is as good as mine.
(Photo of Jack Ziegler edging closer to Lake Erie, Windsor, Ontario, c.2008,  courtesy of Mr. Ziegler. Photo by Kelli Ziegler)
Jack Ziegler's favorites among his children:
Sunrise on Mt. Hibachi – New Yorker May 7, 1984
Spray Cashews – New Yorker November 19, 2001
"…yellow ochre…" New Yorker November 11, 2004
"…bitchin' set of wheels…" New Yorker  June 30, 2008…shown in Part 1 of the interview
"First marriage?" New Yorker  July 20, 2009
Cannon in bushes  New Yorker  February 9, 2015…shown in Part 1 of the interview