Today's Daily Cartoonist/Cartoon
Kids, parents, computers…by Elisabeth McNair. Ms. McNair began contributing to The New Yorker in 2017. Visit her website here.
____________________________
Surreal McCoy's "Wolf Of Baghdad" At Shrewsbury Int'l Cartoon Festival
All the info here on the film and the festival.
Ms. McCoy (Carol Isaacs) began contributing to The New Yorker in 2014. Visit her website here.
_____________________
Today's Daily Shouts by…Julia Wertz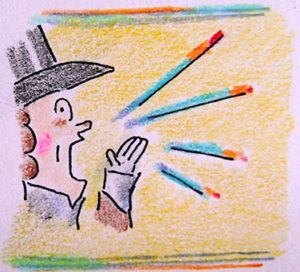 "Conversations with Ma: Making Wreaths and Having Kids" by Julia Wertz. Ms. Wertz began contributing to The New Yorker in 2015. Visit her website here.
__________________________
Cooper Hewitt's Steinberg Spot the Difference
Something fun. From Cooper Hewitt, April 24, 2019, "Spot the Difference: Steinberg Edition"
Here's Steinberg's Spill A-Z entry:
Saul Steinberg Born, June 15, 1914, Ramnic-Sarat, Rumania. Died in 1999. New Yorker work: 1941 – (The New Yorker publishes his work posthumously). Steinberg is one of the giants of The New Yorker. Go here to visit the saulsteinbergfoundation where you'll find much essential information and examples of his work.
____________________
Dick Buchanan's Perry Barlow File
Another great post from Dick Buchanan via Mike Lynch's blog. This time it's "Perry Barlow 1932- 1961"
(Above: a Barlow from Collier's, January 21, 1955).
From Mr. Barlow's Spill A-Z entry:
Perry Barlow ( photo above from barlowgeneology.com) Born 1892, McKinney, Texas. Died, Westport, Connecticut, December 26,1977. New Yorker work: 1926 -1974, with 1,574 drawings and 135 covers. According to Barlow's obit in The New York Times (Dec. 27, 1977) William Shawn called him "one of the gentlest and most humane of all comic artists…he was also one of our three or four most prolific people." In the same piece, James Geraghty (The New Yorker's Art editor from 1939 thru 1973) said "he often tried to interest Mr. Barlow in publishing a book of his drawings 'but he was halfhearted about it.'" Mr. Barlow's wife, Dorothy Hope Smith, played a role in his work: she colored-in his covers because her husband was partly color blind.