Yesterday was the 124th anniversary of the birth of humorist, cartoonist par excellence, James Thurber. Next year there'll be at least two new books celebrating the 125th anniversary. Can't wait!
Prepping for next year, and perhaps celebrating this anniversary I recently bought a Thurber book that I already own, but with a different dust cover, and by a different publisher. I'd never seen this edition until this week, and was immediately taken by it. The Thurber man in white line on a blue field is strikingly beautiful. As you see above, the book (published in 1950) combines My Life and Hard Times with The Owl in the Attic.
I have each title as its own book, but also a 1930s Blue Ribbon version that duplicates the above two-fer. The Blue Ribbon edition has yet another cover:
The new addition to the Spill's library brings the number of Hamish Hamilton Thurber titles here to four. The other three: Thurber's Dogs, A Thurber Garland, and The Years With Ross. I believe there's now a Hamish Hamilton Thurber collection underway. Yippy!
If you're interested in books about Thurber as well as by Thurber here's "About Thurber" a Spill post from April of last year.
My my my, there certainly are a lot of books about my cartoonist hero, James Thurber. I thought it would be fun to show the ones in the Spill's library, but ran into two more while checking online for any current titles I'd missed ( #11, listed below, is out just this month…are there even more? Let me know). Three of the books below have been indispensable to me: Burton Bernstein's biography, Bowden's bibliography, and Harrison Kinney's massive biography. I bought Mr. Bernstein's biography while in college along with Brendan Gill's Here At the New Yorker. Those two books (along with The Thurber Carnival) were my rocket fuel to Manhattan and to the pages of the New Yorker.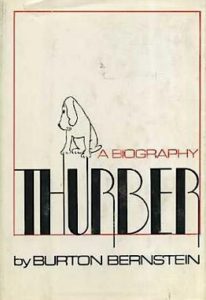 (pictured at the top of the post: a Thurber eraser)
1. James Morsberger. James Thurber. Twaynes United States Authors Series, 1964.
2. Edwin T. Bowden. James Thurber: A Bibliography. Ohio State University Press, 1968.
3. Richard C. Tobias. The Art of James Thurber. Ohio University Press, 1969.
4. Charles S. Holmes. The Clocks of Columbus. Athenium, 1972.
5. Burton Bernstein. Thurber. Dodd, Mead, 1975.
6. Robert Emmet Long. James Thurber. Continuum, 1988.
7. Thomas Fensch (Ed.). Conversations With James Thurber. University Press of Mississippi, 1989.
8. Neil A. Grauer. Remember Laughter: A Life of James Thurber. University of Nebraska Press, 1994.
9. Harrison Kinney. James Thurber: His Life and Times. Henry Holt, 1995.
10. Alan Vanneman. James Thurber: A Readers Guide. CreateSpace Independent Publishing Platform, 2015.
11. Bob Hunter. Thurberville. Trillium, 2017.