POSTED NOTES: free-wheeling thoughts on New Yorker Cartoons and Cartoonists. Also below: twenty-nine pieces that ran in February 2008 on newyorker.com.
I threw together the little scene above for Ink Spillers. The snow globe sits atop Margaret Case Harriman's Vicious Circle: The Story of The Algonquin Roundtable (Rinehart & Co., Inc., 1951. Illustrated by the late great Al Hirschfeld). Behind the globe is Frank Case's Tales Of A Wayward Inn (Garden City Publishing, Inc., 1941. With seven illustrations, including one by James Thurber and another by Covarrubias ). My thanks to Jack Ziegler for adding Wayward Inn to our collection many moons ago. The Empire State Building and Chrysler Building are Times Square souvenirs. I found the tin Yellow Cab someplace years ago. There's a sign on the trunk: "Always Be Careful Crossing Streets" — excellent advice then and now.
The mention of the Algonquin brings to mind a flood some of the biggest and brightest names associated with the earliest and earlier years of The New Yorker: Harold Ross, Dorothy Parker, Alexander Woollcott, Benchley, E.B. White, and Thurber, who made the place his second home when he wasn't at his "great good place" in Connecticut. It was in the Algonquin lobby that Thurber and another of the magazine's giants, Peter Arno, met for the last time just before Thurber's death. And of course it was where William Shawn went for his cereal and orange juice lunch every week day during his long tenure as editor.
For those wanting much more on the Algonguin and its part in The New Yorker's story, there are the books in the photo (Frank Case owned the Algonguin), as well as Thomas Kunkel's terrific biography of Harold Ross, Genius in Disguise (Random House, 1995). There are plenty of other books with tales of the Algonquin — too many to mention at the moment. I will however note a few more books that go right to the heart of the matter:
Wit's End: Days and Nights of the Algonquin Round Table by James R. Gaines (Booksurge Publishing, 2007)
The Algonquin Wits Edited by Robert E. Drennan (The Citadel Press, 1985)
The Lost Algonquin Round Table Edited by Nat Benchley and Kevin C. Fitzpatrick (iUniverse, Inc., 2009)
— posted November 27, 2012
Video: Michael Maslin Interview With Lee Lorenz, The New Yorker's Former Art/Cartoon Editor (1973-1997), Westport Historical Society, June 2014

As part of The Wesport [Ct] Historical Society exhibit Cover Story: The New Yorker In Westport, I had the good fortune to interview Lee Lorenz.  Link here for the video.
 Revisiting Barbara Shermund (originally posted 2009)
Barbara Shermund, who died in early September, 1978, had the misfortune of passing away during a newspaper strike that affected the paper of record, The New York Times. An extensive search has turned up just one obituary for her, a four sentence notice that ran in a newspaper covering the New Jersey coastal town where she lived for a number of years toward the end of her life.
For someone who contributed hundreds of cartoons and eight covers to The New Yorker Magazine, then went on to become a mainstay at Esquire, four sentences seems a bit slight. Here then is another notice, a little late, and a little longer.
Born in San Francisco in 1899 to artistic parents (her father was an architect), Ms. Shermund studied at The California School of Fine Arts before heading east, at the age of twenty-six, to New York. She told Colliers that her initial visit east became permanent "after she had eaten up her return fare." In June of that very year, she made her debut at the four month old New Yorker with a cover of a young woman sporting a hip hairdo, eyes closed, resting her arm over a railing, against a black sky peppered with stars. In a year's time her cartoons, many if not most of which were written by her, were appearing in nearly every issue of the magazine.
Her style had a sway to it that fit the times. Her subjects, executed in pen and ink and wash, were often hip young women, just a bit jaded – the sort that famously inhabited F. Scott Fitzgerald's This Side of Paradise. She once offered up this brief glimpse into her private life, saying she liked "fancy dancing and dogs."
Liza Donnelly, author of Funny Ladies: The New Yorker's Greatest Women Cartoonists and their Cartoons, had this to say about Ms. Shermund:
"Barbara Shermund was one of the more prolific cartoonists of the early New Yorker. Her breezy drawing style and humor reflected the new attitudes of urban women in the twenties and thirties, and she can be considered one of the early feminist cartoonists. The New Yorker sought to appeal to both men and women with its humor, and Shermund, along with other women cartoonists of the magazine, were ground breakers in that regard, creating cartoons from a woman's perspective that could be enjoyed by all. Her cartoons were irreverent, sassy, and a true reflection of her times."
Shermund traveled widely – Donnelly wrote of her that "she was something of a wanderer, living with friends in the city and the upstate town of Woodstock [NY], never really having a set address." Eventually she settled down in Sea Bright, New Jersey, a barrier beach town, just about an hour's drive from New York.
The last of her five hundred and ninety-seven drawings in The New Yorker appeared September 16, 1944; her last cover appeared August 5, 1944. Although her relationship with The New Yorker fizzled in the mid 1940s, she participated in an Irving Penn group photo of eighteen New Yorker cartoonists ( it ran in the August 1947 issue of Vogue). Ms. Shermund, dressed in dark clothing and wearing a great wide brimmed hat, stares directly at the camera. Sitting directly in front of her is George Price, and Steinberg; overhead, reclining on a platform is Charles Addams. Off to Ms. Shermund's right is Helen Hokinson, looking just a little apprehensive.
The discs accompanying The Complete New Yorker allow one to see all of Barbara Shermund's work in their natural habitat. Nine of her drawings appear in the The Complete Cartoons of The New Yorker, and of course all of her work can be seen on the discs accompanying the book.
I've started collecting all of Ink Spill's short pieces about the New Yorker anthologies of Cartoons (usually called Albums, but at times called Yearbooks). They are presented here in order of the Albums' publication years, not when they were posted on The Spill (I'm writing about them out of order).
The 2007, 2008, and 2009 New Yorker Yearbooks
The three New Yorker Cartoon Yearbooks   were published following the anvil heavy Complete Cartoons of the New Yorker that appeared in 2004 (and the lighter updated paperback Complete Cartoons in 2006).  I can't tell you how thrilled I was to see these Cartoon Yearbooks. Why? For starters, they are hardcover, and are 9?x12? — the size of the Albums of the Golden Era (such as we've been discussing these past many Sundays). I note that a cartoonist colleague, Trevor Hoey was responsible for the design.  My hat's off to you, Mr. Hoey.  Job well done. The 2009 Cartoon Yearbook was (sigh) the last time a non-thematic New Yorker cartoon collection appeared in hardcover.
Each of these Yearbooks has an introductory piece, each of them jokey. To paraphrase Bruce Springsteen, someday we'll look back on these and maybe they'll all seem funny.  But for now, these intros cause me to think of what is written on the inside flap of the very first New Yorker Album: "Oh, just look inside!" 
The Yearbooks were designed with care, using decent paper stock, ensuring you don't see the drawings bleeding through from the other side (as was the case in the behemoth 2004 collection). The back covers lists all the artists represented, a welcome practice that began with the 1958 New Yorker Album of Sports & Games and carried on with most, but not all, subsequent Albums.  There is also an Index to the artists represented, something that I find respectful to the individual artists.
How I wish these Annuals were continued; they were well-produced (produced in-house) hardcover books definitely built to last, unlike what came after them: the magazine format Cartoons of the Year, published from 2010 -2016.  Sometimes referred to as bookazines, there is nothing bookish about them; they are magazines, containing advertisements, and special features that never ran in the New Yorker (including several pieces by yours truly). It's true that people collect magazines that are meaningful to them, but if I had to guess, I'd guess that a whole lot more people have book shelves in their homes containing hardcover New Yorker cartoon collections  than magazine shelves holding New Yorker "bookazine" collections.
Going back to the Yearbooks, I believe this is the perfect format for collecting New Yorker cartoons.  Whether it's done annually or every five years or ten years, it's how the work deserves to be presented: no-frills, no banners, no cover hype, no advertisements, no jokey forewords or informed forewords or essays — just the facts, ma'am, or should I say, just the cartoons.
Below: left – right, the Artists Represented on the back covers of the 2007, 2008, 2009 Yearbooks.
— posted Nov. 26, 2017
________________________________________________________________
The Think and The Ink: 1925-1975 New Yorker album of Drawings
After spending time in the early years of the New Yorker Albums these past few Sundays I thought it would be fun to skip a few decades and look at how the magazine celebrated its 50th anniversary. I love the simplicity of this Album, its no-frills approach. Beginning with the no-nonsense cover featuring the title (set in the so-called Irvin typeface) and Rea Irvin's bowing Eustace Tilleys. I look at these Tilleys as time period bookends, greeting each other from two very different eras. They are not quite mirror images of each other: the one bowing from 1975 is microscopically different than the one from 1925. If there's any intended symbolism in that (and I doubt it), my guess would be that the magazine mascot was shown as true to its roots while allowing for subtle change (glacial change in those years).
The only introductory text is found on the inside front flap. It's as if the magazine's editor (William Shawn at that time) wanted to say that whatever needed to be said about this amazing body of work was going to be said by the work itself and not by "opinionaters."
In a first for one of the Albums, there's a dedication (Lee Lorenz had succeeded Mr, Geraghty in 1973):
The back cover lists the contributors ("Artists") from Charles Addams to the new kid on the block, Jack Ziegler.
Appropriately enough, the Album leads off with a full page drawing by Peter Arno (one of his drawings led off the very first Album).  The volume ends with a small drawing by William Steig; a first drawing and a last by artists whose work was, in the words of the flap copy above, visually beautiful. The work in between is, of course, also visually beautiful, as well as funny. In more modern times, in the era post-Geraghty, post-Lee Lorenz, a different approach to the magazine's cartoons was espoused: "it's the think, not the ink." But for the first 72 years of New Yorker's existence, it was the magazine's dedication to the think and the ink, that allowed the New Yorker cartoon to make its considerable mark.
___________________________________________________________________
Pretty in Pink: The 25th Anniversary Album
Judging by what I've noticed over many years of visiting used book stores, The New Yorker 25th Anniversary Album must have been the most popular in the series of their cartoon anthologies. This is the one you're likely to find if you find any at all. Bonus: it's easily found online for just a few bucks. The Album sports a series of firsts on the cover: the first time a monochrome Eustace Tilley appeared on an Album (the next time he would appear this close to so much solid color was on the magazine's 60th Anniversary issue.  Then editor, Tina Brown presented Eustace surrounded by, um, gold).
The 25th Album was the first to reproduce a number of full cartoons on the cover (minus the captions, which, due to the size each cartoon was shown, would've been virtually impossible to read without a magnifying glass. The exception is John Held, Jr.'s work where the text is within the piece).  And it was the first to be divided into sections: The Late Twenties, The Early Thirties, The Late Thirties, The Early Forties, and The Late Forties.
All the big names are here, of course, and so are some of the most memorable cartoons in the magazine's history, including Thurber's Seal in the Bedroom, Addams' skier, and Arno's "Well, back to the old drawing board."  This is the Album for anyone who has heard about the New Yorker's Golden Age, and wants to know what all the fuss was about.
The design of the book is excellent, with paper of good quality, allowing for Gluyas Williams' masterpieces, run full page, to glow.  Arno's brushstrokes look as if he just swept them across the page fifteen minutes ago. On the pages where a number of cartoons appear, the layout is handled with great care, never too busy; each page was obviously fussed over by someone (or someones) who knew what they were doing. Just look at the graphic balancing act directly below:
The contributors are a Who's Who of the magazine's pantheon of great artists, including the founders, and the ones who showed up while Harold Ross was still messing around with the ingredients.  Steig's Small Fry are here, as is Soglow's Little King.  Helen Hokinson's Club Ladies are generously presented, as are spreads by Rea Irvin, and and and…gee willikers, so much more (to see more scroll down to the back cover's list of artists).  This is the one of the very best Albums of cartoons the magazine ever produced (as another 67 years have passed since its publication it  shares the top shelf with a few others).
The flap text (above) reminds us that the cartoons are a record of the times. I'll go along with that. As the magazine moves closer to its 100th year it's essential for the cartoons to change with the times and reflect the times. I expect that the Introduction to The New Yorker's 100th Anniversary Album will express something close to that sentiment, if not exactly that.
If you've read Genius In Disguise, Thomas Kunkel's great biography of Harold Ross, you might remember that book's prologue has a wonderful section devoted to the party at the Ritz-Carleton celebrating the New Yorker's 25th Anniversary. It was a party, wrote Kunkel, "celebrating accomplishment, about creating something of enduring importance."
__________________________________________________________________________
84 Years Ago: The Sixth New Yorker Album of Cartoons
I love all of the New Yorker Albums that have come out in the magazine's 92 years, but this one I like maybe just a teeny-tiny bit more than many of the rest (partially due to the fact that it was a gift from Jack Ziegler, back in the days when I was building a set of all the albums, with their dust jackets.  Jack's copy arrived with a gold star on it, which, as you can see, is still there).
Published in 1933 by Harper & Brothers, the 6th Album sports a collage cover by Harry Brown (who contributed 18 covers to the magazine from 1931 thru 1937); the collage was a first — it was the first time the magazine allowed something other than a reproduction of one of its covers to grace an Album. I like the burst of color, but am thrilled the cover's designer left the Thurber drawings, running up the strap, in black and white.
Starting top left on the cover, we see Otto Soglow's Little King and his Queen and a couple of footmen in red with yellow sashes. Going clockwise, Peter Arno's "Major" and his wife, then down at the bottom at the cover, Rea Irvin's iconic Eustace Tilley. On the left is a William Steig father holding his son. In the middle of the cover, two Barbara Shermund ladies standing close to each other; directly below them, a classic Helen Hokinson woman (a so-called Hokinson "lunch lady") holding her dog.
The inside cover flap shows us a partial list of the artists represented:
Looking through this Album I'm always struck by the variety.  Variety of sensibilities, of art, of subject.  Published just eight years after the very first issue of The New Yorker appeared on newsstands it's loaded with artists whose work is instantly recognizable. It's an excellent portrait of the New Yorker's first stable; a wealth of exceptionally talented artists such as Peter Arno, Helen Hokinson, James Thurber, William Steig, Barbara Shermund, Rea Irvin, Charles Addams, Otto Soglow, Carl Rose, Gluyas Williams, Whitney Darrow, Richard Decker, Syd Hoff, George Price, Alan Dunn, and Mary Petty.
Artistry was all over the place back in those early years (there's a huge difference in Thurber's work from Reginald Marsh's, or Soglow's from Perry Barlow's). What a fun,  exciting, beautiful mix.
Note: you can sometimes find a copy of this collection in used bookstores, or here online (although I don't see any listed, at the moment, with a dust jacket). With the dust jacket, or without, you're still in for a real treat.
–posted October 22, 2017
________________________________________________________
The Fifth New Yorker Album of Drawings. James Thurber: "What Do you People Really Want Anyway?"
Last Sunday the 6th New Yorker Album was in this spot — today it's The 5th New Yorker Album, published in 1932. It's a heck of a lot of fun to look through and it has a bonus: the Foreward is by James Thurber. In 1932 he was in top form as a cartoonist and writer, as well as one of the magazine's stars. Rereading his Foreword this rainy Fall morning I found parts of it touchingly relevant.
Here's how it opens:
"What do you people really want, anyway?" is awfully funny.  It makes me think of the many many comments I've read on the New Yorker's Facebook pages (its flagship page and its off-shoot New Yorker Cartoons page).  My guess is that every single New Yorker cartoon posted online receives varying proportions of praise and condemnation, validating for the zillionth time the oldie but goodie cliche, "Everyone has an opinion."
Last year I was asked by Gil Roth on his Virtual Memories podcast, "What is a New Yorker cartoon?" and my answer (after freezing a moment) was something like "It's whatever the editors (at the time) think is a New Yorker cartoon." In other words, there's no set of rules, regulations, guidelines and requirements posted on one of the magazine's walls. How boring would that be. It would also be the death of the magazine's cartoons. Thurber addresses this in his foreword: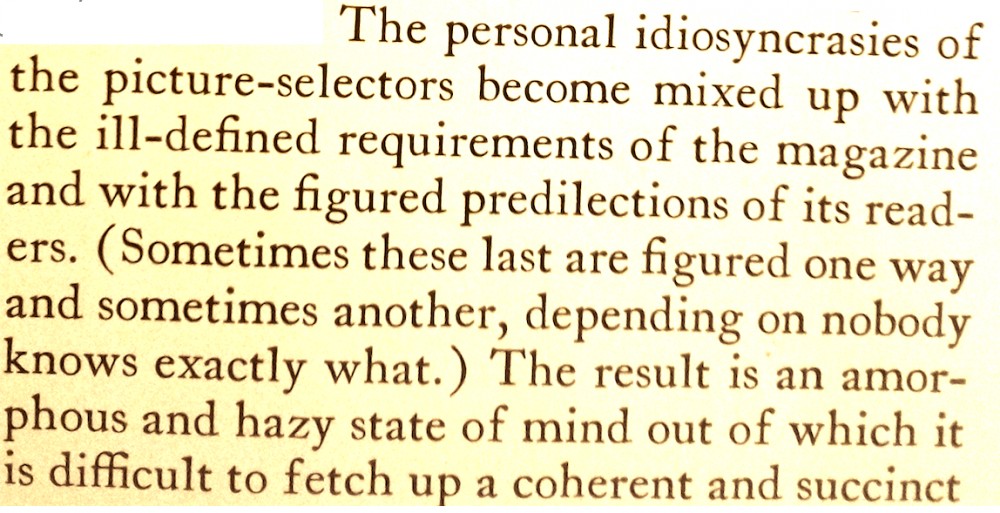 Thurber sums up his Foreword perfectly.  Perfectly for 1932, and perfectly for now and tomorrow at The New Yorker:
Some notes about the 5th Album: the album itself is somewhat more difficult to find than most of the others. Finding it with a dust jacket is even more of a challenge.  This was the final Album missing from the Spill's set of dust-jacketed New Yorker Albums.  Some years back two generous individuals helped fill the gap.  I'm indebted to Edward Sorel for finding a copy (sans dust jacket) for the Spill's archives and equally indebted to Chris Wheeler for donating the dust jacket of his copy to the Spill's archives.
The cover of the Album, by Julian De Miskey, was originally the New Yorker cover for the issue of April 2, 1932:
Here's the only text appearing elsewhere on the dust jacket other than the cover and spine; it's on the inside front flap.  The back cover is blank, as is the back inside flap.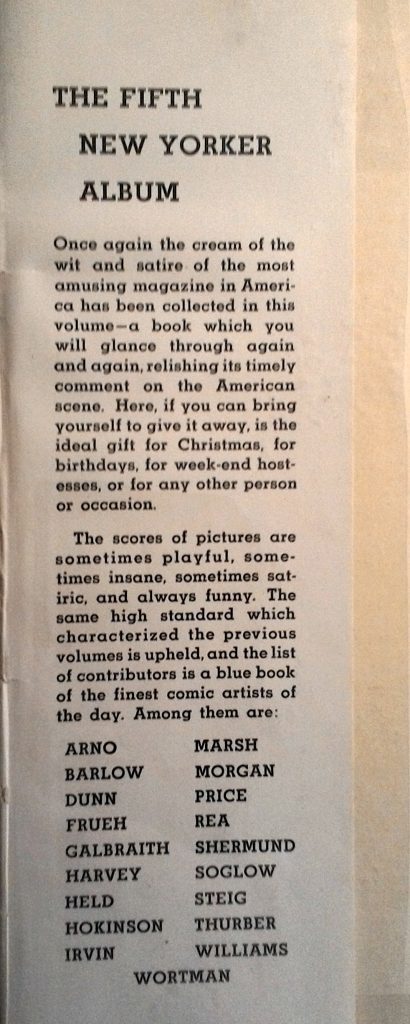 — posted October 29, 2017
____________________________________________________________________
80 Years Ago: The 1937 New Yorker Album
Here's an early New Yorker oddity in the line of the Albums published.  It's the first published for a specific year.  There were later annual Albums  (1940, 1942, and much much later 2007, 2008, and 2009).  Curious that, for the first time there is no foreword.  Perhaps the editors thought they'd take a break after the highly interesting double foreword to The Seventh New Yorker Album, published in 1936 . We'll get that on another Sunday.
The cover of the 1936 collection, by William Crawford Galbraith, originally appeared on the December 14, 1935 issue of the New Yorker.
So what do you see inside the annual? Within the first two pages is a full page Peter Arno drawing, and a Thurber and a Charles Addams.  Addams' signature is somewhat different than the one we've all become accustomed to (his long New Yorker run was in its infancy in the mid-1930s). But even this early he was already a star.  One of his drawings appears, alone, on the back cover.
Below: early Addams signature.  Below below: later.
By the mid-to-late 1930s The New Yorker 's stable of artists  was now into its Golden era. There are two drawings in this volume which have gone on to be reproduced numerous times.  I hesitate to say they are as "famous" as Addams' skier or Peter Steiner's "On the internet nobody knows you're a dog"  but they have had some extra attention over the years since first published in the New Yorker. The first is Peter Arno's "Come along. We're going down to the Trans-Lux and hiss Roosevelt" and the second is Thurber's "It's a naive domestic Burgandy without any breeding, but I think you'll be amused by its presumption."
They are surrounded, as usual for this time period, by gorgeous funny drawings aplenty, including a double page spread by Carl Rose titled A Caravan of California Millionaires, Fleeing Eastward From the State Income Tax, Encamps For the Night in Hostile Wisconsin Territory:
and another by Rea Irvin, Our Own Previews of Hollywood Attractions.
I reproduce them here, poorly (sorry), just to give you an idea of how terrific they look on the page.
Here's the list of those in the Album. Interesting that the "Spot" artists are finally set-off from the pack:
______________________________________________________________________________________________________________________________________________________________________________________________________________________________
I'm devoting today's Spill to Rea Irvin's long-running Talk of The Town masthead —  the one that appeared for 92 years, before being replaced this past May by a redrawn effort.   Tune out if you wish — at least I'm not talking about the two dots that sometime appear below certain cartoons.
I happened upon this passage about the Irvin masthead  (shown above) in Brendan Gill's must-read memoir, Here At The New Yorker.  I haven't read a better description. We pick up just after Gill has discussed Eustace Tilley:
"The drawing at the head of "Talk' is in some ways ways more mysterious even than the cover and deserves examination.  The dandy is shown at the left-hand side of the drawing; he is in profile, wearing a high stock, with a monocle on on a ribbon screwed into his left eye. He is engaged in writing a missive of some length with a grotesquely exaggerated quill pen.  On the right-hand side of the drawing, full-face to the viewer, perches a plump black owl, roguishly winking.  Between the dandy and the owl rise some peculiar skyscrapers, topped by cupolas unlike any any to be seen in New York.  Rays of sunlight, or perhaps moonlight (for the owl's unwinking eye is wide-open), stream from behind the skyscrapers.  Dandy, owl, and sky-scrapers are drawn along a single notched, curving line, under and over which float a number of wheels with sawtoothed  rims. What is this incoherent jumble? Nobody alive any longer remembers, and it doesn't matter. There the heading is, and every week we see it and yet take care not to see it.; it is a mere reassuring blur at the top of the page as we settle down to our reading of Notes and Comment. As such, it remains a continuing witness to the almost total confusion  of purpose manifested in those early days by Ross…"
The new masthead — and I have to stress it is new — appears below.
As I wrote on the Spill back in May when this new masthead was installed (the redesign first appeared in the issue of May 22, 2017),  Mr. Irvin's charmingly imperfect scroll-like line has met a white-out brush.  His owl has been re-drawn, his buildings re-drawn too (with the inclusion of One World Trade Center in this new assortment).  Tilley himself has changed just a bit.  The designery horizontal line running over the drawing (added in the issue of February 21, 2000) remains.
Let's compare and contrast the Irvin masthead with this new one, which we'll call the Niemann version (after Christoph Niemann, who was hired to redraw the masthead), incorporating some of what Mr. Gill spoke of.  The 92 year old masthead segments below will always appear on the left (you'll be able to tell the difference because of the slight amber color of the older version); the Niemann redrawn masthead segments are to the right.
Brendan Gill: "The dandy is shown at the left hand side…he is engaged at writing a missive of some length"
The dandy remains in Niemann's version, although he's lost many of the character lines in his hair, on his jacket and even his face. The white dots on his lapel have disappeared. His body has narrowed as well.  Tilley's new face is smoother — not yet approaching the cartoony Tilley look the magazine has incorporated on its various online features, as seen here:
.

Brendan Gill: The "plump owl":
The Irvin owl as been replaced by a slimmed down version and losing some of the woodcut-esque lines around its face. It somewhat resembles a rubber stamp.

Brendan Gill: The "peculiar skyscrapers topped by cupolas unlike any to be seen in New York":
The new skyscrapers (seen on the right) are no longer peculiar; they are now a generic skyline, identifiable as Manhattan's only by the addition of the World Trade Center, which, if we're going to get technical (and I wish we wouldn't) would rise far above its neighboring buildings. The cupolas are gone, as is the spacing of the buildings. The new buildings are huddled together. The building to the far left in the new version looks somewhat like Pisa's Leaning Tower, except it's not leaning. Irvin's buildings had breathing space — something city dwellers cherish.

Brendan Gill: "Rays of sunlight, or perhaps moonlight…stream from behind the skyscrapers"
In the 92 year old version, each of Irvin's rays can be seen as an actual drawn line, with imperfections, even a blob or two of ink just above the owl. In the new version (on the right) the beautiful symmetry of the streaming lines has been off-set by the disappearance of a line shown behind the owl's head. The hand-drawn quality of the lines has disappeared, replaced by perfect spear-like lines, each one just like the other.
Brendan Gill: The "single notched curvy line":
The curvy line has completely lost its notches. The bare line in the new version seems drawn by a chiseled felt tip marker. Its end on the right  just tapers off. Irvin's 92 year old version ends with a mysterious irregular line, that runs thin to thick, ending with what looks like the bumper at the end of a subway line. It's quite beautiful in its own peculiar way.

Brendan Gill: "…a number of wheels with sawtoothed rims"
The wheels remain, yet they have been re-drawn. (Irvin's on the left, Niemann's on the right). Note how Irvin's scroll has lost its flair as well as a couple of tiny scratchy lines just to the left of Tilley's elbow.

The cleaned up wheels, shown in the screen grab below right are puzzling.  In the Irvin drawing on the left, we see what look like the artist's expressions of the moment — stray pen marks around the small circle floating off to the right.  I'm a fan of imperfection.
And there we have it. Irvin's "reassuring blur" has been transformed into something far less blurry, featuring crisp lines, a defined skyline with at least one identifiable building in it, and an 86ing of character lines.  Rea Irvin created a masthead drawing with charm, mystery, and grace.  It's a pity that it no longer "remains a continuing witness to the almost total confusion of purpose manifested in those early days by Ross…"
____________________________________________________________________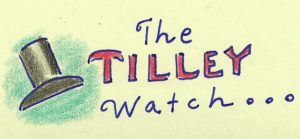 POSTED JUNE 22, 2017
…Stephen Nadler, who runs Attempted Bloggery, one of my fave New Yorker-related sites, notified me last night that someone had been busy monkeying around with Rea Irvin's  iconic New Yorker masthead. Now's a good time to take a look at how the masthead has changed (and when it changed) in the magazine's 92 years.
Above is how it looked in the very first issue, February 21, 1925, with Of All Things beneath Rea Irvin's design. The Talk of The Town was elsewhere in the issue, but would soon find a better fit…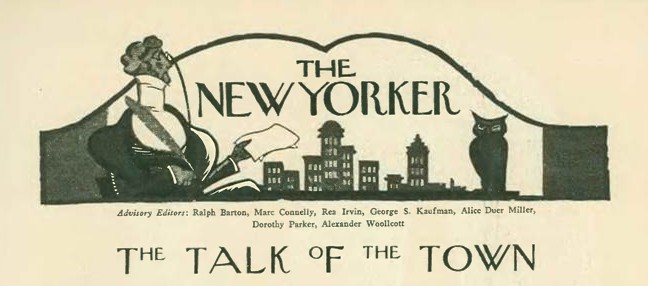 …in the next issue, in fact: February 28, 1925 (above). The above masthead stuck around only half-a-year…
…until the issue of August 22 1925 (above), when it was obviously redrawn; the typeface changed too.
In January 30, 1926 a cleaner, un-boxed masthead appeared, and again redrawn. This is the masthead most of us have known our entire lives.  It has stayed like this, unchanged, excepting the disappearance of the tiny little white dots on Eustace Tilley's shoulder — they faded away somewhere in time.  A modern addition was a designery horizontal thin line above it in the anniversary issue of February 21, 2000.
This brings us up to date. The above redesign first appeared in the issue of May 22, 2017.  Mr. Irvin's charmingly imperfect scroll-like line has met a white-out brush.  His owl has been re-drawn, his buildings re-drawn too (with the inclusion of One World Trade Center in this new assortment).  Tilley himself has changed just a bit, from the neck up.  The designery horizontal line from 2000 remains (why toss out a perfectly good clean straight line?).
A fond farewell to Mr. Irvin's brilliant diamond.  Perhaps we'll meet again?
More Tilley: here's a piece I wrote for newyorker.com back in 2008, "Tilley Over Time"
____________________________________________________________________
____________________________________________________________________
Back in 2008 I was asked to write a month's worth of pieces for newyorker.com.  I alternated written pieces with a graphic piece Cartoonography, which you can find, in its entirety, on the Bio section of this site. 
The written pieces, which oddly disappeared on the magazine's website in early 2017, are now back. I've collected them here on the Spill for the first time, retaining the link to newyorker.com  (by clicking on my byline beside each piece) in case you want to see them in their natural habitat.

Tilley Over Time By Michael Maslin
With The New Yorker's eighty-third anniversary upon us, I decided that it was a good time to get out my anniversary-issue collection and take a look at how Rea Irvin's Eustace Tilley cover has and hasn't changed over the years. Keeping in mind that I'm missing a few original issues (1926 through 1931, to be precise), that still leaves seventy-seven issues to peruse.
Other than a subtle tightening up of the New Yorker typeface over time, with the edges first smoothing out in 1964 and finally becoming razor-sharp in 1981, the first thing I noticed, after laying all the issues out on the floor chronologically, was the difference in height, beginning with the 1942 issue and ending with the issue of 1945. By 1946, the anniversary issue had returned to its prewar size. The next shortening came in 1981, then again in 1985, and again in 1987, where we are now.
Then there's the matter of the disappearing clouds. Rea Irvin's pink clouds floating in from either edge of the cover and along the top appeared from 1925 through 1981. They completely disappeared in 1982. (They first returned, albeit in a roundabout way, in 1996, when R. O. Blechman included them on his "Eustacia Tilley" cover.) The original clouds were finally reunited with Irvin's original Tilley in 2001.
Tilley himself remained on the anniversary cover for sixty-eight uninterrupted years, from 1925 through 1993. In 1994, R. Crumb's "Elvis Tilley" appeared, and was followed in 1995 by the gold Tilley cover, celebrating the magazine's seventieth anniversary.
In the late nineties, two other Tilley variations appeared: Blechman's aforementioned 1996 "Eustacia Tilley" and Art Spiegelman's "Dick Tilley," in 1997. The seventy-fifth Anniversary Issue, in 2000, featured one of William Wegman's famous dogs done up as Tilley. In 2001, the original Tilley resurfaced, clouds intact; he then reappeared for each anniversary, until 2005, when Chris Ware took a multi-panel crack at him. In 2006, the original Tilley once again returned, but this year's anniversary cover puts a political spin on him, and readers offered their own variations. One thing about Tilley: when he leaves, he never goes far, and he always comes back.
Glossary By Michael Maslin
*note: I've updated certain names  here to reflect the state of the Cartoon Department in 2017. The original version appears on newyorker.com.
If the average person happened to sit down with a group of New Yorker cartoonists, he or she would likely hear some common words and expressions used in unfamiliar and possibly confusing ways. Here is a glossary of commonly used words and expressions:
Batch: As in "I faxed my batch early." Or "My batch is thin this week." A batch is the collective term for the drawings a cartoonist submits weekly to the magazine [see Magazine, the].
Cartoon: Drawing
Colin: Colin Stokes, the assistant cartoon editor. Usage: "I'm not sure if there's a meeting this week—I'd better give Colin a call."
Drawing: Cartoon.
Emma:  As in "I spoke to Emma about it." Or "I'll run it by Emma" or "Emma held [see Held] twelve this week." Emma is Emma Allen, The New Yorker's cartoon editor.
Finish: As in "I'll get that finish to you by the next week." Finish is short for "finished drawing." It refers to an O.K.ed drawing that has been readied by the cartoonist for publication.
Held: The drawings Emma holds on to from your batch. A held drawing has the potential of being O.K.ed, although it could still be rejected.
I'm going in : As in "I'm going in next week." If you're going in, you're going in to the magazine to see Emma and show her  your batch.
I'm in: As in "I'm in this week." Or "I'm not in this week." Refers specifically to one of your drawings being published in the current issue of the magazine.
I went in: As in "I went in last week." "Went in" refers to going to The New Yorker's offices, specifically to the art department.
Magazine, the: The New Yorker. As in "I haven't seen this week's issue of the magazine—am I in it?"
Meeting, the: The weekly art meeting, at which David Remnick and Emma look over, discuss, and decide which drawings will be bought. David, as the magazine's editor-in-chief, has the final say on whether a drawing is O.K.ed or rejected.
O.K.: As in "you got an O.K. this week" or "I got an O.K. this week" or "I haven't had an O.K. in seven months." This is the two-letter word that every cartoonist lives for—it means that The New Yorker has bought a drawing [see Drawing] from you ( i.e., O.K.ed a sale).
Resub: As in "I sent in mostly resubs this week." Resub is short for "resubmitted." Cartoonists sometimes send rejected drawings back to Emma for another shot.
Cartoonist Block By Michael Maslin
Once, during a particularly long period of uninspired work, I took a small wedge of wood that was lying around, painted it, and printed CARTOONIST BLOCK on one side. I promised myself that when the ideas came back, I'd walk down West Eleventh Street to the river and throw the block into the Hudson.
Well, the ideas came back, but I couldn't bring myself to toss the block of wood; instead, I held onto it, and put it on my desk, where it is to this day. I see it every morning when I sit down to work.
I used to superstitiously believe that as long as the block was over there, across my desk, I had nothing to worry about. Well, periods of less creativity have come and gone many times since I wrote on that block. Occasionally, during one of those times, I'd stare at the block, wondering why it wasn't working.
Eventually, I realized that the block was no more than a reminder that there will always be days when ideas are scarce, as well as days when everything goes right.
Location, Location By Michael Maslin
Charles Addams loved drawing eerie homes; Thurber was fond of domestic settings, living rooms, bedrooms; George Booth's garage-repair shops are a wonder to behold; and barely an issue of The New Yorker goes by without a business office drawn by Leo Cullum or a stark room executed by Bruce Eric Kaplan.
Do cartoonists draw what they know? Sometimes, sometimes not. Is there a cartoonist among us who hasn't ventured, through their work, into the past or future, to the old West, to the Middle Ages, to a desert island in the middle of some vast sea, to the age of the dinosaurs, or to the time of cavemen and cavewomen?
The caveman drawing, as they say in Hollywood, has legs. I love Lee Lorenz's cave people, stocky energetic folk, who, like most cavepeople appearing in The New Yorker, have an excellent command of the English language. (George Booth's cavemen are an exception: they speak in some kind of Boothian dialect.)
Whenever I see these kinds of drawings in the magazine, I've got to smile—it's a reminder of the kid in every cartoonist, still wanting to dress up like a pirate and sail the seven seas, or to put on a suit of armor and fight the dragon.
It's said that there's a bit of Thurber's Walter Mitty in each and every person, but lucky us. Cartoonists can actually go to the places we imagine, if only on paper.
There's Something About Eustace By Michael Maslin
It wasn't love at first sight. I guess you could say I was more comfortable with magazines my own age. MAD and I were tight for a couple of years . . . it was lots of fun, but we both knew it wouldn't last. I had an early infatuation with the Gray Lady, The New York Times, but why I'll never know — she didn't have cartoons. We still keep in touch; in fact, I see her daily -but we're just good friends. Then there was Look magazine. Why Look, and not Life? Why blondes, and not brunettes? Rolling Stone was there for me at the right time and place — and yes, we still see each other .every couple of weeks as a matter of fact. And, yeah: we're still good friends.
Then Eustace appeared in my life. Eustace, man of mystery, brainchild of Irvin, object of my weekly batches of cartoons — are you greater than the sum of your parts, less than the sum of your parts, or equal to the sum of your parts — hey, do you even have parts?
Whether you call him Mr. T, ET, Puff Tilley, Dan D, or just plain E, he's lookin' very good at 83 — way better than any icon his age. In fact, he hasn't aged a bit. How does he do it, you might ask. What's his secret? You can ask him, but my man, Tilley, he won't talk.
Wonderful By Michael Maslin
Although I was raised on comic books, for many years I thought I'd lost the ability to lose myself in them. And then, not too many Sundays ago, I began reading Daniel Clowes's strip "Mister Wonderful," in the Funny Pages of the Times Magazine. I hadn't paid much attention to the Funny Pages before. It wasn't that I disliked any of the previous contributors' efforts; I just didn't give them a chance. Clowes's drawing style grabbed my attention—it reminded me at first of the style of some earlier comic strips, a gumbo of "Archie" mixed with "Peanuts," Crumb, and "Henry."
Looking forward to each new Clowes installment, I've begun to wonder if part of the fun is in the waiting. Waiting reminds me of my childhood days of reading comic strips and following Dick Tracy's exploits in the daily paper. The story line, doled out in perfectly crafted installments of five or six panels, took moments to read each day. For more, I had to wait.
What Clowes's Times strip has done is brought me into the burgeoning world of comix, graphic novels, or whatever it is you wish to call them. (I heard Jules Feiffer say not too long ago that he disliked the term "graphic novel" and wished the genre was called something else). Suddenly, our bookshelves are filling up with works by Seth, Satrapi, and Chris Ware. Pointing me toward the wider world of this new breed of comic art are a variety of graphic-fiction anthologies and catalogues, some of which feature handsomely produced collections of…Dick Tracy.
It's Always About Cartoons By Michael Maslin
Recently, our family was having an animated dinner conversation about politics when the topic somehow morphed into another favorite topic: New Yorker cartoons. This is not a rare thing: most of our conversations eventually drift into New Yorker-cartoon territory. But, on this particular occasion, one of our daughters, rolling her eyes, piped up, "It's always about cartoons, isn't it?" If you detect a bit of sarcasm in her voice, well, you're right. We don't bring the office home with us; the office is home.
It must be annoying, at times, for our kids to start up a conversation about their French homework, knowing that it's only a matter of time before the subject turns to Otto Soglow's "Little King."
Being a cartoonist is a bit like being a doctor on call; but, unlike doctors, cartoonists don't work shifts. Work calls at all hours, any day of the week, fifty-two weeks a year. This may sound like a complaint, but it's not. Now imagine two cartoonists, married to each other (as Liza and I are), and you have a pretty good idea why, one day after another, it's always about—well, you know.
Group Photograph By Michael Maslin
Hanging in our home is a copy of an Irving Penn photograph that ran in the August, 1947, issue of Vogue. Penn assembled eighteen New Yorker cartoonists in his studio and arranged them in, on, and around some well-worn scaffolding. In the photo: Helen Hokinson, Saul Steinberg, George Price, Barbara Shermund, Otto Soglow, William Steig, Richard Taylor, Whitney Darrow, Jr., Perry Barlow, Richard Dekker, Barney Tobey, Robert Day, Alajalov, Carl Rose, Leonard Dove, Chon Day, Mischa Richter, and Charles Addams.
Four of those pictured, Rose, Shermund, Hokinson, and Barlow, began contributing to The New Yorker in 1925, the year it was founded.
The eighteen were about half of the cream of the crop of the magazine's art department. (Among the big guns not present: Rea Irvin, James Thurber, Peter Arno, Mary Petty, Alan Dunn, Gluyas Williams, and Garrett Price.)
When I take a moment to look at the photograph, I'm reminded of the unbroken thread leading from that group to the present day. Steig, Darrow, Tobey, Chon Day, Richter, Addams, Price, and Steinberg were still working at The New Yorker thirty years later, in 1977, when I began contributing to the magazine. In time, I managed to meet, correspond, and/or simply share the same breathing room with all of them, with the exception of Chon Day.
Another group photograph, taken in September, 1997, this time by Arnold Newman, included one cartoonist from the 1947 image—Richter—and two cartoonists who were contributing in 1947 but were not in Penn's photograph: Frank Modell and Al Ross, our senior cartoonist. Ross began drawing for The New Yorker in 1937.
Some Favorite Things By Michael Maslin
Everyone has favorites: flavors of ice cream, baseball teams, nieces and nephews. I have favorite cartoon elements. Like fingerprints, these elements are unique to a cartoonist's work. I can't list them all, so here are just a sample from a variety of contemporary contributors:
Bruce Eric Kaplan's slanted rooms
P. C. Vey's stiff-legged people
Jack Ziegler's kids and dogs, and his men's clothing
Sam Gross' cats and mice
Drew Dernavitch's wood-cut look
Michael Shaw's early-Thurber line
Leo Cullum's animals
Roz Chast's sofas, kids, and wallpaper
William Haefli's eyes
Liza Donnelly's cats and cars
Lee Lorenz's businessmen, especially in motion
Marisa Acocella Marchetto's women
J. C. Duffy's hairstyles
Mick Stevens's cats, and bearded guys
Glen Le Lievre's warm glow lighting
George Booth's dogs, carpets, and car mechanics
Alex Gregory's continuous line
Frank Cotham's rabble
Peter Steiner's guys in suits
Robert Weber's people's long legs and noses
Barbara Smaller's scratchy line
Charles Barsotti's puppy dogs
Danny Shanahan's people's blank expressions
Victoria Roberts' dogs, and her signature
Edward Koren's creatures—whatever they are
Some Favorite Things, Part 2 By Michael Maslin
Here, in no particular order, are just a few of my favorite New Yorker-cartoon-related things:
Charles Addams's cover for Brendan Gill's "Here At The New Yorker" (Random House, 1975). I love the way that Addams played on the monkish-ness associated with the magazine at the time. Dressing the key players in robes was genius. His Eustace Tilley is perfect, right down to the pointy shoes.
"The New Yorker Album of Drawings 1950-1955." What I like most about this particular album is that it was the first to reproduce full-color covers (forty in all). The covers, by the likes of Abe Birnbaum, William Steig, Mary Petty Edna Eicke, Arthur Getz, Peter Arno, and Perry Barlow, are stunning. The cartoons are great, too.
Steinberg's New Yorker cover for the issue of March 13, 1978. I first spotted this cover while standing on the west side of Sixth Avenue, looking at the newsstand near Eighth Street. I knew it was Steinberg immediately, and, what's more, I loved it at first sight. The New York City police car, its headlights and tail-lights beaming shafts of color, its cherry top blowing pop-art and deco spears of color and black and white into the air, is beautiful. In the background: The Empire State Building and the Chrysler Building. I just don't know if Steinberg ever drew them better. The red clouds always seemed to me a sly reference to the pink-tinged clouds floating near Rea Irvin's Eustace Tilley on the magazine's inaugural cover.
James Thurber's "The Pet Department." Conveniently gathered in "The Thurber Carnival."
The Madhouse By Michael Maslin
Anyone who's ever visited us ("us" includes my wife and our daughters) eventually gets around to peeking into my studio/office. I know they're slightly surprised, if not horrified, by the site: an eight-by-six-foot room—formerly used for laundry—stuffed to the gills with all kinds of things: records, posters, toys, papers, cartoon books. It's a madhouse.
Just to the right of my desk, along a shelf running the length of the room, is the meat of my collection of cartoon anthologies, arranged alphabetically. Addams is first, and down at the end is Ziegler. Thurber occupies a shelf below, because I have a tendency to buy Thurber books the way some people eat popcorn. At one point I had about fifteen copies of "The Thurber Carnival," some paperback, some hardcover, some first editions. I managed to give about half of them away, thinking I'd spread the cheer.
I once began a collection of books illustrated by New Yorker cartoonists, but it was too much for me. That aborted collection is in another room, with miscellaneous non-New Yorker cartoon anthologies and collections, and doubles of New Yorker cartoonist collections (mostly Peter Arno, George Price, and Charles Addams).
Somewhere up near the ceiling on the top shelf in my office is a rolled-up poster of Price's only New Yorker cover. I found it at a local Moose Lodge rummage sale. Unrolled, it's about six feet long. It'll never be framed and hung, but it's nice to know it's there.
I can't move more than a few inches in my room without bumping into something New Yorker-cartoon-related. My desk always has a few folders on it filled with drawings that never found captions, and folders containing beginnings of projects probably best forgotten, and folders of folders of who knows what. The actual working space left on the desk is just about a foot square. Move outside that space and you'll hit something: paperweights, toy tanks, eyeglass screwdrivers, a broken gyroscope (I remember that when Jack Ziegler first saw the gyroscope on my desk, he said, "I've got to get me one of those.")
On another occasion, Edward Sorel sat at my desk looking like a man dying to get out of a packed elevator. Sorel works with lots of space around him.
When visitors insist that the room looks organized, I know, in my heart of hearts, that that's plain old human kindness talking, perhaps mixed with a bit of pity. Organized or not, it's where I've spent a big chunk of my life, pen in hand, hovering over cheap white copy paper.
"More than just OK" By Michael Maslin
A friend once said to me that it seemed cartoonists have to . . .audition every week. . .. It. . .s true: each week we start anew, submitting a batch of drawings to be judged. If you sold a drawing last week, it won't help you the next week. If you. . .ve been working at the magazine for half a century you have no better chance of selling a drawing than the kid with soap behind her ears who began submitting last week ( well, that may be a slight exaggeration).
I believe there. . .s genius behind the weekly audition. If you read Mick Steven. . .s . . .Addiction. . . post here last month you might. . .ve deduced that this weekly batch business is something most of us ( cartoonists) crave. The weekly deadline is not a real deadline . . . cartoonists meet it because they want to meet it, not because they have to. The weekly audition keeps us unsteady, and hungry.
. . .Unsteady. . . because we never know when the next "ok" will pop up on our email . . .inbox. . . — it could be ten weeks in a row, or it could be once a year — that. . .s uncertainty for you. Uncertainty is good for creativity, and creativity is helpful when trying to come up with an idea.
. . .Hungry. . . because there. . .s nothing like getting an . . .ok. . . . . . that. . .s likely the addictive part. It feels so good when it happens, you want it to happen again and again ( I know what some of you are thinking: it sounds like several of life. . .s other pleasures).
There. . .s also a little bit of the . . .winning the lottery. . . feel to an . . .ok. . .. By now, every one has heard how thousands of cartoons show up on The New Yorker. . .s Cartoon Editor. . .s desk every week. If one of your drawings successfully makes it through the editorial cuts, the feeling is not unlike the joy Bogie and Hepburn share once they and the . . .African Queen. . . make it through the rapids.
The Two Arnos By Michael Maslin
Other than the question of whether or not they're related (they're not), I don't think there's ever been any confusion about The New Yorker's two Arnos, Peter and Ed. Just in case though, here's an Arno primer:
Peter Arno was born in New York City, up in Morningside Heights, in 1904; Ed Arno was born in Innsbruck, Austria, in 1916, and his family moved within months after his birth to Czernowitz, then part of the Austro-Hungarian Empire.
Peter began contributing his drawings to the magazine in June, 1925. Ed made his début in September, 1969, although he really began contributing in 1967, when his ideas were bought and handed over to other artists to draw up into finished cartoons. (One of these artists was…Peter Arno.)
According to Ed, when he first submitted work to The New Yorker, he was told by James Geraghty, the art editor, that there wasn't room for two Arnos in the pages of the magazine: "We can't use two Arnos here." When Peter Arno died, in February, 1968, the magazine found room for Ed.
Both men altered their names to arrive at "Arno." Peter, born Curtis Arnoux Peters, Jr., abandoned his first name; removed the "s" from his surname and turned it into his first name; and plucked out his middle name, shortened it, and made it his new surname. Peter signed his name in full—"Peter Arno"—although sometimes he went with just "P. A." The name change occurred as Peter transitioned into his professional life, in 1925.
Ed Arno, born Arnold Edelstein, took the "Ed" from "Edelstein" and the "Arno" from "Arnold," then switched them around. His drawings are signed with his full name, "Ed Arno," which he began using while living in Paris in the mid-to-late thirties, doing illustration work. He was, at that time, unaware of Peter Arno.
Other than these intersections, there's plenty of space between the two Arnos. Ed's drawing style could be said to be the opposite of Peter's. Ed's single lines flow and are somewhat Thurberesque, although more "baked" than Thurber's. (Dorothy Parker, in her introduction to Thurber's collection "The Seal in the Bedroom and Other Predicaments," described Thurber's drawings as "having the outer semblance of unbaked cookies."). The New Yorker writer, Brendan Gill called Ed's lines "skittering squiggles."
Peter's lines flowed in his earliest New Yorker days, but began to harden, true as iron beams, in the mid-thirties, when his style became all about structure and contrast.
Both men's work covers the vast territories most cartoonists plow; when Gill wrote about Ed as "a satirist of contemporary human follies," he could have just as easily been writing about Peter, or, for that matter, all cartoonists.
Peter Arno and I never met, never spoke to each other. When he died in 1968, at the tender age of sixty-four, I was still nearly a decade away from beginning my career at The New Yorker. It might be fair to say that I made his acquaintance late, after spending much of this past decade researching and writing about his life.
I met Ed Arno only twice. The first time was in late 1979, at the opening for an exhibit of his work at the Austrian Institute in Manhattan. He told me that my last name meant "grape" in a foreign language (sadly, I can't remember which one). We ran into each other again at Arnold Newman's New Yorker-cartoonist group-photograph shoot in September, 1997. In the published photograph, Ed's the one to the extreme left of the group, wearing the Prussian helmet, having a heck of a good time pouring himself a glass of champagne.
In back of the group, up on the huge white wall, is a photograph of Peter, taken in New York City in the summer of 1931. He's coatless, smoking a cigarette, looking smart. The camera's caught him, it seems, in mid-word.
Bound By Michael Maslin
I go to the eight disks of The Complete New Yorker almost as often as I go to the kitchen to make coffee. The disks are a wonderful thing (the coffee's wonderful, too), but I'm not yet ready to part with the bound New Yorkers weighing down our bookshelves. We have an incomplete set—I dream of finding a complete set at a library giveaway or a neighbor's yard sale. There's nothing like sitting down with one of these volumes and leafing through. I'm reminded of E. B. White writing about the bound volumes that belonged to him and his wife, Katharine:
…after a long evening with George Horatio Derby or somebody or other who wrote the best light verse during the McKinley Administration, it would often be our custom to pull out a volume at random and dig up a nice funny piece before going to bed.
I've loved looking through bound New Yorkers ever since my college days, when I discovered a complete set was housed in the upper reaches of the library's stacks. While the bound Life magazines were rifled through, missing pages and covers, the New Yorkers were mostly intact. (My memory is that the very first cover was missing.)
If I have the urge to see a complete bound set in person these days, I have to drive thirty minutes due east, just over the state border in Lakeville, Connecticut. The Hotchkiss School library maintains a black leather-bound set, originally donated to the school by a former New Yorker employee. While there's no drive time involved when sitting home at my computer cruising through The New Yorker on disk, looking through the bound magazines offers a different experience. As much as I can appreciate a beautiful painting or a photograph of an apple, there's nothing quite like biting into the real thing.
Waves By Michael Maslin
It's tempting to call it a revolution, but it's not, it's an evolution: a new wave of New Yorker cartoonists is upon us. And that's just as it should be. There have been only two major waves of talent since the original New Yorker artists brought the magazine into the modern age. The first was in the late nineteen-forties and fifties, when the likes of Lee Lorenz, James Stevenson, Eldon Dedini, Joseph Farris, Ed Fisher, Warren Miller, and Charles Saxon arrived. The second, in the mid-to-late seventies, brought me in, along with Nurit Karlin, Jack Ziegler, Arnie Levin, Robert Mankoff, Mick Stevens, Gahan Wilson, Roz Chast, Richard Cline, Liza Donnelly, Thomas Cheney, Leo Cullum, and Peter Steiner, among others.
Now, some three decades later (the big waves seem to come every thirty years), there's another group. This is not to say that new cartoonists didn't show up between waves. William Steig began in 1930, Saul Steinberg, Frank Modell, and Mischa Richter in the mid-forties. Edward Koren, Charles Barsotti, J.B. Handelsman, and Robert Weber, Donald Reilly, and Henry Martin  started in the early sixties, George Booth in 1969. There was a mini-wave in the eighties that brought in Danny Shanahan, John O'Brien, Frank Cotham, Victoria Roberts, and Bruce Eric Kaplan.
Looking at the magazine's current Table of Contents, you're likely to see many of the aforementioned names, but you'll also see Zachary Kanin, Marshall Hopkins, and Andy Friedman (a.k.a. Larry Hat), all of whom once worked as assistants to the Cartoon Editor—plus Farley Katz, who still does. To name but a few more fairly recent additions: Alex Gregory, Robert Leighton, Drew Dernavich, Carolita Johnson, Eric Lewis, Julia Suits, Matthew Diffee, Kim Warp, and Michael Shaw. Funnily enough, some of these "newer" cartoonists are already into a decade of contributing.
What's exciting is knowing that right now, out there somewhere, the next new wave is building and heading for shore. I can't wait.
Laughing On the Inside By Michael Maslin
In mid-January, I finally made it to the Jewish Museum to see "From The New Yorker to Shrek: The Art of William Steig." It's a fabulous show, put together with great care. Not long after I walked into the museum, the usual gallery calm was shattered by a loud laugh, then another and another, and another (and another).
Visitors were laughing out loud as they moved past the framed drawings. It was a stunning reminder of what cartoonists miss out on when their work is published. Just about the only time that cartoonists hear laughter as a by-product of their work is when they show their drawings publicly, in an exhibit or up on a screen during a presentation. Most of us work by ourselves, and have got used to not hearing any applause.
I suppose there are some cartoonists who sit at their drawing boards laughing at their own work. The thought is a little creepy, if you ask me.
The Travelling Salesman Problem By Michael Maslin
Other than my general ongoing interest in dogs, doctors, women, lawyers, and medieval times, it's rare that some particular moment in real life inspires a drawing. Rarer still is it for one particular moment to inspire a rash of drawings, but such is the case for the salesman sketches I keep forcing on the magazine. They're rooted in an incident that happened at home about five years ago.
It began with a knock on the door (itself a rarity around here, in the sticks). I opened the door to find a slightly older version of "Saturday Night Live"'s late Chris Farley. His tie was askew and he wore a sloppy white shirt, saggy pants, and a wrinkled greenish-grey overcoat. His left arm slumped down from the weight of the enormous salesman's bag he carried. The other arm, held hard over his chest, protected a folder of some kind, thick with papers.
The first thing that the man did, after mumbling his name and the name of the company he represented, was attempt to brush past me into the house. Can't say why, but I found it hilarious that he was literally pushing his way in. I blocked his path with my arm, saying to him in my friendliest voice, "I'm not going to let you in." He backed off, resettled himself on our stoop, and began to reel off the products he was pushing, never once acknowledging the little scene that had just happened between us. Finally deciding that I was a waste of his time, he headed back to his car, which appeared to be jammed with papers and folders. After he drove off, I realized that, for just a moment, I missed him, and regretted not buying something from him. He was a visitor from the past, or from a Hollywood movie.
After that visit, I began drawing salesmen. I usually draw them as sympathetic characters, victim-like, as they bring themselves to a stranger's door. One of these drawings became a cartoon-caption-contest entry. It showed a line of salesman stretching back into the distance—something that's as unlikely to happen as the reappearance on our doorstep of that lone salesman. I fear that he's gone the way of the Walkman.
You've Got to Have a System By Michael Maslin
Like every cartoonist, I've got a decent collection of rejected cartoons. Some years back, I began putting them into categories: "Dogs & Cats," "Doctors," "The Law" ( that includes police, courtrooms, and lawyers), "Animals" (not dogs and cats), "Fairy Tales," "Cars," "Love," "Death," "Business," "The Media," etc. Keeping things nice and complicated are the crossovers. Where does a drawing of a cat practicing law go, or a car parked at St. Peter's Gate?
All of these folders are stored in four stacked banker's boxes. Close by are more banker's boxes filled with more folders, which contain a few years' worth of my weekly batches, yet to be sorted by subject.
While browsing through the banker's boxes of rejects this morning, I noticed that "Law" now fills four thick folders, with "Business" and "Love" tied for second place, at three folders apiece. Some folders are at risk of fading into obscurity. "The Wealthy" is the slimmest folder—it's filled with butler cartoons. I did a lot of butler cartoons around the time of the Reagan Administration.
I know of at least one cartoonist who is very organized about his work, and can snatch a needed reject out of his filing system in seconds. My organized friend keeps a coded list of his cartoons. I have no such list. If I need to locate a particular drawing, it sometimes takes hours of rooting through folders before I accept the fact that I'll never find it.
In the Pocket By Michael Maslin
I only ever wear a sports coat when I'm invited to New Yorker functions—parties, anniversaries, openings. When an event comes up that requires some formality, I'll grab the one coat I own as I'm heading out the door. My hands instinctively go to the pockets, sort of a self-pat-down, just checking around to see what's what. Usually I leave what's in there in there, not wanting to bother throwing anything away or sorting through papers.
The other day, I decided it was time to take a good look at some of the things in my coat pockets. Besides place cards from a wedding that I attended six or seven years ago, I found the following: name tags for Lee Lorenz, Danny Shanahan, Art Spiegelman, Victoria Roberts, and myself. I believe—but can't be certain—that these came from the last Playboy holiday party I went to, probably in the late nineteen-nineties. Seeing these name tags immediately reminded me of two moments at the party:
Running in to Art Spiegelman near the elevator. He said he'd just met with "Hef."
Meeting Nurit Karlin. Couldn't believe I was finally meeting her. A thrill.
O.K., now back to my coat: I found a folded-up piece of paper containing a typed list of Gerald Scarfe's work that appeared in an exhibit sometime during the Tina Brown era, circa 1993. In another pocket, a stack of name tags, some of them repeats of the ones mentioned above, others belonging to Roz Chast, Edward Sorel, and Peter Steiner. (I should've written something on the back of one of these name tags, because I haven't a clue where they came from.) Finally, at the bottom of the pockets: some confetti, parking-garage receipts, and an Arnie Levin business card. The coat, I've come to realize, is a mobile archive. At present, the pockets are empty—I decided to put all the things that I'd found into a banker's box. The coat and I now eagerly await the next invitation.
The Three "I Don't Get It"s By Michael Maslin
Here are three versions of the cartoonist's nightmare:
"I Don't Get It" No. 1:
It doesn't happen very often—I admit, I can't even remember the last time it happened—but, when it does, it brings my inner laugh-o-meter to a standstill. I'm talking about New Yorker cartoons that I don't get. When it happens, I feel like I'm in that scene from "Diner" when Kevin Bacon says to Mickey Rourke, "You ever feel like there's something going on that we don't know about?" (An echo of Dylan's line "There's something happening but you don't know what it is…")
I breathed a sigh of relief when the magazine brought the subject out in the open in a two-page spread titled "I Don't Get It," in the Cartoon Issue of 2006. Bafflement loves company.
"I Don't Get It" No. 2:
Convinced that a new drawing I've just finished is especially amusing, I sometimes go looking for trouble by showing it to the first family member I run into outside my office (not including the dogs). I hand over the drawing and await the happy verdict. Usually, I get this response: "Ah…I don't get it." It's kind of sad, but that drawing, once so bright with promise, then gets balled up and trashed.
"I Don't Get It" No. 3:
I've saved my favorite for last. Sometimes I don't get one of my own drawings—meaning, I don't understand why I ever thought it was worth working on in the first place. Once the drawing is finished, or close to finished, I realize that it's not even close to being mildly amusing. These drawings are like accidents—you don't see them coming until it's too late.
Killed By Michael Maslin
Besides red roses and heart-shaped cardboard boxes filled with chocolates, what February 14th reminds me of is that I have never reached the pages of The New Yorker with a Valentine's Day cartoon. It's not for lack of trying. I've submitted cover ideas over the years, and every year I send in at least one or two cartoons related to the occasion. The magazine did actually buy a Valentine's Day cartoon of mine a few years ago. All I remember about it is that it involved Cupid. Sometime after it was bought—perhaps a year—I received a package from the magazine containing "killed" drawings. The O.K.ed Valentine's Day cartoon was among the casualties.
"Killed" drawings? This is perhaps the darker side of New Yorker cartooning; cartoonists rarely discuss it. It's a sad day when a package arrives filled with these unfortunate cartoons, with the word "killed" actually written on the packaging. I don't know what other cartoonists do with their kills; as a sign of respect, I put them in with the published cartoons that I've held on to.
I've never asked why a certain cartoon has been killed. What's the point? What's done is done.
They're Back By Michael Maslin
Not too long ago, there was a drought of New Yorker-cartoon anthologies. For a while, it seemed that publishers were interested only in collections of syndicated comic strips—and that's fine: I love comic strips. But I found myself asking, "What about us?"
Then, slowly, the New Yorker-cartoon collection came back. There was the hefty seventy-fifth-anniversary anthology, in 1999, followed by the doubly hefty "Complete Cartoons," in 2004; bushels of titles by Leo Cullum, Jack Ziegler, Danny Shanahan, and Bruce Eric Kaplan, as well as the Essential series (The Essential Charles Barsotti, Booth, etc.), by Lee Lorenz. All the while, there have been New Yorker-cartoon collections organized by theme (The New Yorker Book of Lawyers, Dogs, Moms, Wine, etc.). More recently, a Roz Chast retrospective appeared, as well as a couple of Steinberg collections and a Steig or two. I'm crossing my fingers that this is just the beginning—there's a lot of catching up to do.
Looking On the Bright Side By Michael Maslin
Unlike baseball players or football players, who usually retire before their fortieth birthday, cartoonists tend to remain on the field for a very long time. For a while now, I've kept a black binder labeled "New Yorker Cartoonist Obits." Look—I know that may seem a little dark, and maybe it is, but I had a childhood interest in reading obituaries, and when I grew up it seemed as natural as death itself that I begin collecting obituaries of New Yorker cartoonists.
What's striking is the lengthy lives that many cartoonists have led, and how many of them were still working well into their eighth and ninth decades.
The average age of the last dozen New Yorker cartoonists who have spilled their final bottle of ink was eighty-six. All were men. The last woman cartoonist who passed away was Peggy Bacon; she died in 1987, at the age of ninety-one.
I brighten when I think of the average age as eighty-six, although I have plans to go on much longer than that—bypassing Mischa Richter at ninety, Syd Hoff at ninety-one, George Price at ninety-three, and William Steig at ninety-five.
Simple math tells me — if I've done it right—that when I reach the age of eighty-six, it will be the year 2040; I'll be working on my weekly batch of drawings, and looking forward to at least another decade of work. If I'm lucky.
Tools of the Trade By Michael Maslin
The other day, sitting in my car waiting at a traffic light, I noticed an electrician getting out of his van. He was wearing a wide belt loaded down with all kinds of great-looking tools—there must've been thirty of them strapped to his waist. It got me thinking about how few tools cartoonists use in their line of work. I suppose there are exceptions: cartoonists who have Swiss lighting systems over their drawing boards or elaborate headgear indispensable to their routine. But for many—well, all right, let's just stick with me—there are just a few supplies necessary to accomplish the task.
Paper is, of course, a must (although it's rumored that one cartoonist, Alex Gregory, draws on the computer), a pen, ink, a pencil, and an eraser (maybe). Although I have a desk, a desk isn't necessary. I sometimes sit down in any convenient armchair and use the arm as a desk.
If you're not Alex Gregory, ink is essential. The brand I use was once manufactured by William Steig's brother. Years ago, living far from an art-supply store, I decided it would be a good idea to buy a jug of the stuff. I called the ink company and spoke with Mr. Steig, who was, at first, reluctant to sell in bulk. Eventually, he caved in and sent me a quart of ink, protected by thick Styrofoam slabs, as if it were nitroglycerine. The ink lasted close to a decade.
I've been using the same technical pen since high school. The point is relatively new, and so's the cap, but the barrel—cracked and ever so slightly bent from use—is original equipment.
Although certain parties have encouraged me to pay more attention to the paper I use, I've resisted. I go through a lot of paper when working, preferring to move on to a clean white page if something doesn't go my way. The few times I worked on "nice" paper, it felt uncomfortable, not unlike how I feel when I'm forced to wear a tie.
For a while now—as long as I've worked for this magazine—I've worked on copy paper, buying a case at a time, perhaps two cases a year. Each case contains a label listing the contents: ten reams of paper, five hundred sheets of paper per ream, five thousand sheets of paper total. Every time I buy a case I take a moment to stare at those numbers, especially the number 5000, and I think about all the work to come.
We're Not Speaking the Same Language By Michael Maslin
I love courtroom ritual: the language of the law spoken by officers of the court and the drama of the individuals called to testify. Long ago, my father, a court officer, brought me along to observe a trial at Newark's Essex County Courthouse, where he worked. I was about nine, and found the whole thing mesmerizing.
A few years into working for The New Yorker, I visited another courtroom—this time as part of the drama. I fought a brief unsuccessful fight against my then landlord. See Donald Barthleme's unsigned Notes and Comment under "A friend writes" in the Talk of the Town, December 4, 1978, to get an idea of whom I was up against:
The new owner has informed the young cohabiting couple on the floor above us (rear) that they are illegally living in sin and that for this reason he will give them only a month-to-month lease, so that at the end of each and every month they must tremble.
I am one-half of the cohabiting couple.
As the outcome of my day in court was unpleasant (I was evicted from my apartment) you might think that I'd never want to visit a courtroom again, but I'm hooked. Rarely a week goes by that I don't revisit the courtroom, on paper. There's drama and emotion in that room, the perfect breeding ground for humor.
It's All Good By Michael Maslin
Television, music, and movies usually, although not always, take a back seat when cartoonists discuss their influences. But I'm convinced that I wouldn't know how to write a decent caption if not for my steady diet of all three.
I watched a lot of television as a kid, and still take in my fair share. The way actors talk on sitcoms and in commercials, and reporters and commentators on news shows, and "real" people on reality shows—all of it feeds the cartoon monster.
Sinatra was played a lot in my childhood home, which imprinted his phrasing on me, not to mention some great lyrics. I heard that music over and over and ended up memorizing it, without trying to. (Bob Dylan's music, lyrics, and phrasing played an even bigger role later on).
Besides comic books, movies sopped up a lot of my time. Al Capp's "L'il Abner," released in 1959, was the first movie I saw on the big screen. It made an enormous impression on me. I was too young to realize that it was a film, and thought that I was seeing real live people up on a stage. I've read reviews calling "L'il Abner" a cartoon brought to life. Odd, isn't it, that the work I do for a living is just the opposite.
Kittens and Businessmen By Michael Maslin
I'm guessing that many people assume cartoonists spend much, if not most, of their days drawing kittens and businessmen. The truth is that much of a cartoonist's day's work has more to do with writing than drawing. With a few exceptions, without the caption, there is no (successful) cartoon. The exceptions are those wonderful captionless drawings that occasionally make it into print. (John O' Brien seems to be the current reigning champ of the form.) Mostly, though, the success or failure of a cartoon comes down to the caption. I'll argue that the magazine is more likely to run a great caption with a mediocre drawing before it runs a mediocre caption with a great drawing.
True, cartoonists aren't a bunch of Joyce Carol Oateses, turning out reams of prose, although a couple of us do stretch beyond the caption: William Hamilton's plays come to mind, as do Peter Steiner's novels. But, in general, cartoonists spend their hours heading to a finished idea by constructing a maze of words and drawings. If I had to draw it for you, it would look something like the twisted chains of the DNA double helix.
Many of the Golden Age cartoonists didn't have the complication of blending words and drawing—they relied on "idea men" who provided a constant stream of captions. This left the artists to concentrate on their drawings. That coöperative effort fizzled out, for the most part, in the nineteen-seventies.
I'm betting that every cartoonist has, at one time or another, been asked, "Do you just do the drawing, or do you do the words, too?" Well, yes.
Housecleaning By Michael Maslin
Whether or not March comes in like a lamb at the stroke of midnight, the ever wonderful Barbara Smaller will definitely be here to take over as Cartoonist of the Month. I'll continue online as usual, producing Ink Spill, the section of my Web site devoted to New Yorker-cartoonist news and events.
Left on my computer's desktop under the heading of "New Yorker Blog Thoughts " are posts I began to write but never completed, thoughts about posts I wanted to begin but never did, photographs I wanted to include…well, you get the picture.
Under the heading "Blogspottings & Websightings," I'd planned to write about some of my favorite New Yorker-cartoon-related Web sites, but, as time is now short, I'll mention just one—if you love New Yorker cartoons, you'll love Christopher Wheeler's Cartoon(ist) Gallery.
Then there was "Minute by Minute," which was going to be…well, you guessed it: a minute-by-minute account of what takes place every morning as I plow ahead, trying to flush out an idea. This probably wouldn't have been very interesting; after all, cartooning isn't like bull riding.
________________________________________________________________________________
________________________________________________________________________________
"Funny Drawings Beautifully Drawn: An Ink Spill Interview with Bill Woodman"
— Posted in News, September 19, 2016. Link to it here.
"New Yorker Cartoonist Michael Crawford: An Ink Spill Appreciation"
Posted in News, July 13, 2016. Link to it here.
"George Booth: An Ink Spill Appreciation"
Posted in News, July 1, 2016. Link to it here.
"Evergreens" (an Ink Spill Appreciation of three recently departed New Yorker colleagues: William Hamilton, Frank Modell and Anatol Kovarsky)
Posted in News, June 10, 2016. Link to it here.
"New Yorker Cartoonists' Elder Statesman Frank Modell Has Died at 98"
Posted in News, May 28, 2016. Link to it here.
"The Lull in Traffic That Saved The New Yorker"
Posted in News, May 7, 2016. Link to it here.
By the late 1940s, Harold Ross, The New Yorker's legendary founder and first editor, had assembled either by happy accident or design (depending on which version of the magazine's history you want to believe) a stable of magazine cartoonists unrivaled in American publishing. Some have called that era of the magazine's cartoons its Golden Age. The guiding forces of the New Yorker's art (besides Harold Ross, of course) were Rea Irvin (who is most known for creating The New Yorker's signature mascot, the top-hatted Eustace Tilley) and the magazine's first Art Editor, James Geraghty, a former gagman who began working at the magazine in 1939 and retired in 1973.
As mentioned on this site this past summer in a profile of Anatol Kovarsky, there are just four surviving New Yorker cartoonists from the Ross era: Frank Modell, James Stevenson, Anatol Kovarsky and Dana Fradon. Mr. Fradon was the last cartoonist contracted by Mr. Ross, who died in December of 1951.
Fradon's first New Yorker cartoon (below), published May 1, 1948, launched a career that spanned half a century; he went on to contribute nearly fourteen hundred more cartoons, placing him in the stratosphere of such other New Yorker artists as William Steig, Alan Dunn, Robert Weber, Warren Miller, Helen Hokinson, Lee Lorenz, Mischa Richter, Robert Day, and the aforementioned, James Stevenson and Frank Modell.
A native of Chicago, Fradon studied at the Art Institute there, and later, following service in the army during WWII, he studied at The Art Students League in New York. Fellow classmates included future New Yorker colleagues, Joseph Mirachi, Herbert Goldberg, and James Mulligan.
In a recent phone and email conversation with Mr. Fradon, who is now 91, we covered a lot of territory, from his beginnings at the New Yorker all the way up to today and whether he's still thinking up ideas for cartoons.
Beginning our conversation, I asked Mr. Fradon if he had any thoughts as to why the Art Students League turned out so many New Yorker cartoonists.
"It's a great school, it's in New York, it's cheap, and there were no marks given or attendance taken; a future cartoonists paradise."
Michael Maslin: What brought you to The New Yorker—was it that that was the place to go?
Dana Fradon: No, I didn't know anything about The New Yorker. My sister married Albert Hubbell and then I heard about The New Yorker [Mr. Hubbell was a jack-of-almost-all trades at The New Yorker, contributing fiction as well as pieces for the Talk of The Town. He was, briefly, The New Yorker's Art Editor during WWII when James Geraghty left for service. He was also a cover artist and contributor of "spot" drawings as well as an in-house idea man, creating captions for cartoonists, including, among others, Mary Petty] I admired Albert and I admired some of the things he pointed out [in the magazine]. I decided that's where I would channel my work.
I did the first cartoon that Geraghty took notice of when I was still in the service. Apparently, when Geraghty showed my work to Ross, he threw Geraghty out of the office. Geraghty said to me later, with that nice little grin he had that he [Geraghty] didn't think what I sent in was that bad. It was a panel gag—I still remember it—it was rejected, but nevertheless Geraghty said, "Keep coming."
MM: I noticed that your first five cartoons in the magazine were captionless—was that happenstance, or was that something you were doing a lot of?
DF: I guess that's what I thought Geraghty thought was funny. In the beginning I had the idea that he was buying only stuff of mine that was rather topical. And I thought that was a restriction—that I could not do the ordinary funny gag—that they were just going to want politically topical stuff. And I thought that would limit me. I didn't know that it would become, in a sense, my hallmark. I thought at first it was a sign of failure—that I couldn't do the straight old cartoon. But of course I did end up doing those kinds of cartoons as well.
MM: In the beginning you had almost two different styles. You had a heavier style and a looser style.
DF: I think the thicker lines came after about five years, ten years—that was still early in a career that spanned 50 years. I went to a felt tip marker that was heavier; I look back at those drawings and I really like them better than some of the thinner line drawings I did later in life. It was not a conscious change—it was a change in paper, and what kind of pen I used.
MM: You were trying to find your way?
DF: Absolutely. I was trying to find my way for about thirty years.
MM: Let's talk about Geraghty. Obviously he was a huge part of your career.
DF: He was a huge part of The New Yorker magazine. His taste was what guided the magazine—in cartooning and in those days, all the artwork. He bought the spots and the covers. He's best described by something which has become reasonably common knowledge. He said it to me originally about making a drawing beautiful. He said, "Make it beautiful, Dana. Make it beautiful." And very often he would OK a drawing—the final OK would either be Ross's or Shawn's—or he would bring to their attention cartoons which were borderline funny but would make magnificent drawings.
It was Geraghty's belief that New Yorker cartoons provoked a chuckle (not laughter) and, of course, much thought. He once went through an act with me imitating a commuter on the New Haven R.R., city bound, opening and skimming through his recently arrived New Yorker. I can imitate every one of Jim's marvelous gestures and soft grunts (chuckles) to a tee.
MM: And the "magnificent drawings" bought—would they be tinkered with?
DF: Towards the end under Lee [Lee Lorenz, James Geraghty's successor as Art Editor], maybe because I was more experienced, there was not much tinkering. But yes, in the beginning there was tinkering down to the last finger. You couldn't even distinguish where the fingers were [on] my early rough drawings.
MM: Did you ever meet Harold Ross?
DF: Never met Ross, but nodded to him dozens of times. My only close experience with Ross was at one of the first huge parties the New Yorker threw at the old Ritz-Carleton. Geraghty gave my then wife [the cartoonist, Ramona Fradon] and I an invitation. My wife said, "Fasten your eyes at the guy at the next table." It was Ross. So I fastened my eyes on him, and he looked at me like I was a freeloader or something. Everything I know about Ross I heard from Albert [Hubbell]. Albert was the be-all and end-all if you wanted a connection with Ross—he had it and he had total recall.
I can't tell you much about Ross except that I accepted from the beginning that he had impeccable taste. That was the greatest period of drawing, if not ideas: Arno, and those other guys—Whitney Darrow, Robert Day—all brilliant.
MM: I have a list of names I want to run by you, but first, before I forget, I want to ask you if you ever provided ideas for Peter Arno, or anyone else?
DF: Yes, Arno, one or two, and for Charlie Addams, half a dozen to a dozen—he was another wonderful artist. You might say Geraghty would look at me and say, "This needs a better artist." But then it got to where he would give me a trade. He'd say "This would be better if George Price did it." And he'd give me a simple idea. [Mr. Fradon recalled one idea given to Addams, of Martians coming to the door on Halloween. It ran in The New Yorker November 1, 1952]
MM: When I was researching the Arno biography at the New York Public Library, and looking through The New Yorker's archives there, I found a lot of interaction, a lot of back and forth—idea-wise—between artists.
DF: When I first started working there—it might've been about the tenth cartoon I did—it was a couple of kids watching television, a close-up on the kids. Geraghty didn't like the faces on the kids. I couldn't do kids; now I can, but then I couldn't at least not on the New Yorker level. Frank did one of the faces on one of my drawings on one of my kids. He [Frank] was sitting out there in the office and Geraghty said, "Just a second" and took the drawing out and Frank did the face and they bought it [the cartoon appears above].
MM: We do that around here sometimes. Liza [Donnelly] will ask me for some help on perspective and I'll ask her to help me with cats. We have cats here, but that doesn't help me—I still can't draw them.
DF: Well, certain poses, they're [cats] hard to draw. You know, Ramona used to do all my horses. It wasn't until I started doing kids books, and I was divorced, that I learned to do my version of the horse, which is more like a merry-go-round horse. I learned to draw them out of necessity because Ramona wasn't there to draw them for me. There are a couple of my New Yorker cartoons with horses in them, and she drew the horses.
MM: There's one I have here on my desk…you have an invading army…
DF: Is it "Beware of dogs?"
MM: Yes, yes.
DF: She didn't do the finish, I inked them—but she drew the horses.
MM: As long as we're talking about specific drawings, there's one I thought would make a good title and cover drawing for a collection: "The gods are antic tonight."
DF: That drawing has a story behind it. Lee put the word "antic" in there. I had the "gods are something-or-other" and I believe he changed it to antic. He asked me, of course, if it was ok. I didn't get the fine difference between what I had and he had, but apparently the antic thing was pretty cute, and he knew what he was doing. "Antic" was not in my vocabulary.
MM: Can you list for me some of the cartoonists you knew back in those early days. Let's begin with Arno.
DF: Never met Arno, never saw Arno but always felt his presence. Knew fairly well: Sam Cobean, the magazine's other genius; Charlie Addams, Richard Decker, Frank Modell, Whitney Darrow, Mischa Richter, Bill Steig, Dick Taylor, Barney Tobey and many more. I met, casually, Saul Steinberg (I suppose he's another genius), Robert Day, Chon Day, Alan Dunn and Mary Petty.
MM: Did you know Stan Hunt?
DF: A nice gentle soul.
MM: James Mulligan?
DF: He was left-handed, but because of several car accidents, had to learn to draw with his right hand. His last few hundred cartoons were drawn with his right hand.
MM: Rea Irvin?
DF: Rea Irvin lived in Newtown [Connecticut] for several years. A really sweet guy. Worked with drawing board held in his lap in a, literally, closet-size studio in a large, beautiful colonial. Actually, HE is the genius of The New Yorker. Did the first cover, designed its typeface, and designed the headings, I think, of the various regular columns. Based on his drawing and the variety and depth of his drawing…he's the number one guy that everyone always forgets about. Rea just seemed like Major Hoople…"woof woof woof" while he talked, to clear his throat.
MM: Speaking of covers…I couldn't help but notice there was never a Fradon New Yorker cover.
DF: I submitted one cover and after about the tenth time of correcting it and fixing it, I gave it up and went back to doing something I knew better: doing cartoons and ideas. I was doing well on the cartoons and beginning to move into kid's books, where I got all that color out of my system. I never pursued it. The one I did try lent itself mostly to design—there was nothing funny about it.
MM: What about Richard Taylor—you mentioned you knew him.
DF: Dick Taylor was a lovely man, and sort of a comic on his own. He had a unique way of drawing. There've been Whitney Darrow look-alikes and Bob Weber look-alikes, and dozens of Cobean look-alikes, and Arno look-alikes; when I say look-alikes, they're not as good—there was a guy who did a lot of ads—nothing but ads—he was a pale version of Arno. I've never even seen a pale version of Dick Taylor.
MM: His work—his people were too different weren't they? With those giant eyes…
DF: And the way he did his washes too. Layers and layers before he got the tone, without it going dead. Whereas most of us…I strive to splash it on as best I can.
MM: I loved watching the progression of your drawings from the very first ones to where they became very loose. The energy there—your heads would almost be disconnected from the bodies. I could see you were having a really great time doing these.
DF: That, and a little bit of writing is the only thing that absorbed me. And playing baseball.
MM: How did you work? Did you go to your desk in the morning, five days a week?
DF: Yeah, five or six days a week, I made it a point. The first thing I'd do—the first three hours in the morning, when you're freshest—is think of ideas. I'd just think of ideas five days a week and come up with twenty or twenty-five of them and then let Geraghty comb through and pick out what he thought was funny.
The routine for thinking of ideas—you may feel the same way—I have no formula for thinking of an idea. It's more of free association. You start out with a subject, and you may not end up with that subject.
MM: And you write everything down, right, because these things can float away.
DF: I had a big pad of paper, 14" x 17" bond paper; I'd make little notes and sketches and see where they'd lead me. Once, when I was giving a talk I said the important thing of thinking of ideas is knowing when to pounce. You kick ideas around in your subconscious and then this one is a straggler and you pounce on it because it seems funny. And that's the one you draw up. I drew up a lot of rejections too of course [laughing].
Geraghty used to tell new cartoonists—and some of the established ones as well—about how he'd be at a party and someone would tell him a funny story and then say, "Why don't you make a cartoon out of it?" He'd turn to them and say, "That's not a cartoon, that's a short story." There's a hell of a big difference. You know, they'll start by saying, "There're ten thousand people in a living room…" Well, who the hell is going to draw ten thousand people in a living room!?
MM: One of the things that fascinated me about Arno's life was that his career spanned enough time at the magazine, 1925 through 1968 to see a change in the use of ideamen. He began using his own ideas but then shifted into using ideamen in the 1930s and beyond. Many of his contemporaries used ideamen as well (not all of them did, but a majority). By the time your era came along, late 1940s, early 1950s, your crowd, or most of you, were doing your own ideas. That just sort of happened? Or did someone encourage you?
DF: Yeah, it just sort of happened, but it's also something I think subconsciously that Geraghty was striving for. He probably thought it was taking too much time or thought or energy putting cartoonists together with ideas. If you could do it in one step, that was helpful…it became a real badge of courage to do your own ideas, your own drawings.
DF: One person who did his own ideas—I don't know if you remember him, was Herbert Goldberg.
MM: I know his work from the albums, The New Yorker anniversary albums. I'm a sucker for those collections.
DF: You live in the world of cartoons.
MM: Yes.
DF: Well that's one thing I've never have done and I've always been sorry for it. I'm not really a cartoonist. I'm a misplaced baseball player or something like that. But I look at [cartoonist] Orlando Busino and I'm just so envious of people who can get into that. When I drew I was in the world, but I wasn't really there. I wish I could've appreciated who I was.
MM: Do you still take a crack at cartoons every once in awhile?
DF: For a time, when I thought of a good idea that I thought would go in today's New Yorker, I stifled it. And then I said to myself: well don't do that anymore, write 'em down—so I write them down on a scrap of paper and throw them into a pile.
Someone once said that the greatest difference between Fred Astaire's dancing and Gene Kelly's dancing is that you could see Gene Kelly's sweat. Pauline Kael, writing in The New Yorker in 1972 said, "Kelly isn't a winged dancer; he's a hoofer and more earthbound" which she compared to "Astaire's grasshopper lightness." Here are some other words you'll run into when reading about Astaire's dancing: effortless, graceful, floating on air. And for Kelly: muscular, dynamic, down-to-earth.
I pose this simple question: is it possible to divide New Yorker cartoonists into two distinct camps: Astaire Cartoonists and Kelly Cartoonists? Are there some cartoonists whose work seems effortless, like Astaire's? Do others show the sweat, and muscularity of Kelly's performances? Well of course I think the answer is yes. I'm not saying Astaire's dancing was better than Kelly's or vice-versa – I'm just saying they were different.
This has everything to do with what cartoons look like on the printed page or glowing screen and how a cartoonist's work appears to the reader's eye. Is the reader aware of the mechanics of the drawing (do you see the sweat?) or does the cartoon seem effortless?
I'm reminded of the story James Thurber told of the day he was sitting in his driveway in Connecticut drawing his car head on. Al Freuh, the great New Yorker artist happened by, and seeing Thurber struggling with crosshatching and perspective, said, "Don't bother drawing like that – if you ever got good at it, you'd be mediocre." (I'd put Frueh in the Astaire camp).
As an example of what I'm talking about, here's my short-list of Astaire cartoonists and Kelly cartoonists:
Robert Weber definitely in Astaire camp. Mischa Richter in the Kelly school. Thurber, Astaire; Gluyas Williams, Astaire. Mary Petty, Kelly; and her husband, Alan Dunn: Kelly. George Price, Kelly. William Steig, Astaire. Richard Taylor, Kelly. Charles Barsotti, Astaire; Whitney Darrow, Jr., Kelly. Helen Hokinson, Astaire. Steinberg, Kelly & Astaire (yes, there are hybrids!).
I invite Ink Spill visitors to offer their lists; I fully expect some will completely disagree with mine – so let me have it.

If you pick up a copy of veteran New Yorker cartoonist, cover artist, and Talk of the Town contributor James Stevenson's latest book, The Life, Loves and Laughs of Frank Modell, you'll find a section wherein Mr. Stevenson recounts his "summer office boy" job at The New Yorker back in 1947, and mentions as well his beginnings at the magazine, nine years later, once he was hired full time.
In a New York Times op-ed piece from January of 2011 ("New Yorker Confidential") Stevenson recounted how James Geraghty, then The New Yorker's Art Editor turned to him after the hiring handshake and said, "You must not tell anybody at the office or anywhere else what you do." Only Geraghty and the magazine's editor, William Shawn knew what he was up to all day long at the magazine. What he was up to was creating ideas for some of the established cartoonists.
The subject of idea men (or the less appealing term "gagmen") is of great interest to me –- my unpublished biography of Peter Arno goes into the subject in detail as Arno, though prolific in his earliest years, came to rely more and more on outside help as the years wore on. I plan on going into the subject here on Ink Spill sometime in the future.
Curious about the secrecy of Stevenson's job, and many other things concerning his time at The New Yorker, I called him up the other day to talk shop. Among other things, I learned that Stevenson was among the chosen (Frank Modell was another) to guide a nearly blind James Thurber around the office. According to Stevenson, this was the time-period "back when he [Thurber] was working on the soap opera series" ["Soapland" was a five part series running from the issue of May 15, 1948 thru July 24, 1948]. Here's a snippet of our conversation:
Michael Maslin: Why all the secrecy?
James Stevenson: I have a very clear vision of meeting Geraghty. I was working for Life magazine –- and I'd been selling ideas [to the New Yorker] — and he said come and have a cup of coffee. He described a career having an office at the New Yorker, and thinking up jokes, but I couldn't tell anybody – it was a secret. And now it's possible, but I doubt it, that he was just testing me. He liked to test people.
MM: The crowd of cartoonists that arrived at The New Yorker around the same time as you: Warren Miller, Lee Lorenz, etc.. seemed to arrive complete – you didn't need to rely on idea men like so many of the previous generation; Helen Hokinson, Whitney Darrow, Jr., and George Price to name a few. Why was that?
JS: I think originally the New Yorker artists –- a lot of them -– might've come thru the Art Student's League or something like that and they had a background in how to draw and how to do this and how to do that, and they would do handsome drawings but they might not be funny.
MM: I have a copy of the March 10, 1956, New Yorker in front of me – it contains your first cartoon published in The New Yorker. Going through the list of cartoonists in that issue, it's an amazing group: Alain, Steinberg, Steig, Perry Barlow, Barney Tobey, Hoff, Kovarsky, Richter, and on and on. You must've rubbed elbows with many of them while you were there.
JS: Actually no, because I had this hidden career. I had an office for awhile across the hall from Geraghty. I didn't much want to go into the [Art] office because pretty soon someone would ask questions. I was maybe more comfortable with people who were Talk reporters because they wouldn't ask me anything related to what I actually did.
MM: In your new book about Frank Modell, you mention bringing a package up to Peter Arno's apartment on Park Avenue at around three in the afternoon and that he met you at the door still in his dressing gown. You said that on the way home you decided you wanted to be Peter Arno. Did you start drawing like him?
JS: No, I just liked the life style.
In a recent exchange of emails with a couple of fellow cartoonists the subject of the weekly batch of drawings came up. It's not an unusual topic between cartoonists, as the batch is what binds us all together, weekly. The batch — "the batch" referring to the drawings you come up with and then submit to the New Yorker — is your grab for the golden ring, or, when things don't go well, your ball and chain. Without the batch you have no shot at The New Yorker (you gotta be in it to win it!), and sadly, sometimes (or most times) even with the batch, you still don't have much of a shot.
Every cartoonist has their own system of approaching Tuesdays, when the batch is sent in, or brought in to the magazine's offices. On Tuesday mornings I take a long hard look at the work I've done all week and decide which of the new drawings are worthy to submit. Usually a few –- or on really bad days, more than a few — don't make the cut. Either a drawing suddenly seems nonsensical, or not quite "there" or just plain awful. How could it be that a drawing that seemed so promising one day appears so worthless the next? I don't know –- all I know is that it happens on a regular basis.
The awful drawings are never submitted. Instead they're placed into a folder I've labeled "Bad Batch" – it's my cartoon Siberia, or perhaps, cartoon Hell. I've rarely looked through that folder, but when I have, I've found myself saying, "And you call yourself a cartoonist!"
Perhaps, for me, the most interesting thing about this folder is why it exists. If a piano falls on me tomorrow, do I really want my children seeing these?
It may be that the Bad Batch exists as a reminder. The drawings within are the very bottom of my barrel full of monkeys (sorry, couldn't resist). They are the product of muse-less days. I don't need to look at these awful drawings -– just knowing they're there is inspiration enough.
Sixty-six years ago this month James Thurber's last original cartoon appeared in The New Yorker (the issue of March 23, 1946). Now before I get sympathetic emails telling me I'm woefully misinformed, and that Thurber's drawings were appearing in the magazine well into the late 1950s, let me explain:
By the late 1940s Thurber had lost nearly all of his sight (he told Harvey Breit in a New York Times Magazine interview in 1949 that it had been a couple of years since he'd drawn and that he'd "practically given it up"). Facing the sad prospect that there'd be no more Thurber cartoons appearing in The New Yorker, Thurber friend and New Yorker writer, Peter DeVries, suggested to Harold Ross that a great way to continue publishing Thurber drawings would be to take some of his already published drawings and add new captions (supplied, of course, by Thurber). Ross loved this idea, and began running these hybrids with the September 11, 1948 issue. The freshly captioned drawings ran until February 12, 1949 (and that last was a composite of two previously run Thurber drawings). Spot drawings, often edited from their original appearance, continued to appear until December 13, 1958. The very last original Thurber drawing to appear in the magazine was a spot of two men boxing (November 1, 1947).
That brings me back to the March 23, 1946 drawing/cartoon (whichever you prefer). A man and a woman are sitting on a couch and the woman says, "Your faith is really more disturbing than my atheism." By happenstance — or was it planned? — the man in this very last original cartoon is undoubtedly a self portrait. Thurber had drawn himself many times before (and would draw himself one last time for publication – that appeared on the cover of Time in July of 1951), but how serendipitous that the last Thurber man standing (in this case sitting) in his last wholly original published New Yorker cartoon would be Thurber himself.
Sources:
Bowden, Edwin T., James Thurber: A Bibliography, Ohio State University Press, 1968.
Breit, Harvey, The New York Times, "Mr. Thurber observes a serene birthday," December 4, 1949.
Kinney, Harrison, Thurber: His Life and Times, Henry Holt, pages 898 -902.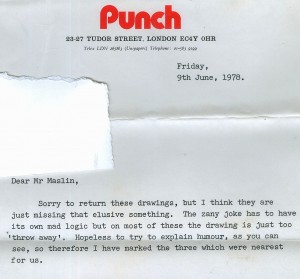 I've had my share of rejection letters from magazine and book publishers. My absolute favorite came from the now defunct magazine, Punch, back in June of 1978.
At that time I was reaching out to just about every publication I could find that ran cartoons (UFOlogy and Medical Economics were among the many magazines that rejected my work).
The New Yorker had just begun publishing my cartoons and I'd learned that a small handful of New Yorker cartoonists (including veterans like J.B."Bud" Handelsman and Ed Fisher) were being published in Punch. I decided to try my luck, even though it meant there'd be a lot of time involved awaiting word from overseas.
I sent one batch of drawings to Punch and after some weeks, an envelope from them arrived in the mail. It contained the letter shown above, and highlighted below:
Dear Mr. Maslin,
Sorry to return these drawings, but I think they are just missing that elusive something. The zany joke has to have its own mad logic but on most of these the drawing is just too 'throw away'. Hopeless to try to explain humour, as you can see, so therefore I have marked the three which were nearest for us.
I'm still grateful to the fellow who took a stab –- or was it more like a quick jab? — at explaining humor to me. I think he was probably wise to abandon the task, and let me continue out into the publishing world, mostly unschooled.
It's tempting to believe that the structure of The New Yorker's Art Department arrived fully formed in 1924 when Harold Ross, with his wife Jane Grant began pulling together his dream magazine. But of course, such was not the case.
What we know for certain is that once the first issue was out, Ross and several of his newly hired employees began meeting every Tuesday afternoon to discuss the incoming art submissions. The very first art meetings consisted of Ross, his Art Director, Rea Irvin, Ross's secretary, Helen Mears, and Philip Wylie, the magazine's first utility man. In no short order, Ralph Ingersoll, hired in June of '25 joined the art meeting, and later still, Katharine White (then Katharine Angell), hired in August of '25, began sitting in.
From James Thurber's account in The Years With Ross we get a good idea of what took place at the meeting, which began right after lunch and ended at 6 pm:
In the center of a long table in the art meeting room a drawing board was set up to display the week's submissions…Ross sat on the edge of a chair several feet away from the table, leaning forward, the fingers of his left hand spread upon his chest, his right hand holding a white knitting needle which he used for a pointer…Ross rarely laughed outright at anything. His face would light up, or his torso would undergo a spasm of amusement, but he was not at the art meeting for pleasure.
William Maxwell, who joined The New Yorker's staff in 1936, told the Paris Review in its Fall 1982 issue:
Occasionally Mrs. White would say that the picture might be saved if it had a better caption, and it would be returned to the artist or sent to E. B. White, who was a whiz at this… Rea Irvin smoked a cigar and was interested only when a drawing by Gluyas Williams appeared on the stand.
And from Dale Kramer's Ross and The New Yorker:
When a picture amused him Irvin's eyes brightened, he chuckled, and often, because none of the others understood art techniques, gave a little lecture. There would be a discussion and a decision. If the decision was to buy, a price was settled on. When a picture failed by a narrow margin the artist was given a chance to make changes and resubmit it. Irvin suggested improvements that might be made, and Wylie passed them on to the artists.
In a letter to Thurber biographer, Harrison Kinney, Rogers Whitaker, a New Yorker contributor from 1926 – 1981, described the scene in the magazine's offices once the art meeting ended:
The place was especially a mess after the weekly art meeting. The artists, who waited for the verdicts, scrambled for desk space where they could retouch their cartoons and spots according to what Wylie, or Katharine Angell, told them Ross wanted done.
Wylie was one of many artist "hand-holders" – the bridge between the editors and the artists. Some others who held this position were Thurber (briefly, in 1927), Wolcott Gibbs, Scudder Middleton, and William Maxwell. According to Maxwell, Katharine White's hand-holding duties were eventually narrowed to just Hokinson and Peter Arno, the magazine's prized artists.
Lee Lorenz wrote in his Art of The New Yorker that, in the earliest years, the look of the magazine:
had been accomplished without either an art editor in the usual sense or the support of anything one could reasonably call an art department.
That changed in 1939 when former gagman, James Geraghty was hired. As with so much distant New Yorker history, there's some fuzziness concerning exactly what Geraghty was hired to do. Geraghty, in his unpublished memoir, wrote that he took the job "without any inkling" of what was required of him. There've been suggestions in numerous accounts of New Yorker history, that Geraghty was hired as yet another in the lengthening line of artist hand-holders, in this case, succeeding William Maxwell, who was increasingly pre-occupied with his own writing as well as his editorial duties under Katharine White.
Geraghty, in his memoir, recalled his first art meeting and the awkwardness of sitting next to Rea Irvin: two men seemingly sharing one (as yet unofficial, unnamed) position: Art Editor. While E.B. White and others continued to "tinker" with captions, Geraghty began spending one day a week working exclusively on captions. He also adopted the idea that he was the Artists' "representative" at meetings, following Ross's assurance that Geraghty was being paid "to keep the damned artists happy."
With these new components, the art meeting committee model stayed in place until the death of Ross in December of 1951. When William Shawn officially succeeded Ross in January of 1952, he pared the meeting to two participants: Shawn, and Geraghty.
With Geraghty's retirement in 1973, and Lee Lorenz's appointment as Art Editor, the art meetings continued with Lorenz and Shawn. Shawn's successor, Robert Gottlieb and then Tina Brown, subdivided the Art Department, creating a Cartoon Editor, an Art Editor (for covers) and an Illustration Editor. Lorenz, who was in the midst of these modern day changes, lays them out in detail in his Art of The New Yorker.
Today, the Shawn model Art Meeting continues, with the current Editor, David Remnick, and the current Cartoon Editor, Emma Allen (and with a third editor occasionally joining the meeting) sitting down one day a week to look through the pile of drawings Ms. Allen has distilled from the mountain submitted to the magazine. The cartoonists no longer wait outside the Art Meeting's door for the verdict on their work, but I assure you: wherever they are on Thursday or Friday afternoon: they're waiting.
Of all the duties Wolcott Gibbs attended to during his thirty-one years at The New Yorker (and his duties were many: editor, writer, theater critic), his relationship to the magazine's cartoonists (or "artists" as the magazine calls them) is probably the least examined.
When Gibbs began at The New Yorker, working under Katharine Angell (later, after marrying E.B. White, Katharine White), one of his duties was "seeing artists" — that is, he acted as the buffer between the editors and the artists, delivering the bad news or good news to cartoonists about work submitted; if the news was good, Gibbs would relay instructions, if any, from the editors as to how to make the bought work work for publication in The New Yorker.
As his stock rose at the magazine, Gibbs went on to sit side-by-side in the weekly Tuesday afternoon Art Meetings with Katharine White, Harold Ross, and Rea Irvin. Gibbs' affinity with the magazine's art went public in 1935 when he contributed a rebuttal, of sorts, to New Yorker Art Critic, Lewis Mumford, who had issues with the work presented in the New Yorker's Seventh Album. Here's how Gibbs, in his piece titled "Fresh Flowers" responded to Mumford's quibble that the Album contained too much work that came out of "that special kind of temporary madness that springs out of a tough day at the office and three rapid Martinis." :
This apparently refers to the work of a few artists characters whose characters belong to no particular land or time, and are held to the world itself only lightly, by the pull of a tempered gravity. They are the wilder shadows in the same wonderland that Lewis Carroll first explored, and are valuable to this collection as lesser examples of the same universal and timeless quality.
While continuing at the Art Meetings as an editor, Gibbs eventually passed his "seeing artists" job to a new-comer, William Maxwell, who told The Paris Review in 1985:
A great deal of what was put before the art meeting was extremely unfunny. Gibbs was repelled by the whole idea of grown men using their minds in this way and seldom said anything.
Sitting in the Art Meetings, examining thousands upon thousands of "extremely unfunny" cartoons is one thing, but enjoying the work of masters of the form is very much another. It comes as no surprise then that for a quartet of New Yorker cartoonists, Gibbs was the go-to man for introducing collections of their work to the public. He wrote the Foreward to William Steig's 1942 collection, The Lonely Ones; the Foreward to George Price's 1943 collection, Who's In Charge Here?, and the Preface to Alan Dunn's 1956 collection, Should It Gurgle?
In the Foreward to Charles Addams' 1947 collection, Addams & Evil, Gibbs wrote of the two camps of cartoons thriving in the magazine's pages:
New Yorker cartoons can be roughly divided into two classifications, which, back in the days when I was the most insanely miscast of an almost endless procession of art editors, were conveniently designated as "straight" and "nutty."
Addams in turn provided three covers for Gibbs' own work:
More in Sorrow (1958), Season in the Sun (1946), and Season in the Sun (the Play, in 1950).
And way back in 1937, Rea Irvin, who, we can't be reminded enough, shaped and guided the magazine's art in its infancy, provided the cover and illustrations for Gibbs' first collection of his New Yorker pieces, Bed of Neuroses.
Bernie Schoenbaum Times of London Obit by Mark McGinness
Ink Spill is pleased and grateful to be able to share Mark McGinness's piece on Bernie Schoenbaum, reproduced by special permission from The Times of London, where it originally appeared October 6, 2010:
For almost 30 years Bernard Schoenbaum's work graced the pages of The New Yorker. What amused and sometimes discomfited his readers was a reflection of their own attitudes, ambitions, prejudices and conceits.
His subjects, or perhaps more accurately his targets, were drawn from the liberal East Coast and yet the traits he exposed — prosperous, knowing, ruthless, ironic, combative, crestfallen and cute — are universal ones. Schoenbaum and his contemporaries, Frank Modell, James Stevenson, Robert Weber and Lee Lorenz, were attuned to every nuance and quirk.
Born in Manhattan in 1920, Bernard was the elder son of Russian-Jewish émigrés. His younger brother Sam was a distinguished Shakespearean scholar. He was educated in the Bronx and at the Parsons School of Design, New York. Much of his career was as a freelance advertising illustrator but when his wife took a job as a librarian he was able to devote himself to cartooning. His other endeavours included teaching the figure, life drawing, portrait sketching, oil painting and watercolours. He also worked as a portraitist on cruise ships.
He contributed his first drawing (as The New Yorker preferred to call them) in 1974, when the celebrated William Shawn was still editor, and Lee Lorenz the arts editor. He was to contribute 463 cartoons to the magazine. He also contributed to Barron's and The Wall Street Journal.
Some of his earliest drawings and a sprinkling of all his work were captionless. His approach was literal while his style was a soft, fluid line and wash. He captured a northeastern knowingness; a world of men in tweed sports jackets, soft plaid hats and bad haircuts such that the reader would be taken in immediately and ready to laugh even before coming to the caption.
His cartoons embraced the world of parties and romance, commerce and employment, parents and children. The children were so worldly: a young boy says to his father who is reading his son's school report, "It's just a correction. The fundamentals are still good"; a little girl in bed talking to her father who has read her a fairytale, "It sounds a little too perfect. What's the downside?"; while another little girl says to her mother as they confront each other over a broken biscuit jar in the kitchen "Circumstantial. You haven't proved linkage."
Schoenbaum was as sharp in the office — an executive to others meeting around a table: "To pacify our shareholders, it's been suggested that one of us goes to jail." One businessman to another in a plush office says: "I'll level with you, Charlie. I'm going to let money get in the way of our friendship." A suited man at his desk on the phone says: "Joyce, I'm so madly in love with you I can't eat, I can't sleep, I can't live without you. But that's not why I called."
And the enduring issue of matrimony — a woman to a man at a smart restaurant: "Is this a real proposal, or are you off your medication?"; and a man to a woman as he proposes to her in a restaurant: "Say yes. I need a win."
His last cartoon, published in 2002, rather fittingly depicted two angels in Heaven; one saying to the other: "At least there's one place that's not youth-oriented."
As The New Yorker's current cartoon editor, Bob Mankoff, observed: "He was a sweet and gentle man. His humour did not look down on people, just a bit sideways."
Schoenbaum is survived by his wife, Rhoda (whom he married in 1948) and their three daughters.
With The New Yorker's 87th birthday just around the corner (the very first issue was dated February 21, 1925) I thought it would be fun to muse about the magazine's present cartoon universe.
What New Yorker cartoonists do so well and have done so well over eight decades is knee-jerk to their time. The New Yorker's hands-off system, begun by its founder, Harold Ross, of encouraging contributing cartoonists to explore their creative bent, wherever it may lead them, remains very much in place to this day. This was a spectacular editorial decision, providing a home for those (of us) who have trouble taking direction, but no trouble at all staring into space or messing around on paper awaiting the pulsating light bulb of inspiration to strike. It's a freedom that's produced tens of thousands of great cartoons and scores of great cartoonists, from Addams to Ziegler. I'd venture to say — without the research to back it up — that the magazine's current crop of cartoonists, more than any in the past, has taken this freedom and run like hell with it, graphically and otherwise.
Part of the genius of Harold Ross, was his decision to encourage his artists to run amuck creatively, insuring that the magazine does not hand the readership formula. As each issue arrives (either in our mailbox or electronically), I, like many of the magazine's million other readers, look at the cartoons first. The 87th anniversary issue, now in hand, with its fuzzy "loading" Eustace Tilley cover, was no exception; the excitement of flipping through looking at the cartoons came not from what was expected, but, as always, from the unexpected.
A family member texted me this morning and asked if I was "going to write something about Updike today?" I wrote back, asking if it was his birthday, and while waiting for her answer, Googled "Updike."
John Hoyer Updike (March 18, 1932 – January 27, 2009)
Oh. Thud.
I'm slowly making my way through Higher Gossip: Essays and Criticism. Slowly, because in the back of my mind I know that once I finish the book then…what? It's tough to lose a favorite writer, to know the addiction (but not the love) must come to an end. There'll be more books; the second volume of his collected short stories must surely be in the pipeline. And there's a biography reportedly in the works – that'll help.
With someone like Updike, who published so much, it might seem selfish for a reader to want more, but still, it's difficult to accept that he's not typing away at his desk in Massachusetts at this very moment.
"An Arno on My Desk"
Posted January 8, 2012
Above: "And now you must meet my bosom friend." (rough version of the drawing published in The New Yorker, October 10, 1931)
Not too long ago

I took an original Peter Arno drawing we own, popped it out of its frame, and placed it on my desk. My thinking was that the drawing, unadorned by glass and metal, might bring me somehow closer to Arno.
His work up close is even more graphically powerful than it appeared in the pages of The New Yorker, and that's saying something. No one commanded the magazine's pages like Arno: not Steinberg, not Gluyas Williams, not Addams. While Steinberg's work played and soared and amazed, it never got right up in your face like Arno's. Williams' full pages were delights of subtle construction, and Addams' draftsmanship ominously hilarious (as the veteran New Yorker cartoonist, Henry Martin, might say, "he drew funny.") but Arno's work overpowered, and demanded attention.
Arno drew large in a fairly small space. The 10" x 15" Bainbridge board holding this particular drawing seems barely big enough to hold his patented swooping brushstrokes. Like the man himself, the work presents itself all at once, and not, as Frank Sinatra once sang, "in a shy way."
Obviously not pleased with the rough, Arno went on to do god-knows-how-many-more versions before deciding on the piece eventually published. The major change (improvement?) is that the two central women have become bustier, playing more obviously on the word "bosom' in the caption. (In The New Yorker's archives I found this drawing's caption on a list of "Ideas which Have Been Assigned to Peter Arno." Unfortunately, the person who wrote the caption is not identified).
Looking very close at the rough version, the pencil lines can be seen cutting beneath the brushstrokes. Arno's brushstrokes are deceptive; they look as if he brushed with abandon; it was anything but. Each stroke was plotted in advance. And yet, we know that as he worked, he sometimes sang and tapped his feet to a personal rhythm. A man who knew exactly what he wanted to do on the page, and who had a hell of a time doing it.
For now, the 81 year old Arno drawing remains on my desk. There's definitely a vibe surrounding it –- especially today, on what would've been his 108th birthday.
"Leo Cullum: 1942 -2010"
Posted October 25, 2010)
Ink Spill has learned the sad news that Leo Cullum has died. Leo's work first appeared in The New Yorker January 3, 1977 ( his most recent drawing appeared in the issue of October 25, 2010). In Leo's very first New Yorker cartoon a man in a bath robe sits at a kitchen counter that is crowded with live chickens — there's even a chicken on the man's head. The caption: "No, you're not disturbing me, Herb. I'm up with the chickens this morning." You could say that Leo came out of the box swinging, for he stayed true to this wacky sensibility for his thirty-three years at The New Yorker, contributing over eight hundred drawings to the magazine.
The New Yorker cartoon world was in a period of transition when Leo's work began to appear in its pages. Although there had always been a number of cartoonists who wrote their own captions, The New Yorker had from its very beginnings a system in place of gag writers providing cartoonists with ideas. This new wave of cartoonists — including Jack Ziegler, Roz Chast and the current Cartoon Editor, Bob Mankoff — eschewed the gag writer arrangement, preferring to write their own. Citing Don Martin as an early influence, Leo fit right in with the new cartoonists, many of them weaned on Mad and comic books. His subject matter roamed far and wide, but if you take a close look at his New Yorker work you'll notice he seemed to favor moments captured at the local bar, or at the office.
In person, Leo was unfailingly upbeat and polite to the core — a gentleman cartoonist. Cartoonists knew Leo was different than most: he had a "real" job — he was a commercial pilot for thirty-four years. He worked on his cartoons between flights and on his days off ( when I first met Leo, his already wide smile grew wider when he learned that my wife and I lived in Rhinebeck, New York, less than ten minutes from the Rhinebeck Aerodrome, a fifty-year old ongoing museum dedicated to antique aircraft).
One of Leo's cartoons — one of his very best — appeared immediately post 9/11 in the October 1, 2001 issue of The New Yorker — a time when when most of us couldn't laugh or didn't know if we should. In Leo's cartoon, a man wearing an unattractive patchwork jacket sits next to a woman. The woman says to the man, "I thought I'd never laugh again. Then I saw your jacket." This was a particularly generous gift from Leo, but of course there were many more before that, and plenty more to come.
"Bernie Schoenbaum and The Age of Innocence"
Posted May 20, 2010
The passing of Bernie Schoenbaum this past week has led me to think about his time at The New Yorker. I only met Bernie once — it was a memorable ride in a van from mid-town Manhattan south to the Chelsea Pier studios on the lower west side. Tina Brown (then The New Yorker's editor) had oganized an Arnold Newman photo shoot to celebrate the magazine's first Cartoon Issue. A small fleet of vans ferried cartoonists from their mid-town hotel to the shoot. My wife, Liza Donnelly, and I were directed to a van occupied by Sam Gross, Ed Fisher, Bernie Schoenbaum and his wife. It was a rollicking ride — the cartoonists couldn't resist making fun of my need to sit in the front seat and stare straight ahead lest I become carsick. I took a chance and looked back just once only to catch a glimpse of Bernie bouncing with the ride, one arm raised, holding onto a strap. He was smiling.
The New Yorker began publishing Bernie in 1974, the same year Jack Ziegler began his career there. William Shawn was editor, and Lee Lorenz had just succeeded James Geraghty as Art Editor. Bernie and Jack's work seemed to come from two different universes: Bernie's from our own and Jack's from some place far far away. Jack's work opened up the New Yorker to a zanier humor — he was our Groucho Marx, arriving at the scene armed with absurdities. Bernie's work picked up on the zeitgeist Donald Reilly, Frank Modell, and Lee Lorenz (to name but a few) had established some years earlier; a northeastern knowingness – not smug or smarmy; a world of guys in tweed sports jackets, soft plaid hats, and bad haircuts. There was a like-ability to Bernie's work. His soft lines and washes were easy on the eyes. He had his absurd moments as well. In a memorable drawing of his in the New Yorker (January 28, 1978) a man sitting idly in front of his television set in a book-lined room is startled by a book that's hopped off a shelf. The book says to the man, "Read me."
His earliest New Yorker work was mostly captionless ( this is something I learned recently when going through his body of work for the magazine). It's no easy thing to do captionless cartoons — only a few of the magazine's cartoonists made it a large part of their worlds. Otto Soglow, most famously with his Little King, Steinberg in his own Steinbergian way, Charles Addams (who told Dick Cavett in 1978 that he preferred doing captionless cartoons), Nurit Karlin, and most recently, John O'Brien. After a couple of years Bernie moved mostly to captioned work but he continued to sprinkle captionless drawings throughout the rest of his thirty years at The New Yorker.
Bernie's subject matter was the fodder of his peers: businessmen, married couples, (city) street life, guys at bars at the end of a workday, people coping with modern conveniences. If you go back and look at Bernie's work you get a feel for a slice of the times, a particular era before snark and Gawker ( Bernie's obit made it to Gawker). Along with his peers, Bernie provided us with a portrait of what now seems an age of cartoon innocence.
"Thurber's Unbaked Cookies"
Twenty something years ago when my wife and I moved into our home, I tacked James Thurber's New York Times obituary on my office wall, just to the left of where I work. During creative lulls my gaze sometimes drifts over to the obit, scanning the headline, "James Thurber is Dead at 66; Writer Was Also a Comic Artist."
"Writer Was Also a Comic Artist" ( italics mine). How wonderful that the Times recognized Thurber's art, right there in the headline. Though Thurber may be most remembered as a writer ( "The Secret Life of Walter Mitty") his art was no less a gift to us than Charles Addams' work or Steinberg's or Hokinson's or Peter Arno's or Steig's or ________'s (you fill in the blank).
Unlike those other giants of the field, Thurber took a lot of heat for his art; his drawing style appeared less finished than the work of his peers. It looked as if it was done in a hurry. Shadows and shading weren't part of his cartoon world, nor was there a dutiful representation of human anatomy. Thurber's people had limbs that flowed in graceful lines from shoulder to hand without the hint of an elbow, and from hip to foot without suggestion of a knee. His people's eyes were accomplished with a dot and a slash, similar to the style a child uses when he or she first learns to draw.
New Yorker historians remember that Harold Ross, the magazine's founder and first editor, initially didn't care for Thurber's drawings. When Thurber first submitted them to The New Yorker, Ross said to him, "How the hell did you get the idea you could draw?" It wasn't until Thurber and his friend and colleague E.B. White had a hit on their hands with their 1929 publication, Is Sex Necessary? that Ross caved, demanding to see a previously rejected Thurber cartoon: "Where's that goddamn seal drawing, Thurber?"
Once Ross became a reluctant believer, Thurber's drawings became a fixture in the magazine ( but sadly, much less a fixture on the cover, with just a half-dozen to his credit). As readers today speak of a Booth dog, back then it was ( and for some, still is) the Thurber dog they pictured in their mind's eye. There was also the Thurber woman, glowering and towering over the Thurber man, the meekest sort of fellow, beleagured, and misunderstood.
While Peter Arno's couples were, most times, in sly cahoots with eachother, Thurber's were conflicted. Thurber, mining the humor found in the battle of the sexes, made the cartoon personal ( it's important to remember that he, unlike many of his colleagues, wrote his own captions). Those "unbaked cookies" as Dorothy Parker so famously described Thurber's people, were knee-deep in angst, just like the rest of us.
Like the very best cartoonists working for The New Yorker ( then and now), Thurber brought the personal to his work; he wasn't churning out gag cartoons ( i.e., illustrating comic drawings with joke captions) — he brought some of himself onto the page. Looking at any Thurber drawing, I "see" Thurber in it — I'd go as far as saying I can feel his humor as well. Addams' work has the same effect on me, as does Arno's, Steinberg's and Ziegler's ( to name but a few).
With Thurber's 115th birthday near — he was born December 8th, 1894 — it's time to pull The Last Flower off the shelf as well as The Thurber Carnival (if you don't have a copy, no worries! They're both still in print). Behold, once again, or perhaps for the first time, his comic genius.
Suggested reading, viewing:
Online:
Thurber's New Yorker work can be found at The New Yorker's Cartoon Bank: www.cartoonbank. com
On Youtube: a 1953 animated version of "The Unicorn in the Garden" : www.youtube.com/watch
Books (all of Thurber's books can be found online):
There are a number of Thurber biographies. Two favorites, both still available wherever new & used books are sold online:
Thurber: A Biography ( Dodd, Mead, 1975) by Burton Berstein
Thurber: His Life and Hard Times ( Henry Holt & Co, 1995) by Harrison Kinney
A Thurber bibliography: James Thurber: A Bibliography by James T. Bowden ( Ohio State University Press, 1968)
Video:
Adam Van Doren's documentary film, released in 2000, Thurber, The Life and Hard Times is well worth searching for.
Visiting:
The Thurber House in Columbus, Ohio is a must -visit for Thurberphiles: www.thurberhouse.org/
— November 29, 2009
Instant Office
A while back, on The New Yorker's website, I wrote about and posted photographs of my office — the desk I use, and the stuff that surrounds the desk ( www.newyorker.com/online/blogs/cartoonists/2008/02/the-madhouse.html ). What I failed to mention in the piece was that I have an alternate work space ( actually two alternates, but that's for another post). When summer arrives, just before it's too hot and humid to turn on the air conditioning, my office becomes a less inviting place to be. The painted plywood floor becomes sticky, and the walls packed with books, records and whathaveyou really do seem to close in on me.
That's just about the time I pack up my essential work materials (a rapidograph, a thin stack of copy paper to draw on, and an old hardcover Hammond Atlas I've had since I was eleven years old) and take them about twenty feet away to our living room where I settle into one of the armchairs near the room's front windows. I place the Hammond Atlas on my lap, and the blank paper on the atlas. Instant office.
It is in almost everyway different than my usual office space. There's no privacy – it's the living room after all. Dogs and cats wander through, as do family members. There are numerous windows ( my office has just one, and it's behind me); the lighting is from an old standing lamp instead of a desk lamp, there's no music, and when I look up from what I'm working on I see open space before me, instead of a window-less wall three feet from my face.
Being in the middle of everything raises the distraction level into the danger zone. It shouldn't work well at all – it should be a disaster, but somehow it doesn't mess up whatever it is that helps me progress from a blank piece of paper to a page filled with (I hope) promising scribbles. In this case, for a few weeks in early summer, change is good.
— July 18, 2009
Surprise
In my last posted note, back in late April, I mentioned that I didn't have an early copy of Thurber's Fables For Our Time. This past Sunday, while browsing in the dollar annex of my favorite used bookstore I spied the words "James Thurber" on an otherwise obliterated spine. Pulling the book down off the shelf I realized it was a copy of Fables – not a first edition, but the Blue Ribbon Books edition that came out three years after Harper's originally published the book in 1940. The only oddity connected with this edition, according to Bowden's Thurber Bibliography, is "The page number of p.5 accidentally deleted." – and so it is on my copy.
What made this Sunday afternoon find particularly fun was discovering a sheaf of newspaper clippings tucked inside the book. I've come across clippings before — usually a New York Times book review – but judging by this pile of clippings the book's previous owner was clearly heavily invested in Thurber.
A clipper myself, I sometimes eye the cases of filed clippings in my office and wonder what it's all for, especially in this computer era where so much is archived. This Thurber clip cache reminded me that while so much material is archived and easily accessible on the computer, so much more is not. Especially old newspaper articles.
Here's a list of some of the clippings found inside the book:
From The San Francisco Chronicle, "James Thurber Confesses to 'Boring From Within'", July 25, 1954. Thurber responds to a negative review of The Male Animal.
From The San Francisco Chronicle, "An Interview with James Thurber", August 3, 1958.
From The Royal Gazette (I'm assuming this was published in Bermuda), "Amongst The Personalities", April 5, 1957.
From The Denver Post, "Incomparable James Thurber Writes of Old Friends, Times" , June 22, 1952.
From The Denver Post, "Thurber the Leprechaun", October 5, 1952.
The obligatory New York Times review: in this case it's of The Wonderful O, "Hw It Wuld Be Withut It", May 26, 1957.
Also from The New York Times, "State of Humor in States" by Thurber, Sept. 4, 1960 in which Thurber poses the question: "Is there a national sense of humor…?
Additionally, the pile included:
A program from Central City, Colorado's "Central City Festival" where A Thurber Carnival played in 1960 ( with original cast members, Paul Ford and Peggy Cass).
And lastly, two cut-out drawings, each from Thurber collections: the central drawing featured on the front cover of The Thurber Carnival and the central drawing featured on the cover of Alarms & Diversions.
Pictured below: the book and some of the clippings
June 2, 2009
Home At Last: Thurber & Nugent's Male Animal
The collection of Thurber books in this home has been incomplete on many levels for many years. It's a patchwork collection: some first editions, some with dust jackets, some signed, some later printings, a lot of paperbacks. The biggest hole in the collection, until a few days ago, was the absence of an early copy of The Male Animal, Thurber's 1940 collaboration with his friend, the actor, director and writer, Elliot Nugent. I say "early copy" because we long ago purchased a copy of the standard soft cover playbook, but it doesn't contain the Thurber drawings appearing in the Random House hardcover, nor does it sport the Thurber drawing of a dancing couple found on the hardcover's dust jacket .
So why, until recently, wasn't this volume on our Thurber shelf with its team mates? The quick answer is that I'm fond of stumbling across books in used books stores. Nothing beats scanning a humor section and discovering a long sought after — or even better; an unfamiliar title. I do have my limits though – in this case I waited thirty-nine years to intersect with a copy of The Male Animal. It took all of a few seconds to order a reasonably priced copy online.
Until our Male Animal arrived this week, I'd seen just one hard cover copy of the book: in an exhibit of Thurber drawings in Cornwall, Connecticut, where Thurber permanently set down roots in 1945.
The book, laying flat on a shelf in a glass case, looked, to me, like the odd bird it was. Odd, because it was a collaboration – his second and last ( his first was the legendary 1929 effort with E.B. White, Is Sex Necessary?). Also strange was the cover design, which, to be honest, looks a bit uninspired, compared to all other Thurber cover designs. It resembles a flyer for a play more than anything else, and as The Male Animal is a play, perhaps the cover suits.
Flipping through the book, my first thought was 'if only the illustrations had captions" – they seem as if they were headed that way as most of the drawings have an character with an open mouth ( in the cartoon universe it is gospel that the open mouth indicates who's speaking in a cartoon) Still, the illustrations have a great deal of energy, drawn in the deceptively off-handed Thurber way that caused some to dismiss his work, and caused others to consider him the cartoon world's Matisse.
As is my habit when I get a new used Thurber book I go to Edwin Bowden's wonderful James Thurber: A Bibliography (Ohio State University Press, 1968) and look up the book. Usually I'm looking to see how many first edition copies were printed ( 3000 – 4000 in this case) as well as how it fits in chronologically with Thurber's other books. The Male Animal was preceeded by one of his very best books, The Last Flower and followed by Fables for Our Time. Seeing the latter title, I suddenly realized we didn't have an early edition. We have paperback editions, and a handsome later hardcover edition, but not one copy of the slightly oversized first edition from 1940. And so, the hunt begins — but I'm not going to wait thirty-nine years.
April 23, 2009
Sweating the Details: That Was the Cartoon That Wasn't
The most talked about New Yorker "cartoon" of 2008 wasn't a cartoon, it was Barry Blitt's now infamous July 21st New Yorker fist-bump Obama cover. Such is the confusion out there that the Blitt cover is now routinely labeled a cartoon. I know: it's a small thing to worry over, but hey — when there are so many difficult and complex problems in the world to fret over, explore, and ( ideally) resolve, why not get something this simple right?
So, taking the enormous personal risk of being seen as having way too much time on my hands, here's the skinny: A New Yorker cover is a New Yorker cover, it's not a cartoon. A New Yorker cartoon is a New Yorker cartoon — it's not a cover, unless the Editor decides to buy a cartoon and run it as a cover. At that point it is no longer a cartoon ( and the reverse is true; the Editor may buy a cover idea to run as a cartoon, in which case the cover idea is no longer a cover idea, it's a cartoon). My New Year's resolution, if I had one ( and I don't) is — as the cops say on TV — to try to make this right.
January 1, 2009
On a Bench with Steinberg
In the fall of 1978 I was fresh out of college, living in a two room walk-up apartment in Greenwich Village just a few doors west of Ray's Pizza. I'd recently moved to the city with the dream of becoming a New Yorker cartoonist. After receiving an avalanche of rejection slips my work was finally accepted, and by November of 1978 the magazine had published four of my cartoons.
My apartment was in a four story building loaded with talented neighbors: writers, an editor, a graphic designer, an artist, an historian. Among this crowd was the celebrated New Yorker writer, Donald Barthelme; he lived just below me, on the second floor. The day I moved into the building, Donald was the first person I ran into. At the time I'd no idea who he was, and that he wrote for The New Yorker ( my focus then was mainly on the magazine's artists ). All I remember from our meeting was that Donald's last name seemed oddly fascinating. Bar- thel – may – it rolled off the tongue.
On a Fall afternoon – I believe it was a Sunday – I was in my apartment when I heard Donald yelling up to me from the building's courtyard. I raised one of the large old windows overlooking the garden below, stuck my head outside, and looked down. Donald was looking up. "Michael, Steinberg is coming over for dinner tonight – would you like to join us for drinks afterward?"
"Steinberg" was, of course, Saul Steinberg, the legendary New Yorker artist. A retrospective of his work had just completed its run at The Whitney Museum. In April of that year, he was the subject of a Time cover story – this was certainly one of, if not the most celebrated years of Steinberg's career. He was now 65, into his thirty-seventh year at The New Yorker. The idea of meeting Steinberg was at once impossibly unsettling and electrifying. Although I'd been taking my weekly batch of cartoons to the magazine's offices in mid-town for nearly a year, I'd never run into any of The New Yorker's cartoonists: Steinberg would be my first.
Evening came, and from my apartment I could hear the sounds of dinner conversation in the courtyard. Eventually I made my way down to the garden apartment belonging to my ground floor neighbors, the Sales ( Faith, the editor, and Kirk, the historian and biographer).
Steinberg was out in the courtyard, sitting on a bench at an old wooden picnic table. Donald made the introductions, and directed me to sit next to Steinberg. Steinberg spoke " with his hands" – a lot of arm movement, his hands fairly drawing in the air. It wasn't difficult to imagine his drawings floating all around us, like bubbles.
After some time, he turned to me and asked what I did. I told him I was a cartoonist, for The New Yorker. "My latest drawing appears right before yours in this week's issue." (my drawing was on page 50, his illustration for The Sporting Scene was on page 51). Hearing this, he fell silent for a moment. I couldn't tell if he was pleased, annoyed, or just didn't care. It was, well, awkward.
Soon he was back to where he'd left off before speaking to me. He held the spotlight the rest of the evening. I admit I can't recall a single thing he said that evening, other than his asking what I did. In truth, I don't think anyone in his company really wanted to do anything but listen, and watch. Sitting to his side for those few hours, turned slightly to my right, seeing his profile, watching him draw in the air, was like watching the sun rise over and over and over again.
September 11, 2008
Uncontested
What's become perfectly clear is that the public has settled in with The New Yorker's Cartoon Caption Contest. In the last few weeks, in a number of conversations about cartoons and The New Yorker, the subject of the contest has never failed to surface. It has nearly replaced the standard questions asked of cartoonists, such as "You can make a living outta doing that?" and "Do you do the drawing and the caption?" Lately, the first question is: "What do you think of the Cartoon Contest?" Once we're past that, the questions concern the mechanics of the contest itself.
The readership is stirred up, and involved…in cartoons. I was asked the other day what advice I could give to a fellow who wanted to submit ideas — all I could think to say was what I sometimes think to myself when I begin working: "Good luck."
April 21, 2008
No Waiting
Occasionally, bordering on never, I think about all the elements — the cartoon elements — that moved me to draw the way I draw. It's tempting, but inaccurate, to say it's all because of James Thurber. Seeing his work did make a huge difference in the path I took, but before Thurber there were many many influences — probably some I don't even remember.
Nearly every modern cartoonist's biography includes MAD magazine as an early inspiration, and nearly every bio mentions comic strips and comic books. Well before I first saw The New Yorker I'd spent perhaps a dozen years with my nose stuck in MAD and in comic books. What interests me is the force with which The New Yorker single panel — and this is where Thurber comes in — yanked me away from comic strips and comic books.
The New Yorker cartoon — at its best — delivers an entire story at once — there's never a wait. As I read more and more contemporary "comix" I realize that the jolt of the single panel ( as executed by Thurber) is what initially attracted me to The New Yorker cartoon. This isn't to say the single panel form is better or worse than contemporary comix — it's just different. My kind of different.
April 13, 2008
Just Once
For awhile now I've been aware that there was a very special group of New Yorker cartoonists: those whose work appeared just once in the magazine. There must be as many reasons for the solo shot as there are contributors. As a cartoonist who was once a solo contributor ( until I sold my next drawing) I can relate somewhat to the mixed feelings following that first sale. I'm fascinated by the idea of what stood ( stands?) in the way of the that second sale.
A couple of days ago I began studying The Complete New Yorker discs from Disc #1, giving all my attention to the cartoonists. In 1925 alone, I counted eleven solo contributors ( one of those, Bertrand Zadig, also contributed one cover — his only cover for the magazine). Until coming across these cartoonists I'd always thought there were perhaps no more than half a dozen solo appearance cartoonists in the history of the magazine. Finding nearly a dozen in the magazine's first year was an eye-opener.
Here's a list of those whose work appeared in 1925, and never appeared in The New Yorker again:
Kenneth Bird ( Fougasse), Oscar Cesare, D' Egville, W. E. Heitland, Robert Keith, C. F. Peters, M. Towie, Arthur Watts, Wilton Williams, Lawson Wood, and the aforementioned Bertrand Zadig
March 31, 2008
The New Yorker Book of ______ Cartoons
A semi-completist could — and might — be driven to distraction by the explosion of varied titles in The New Yorker Book of _____ Cartoons series ( fill in the blank with almost anything: dogs, slippers, tractors, chinchillas, etc.).
Thinking I'd try to keep up with the titles, I once asked the Cartoon Bank if they'd send me a copy of each new release. I was told, politely, "it's just not practical" — I didn't know it at the time, but there were already 70 titles in print; only the Cartoon Bank knows how many there are now.
At last count I've managed to gather 24 different collections; such a long way to go til I rest.
March 13, 2008
The Jersey Connection
I'm guessing that the state of New York has more home grown New Yorker cartoonists than any other, but it may surprise some that the runner-up is The Garden State, New Jersey. Besides producing its share of musicians ( Sinatra, Springsteen), and actors (Nicholson, Travolta), nearly a dozen New Yorker cartoonists, including this cartoonist, were born and raised there.
They grew up in towns like Chatham, Princeton, Belmar, Newark, Bloomfield, Hackensack, Elizabeth, Hampton, River Edge, and Coytesville.
I've a theory that being in the position of forever playing second banana to New York, brings out the wise guy, and girl in Jerseyites. It's just a theory.
Here's a list of those born in the state just west of Manhattan (I'm betting there're more):
Charles Addams
Whitney Darrow, Jr.
Chon Day
Alan Dunn
Joseph Farris
Arthur Getz
Lee Lorenz
Gus Mager
Marisa Acocella Marchetto
Mary Petty
George Price
Christopher Weyant
March 12, 2008