The world of P.C. Vey (the "C" is for Christopher) was introduced to The New Yorker's readership November 22, 1993 with the publication of the drawing below: 
 The drawing set the stage for what was to come.  Vey people, either male or female seem flounder-ish.His people are Manet-like crepes floating over a backdrop.His washes are as flawless as his captions. He uses language as a banana peel. For example: a Vey drawing hanging in this house shows a couple of businessmen leaving a restaurant, going over their check; one man says to the other:
"You're right — they did charge you for the Heimlich maneuver."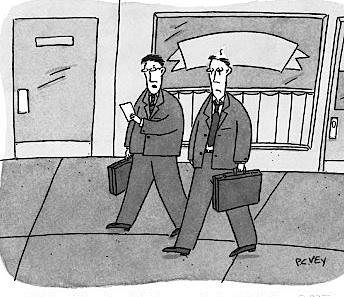 I first met Peter in the small coffee shop on the ground floor of the building at 25 West 43rd Street that housed The New Yorker. At the time he resembled a version of a young Roy Orbison – dressed all in black, with jet black hair.  He brought an edge to the tweedy crowd that gathered upstairs on the 20th floor in the magazine's Art Department. 
 Peter's work has become a steady presence at the magazine in the 20 years he's been contributing. He kindly agreed to add his voice to this continuing Ink Spill series. 
Michael Maslin: Peter, let's go back to 1993 for a moment—hope you don't mind.  I remember speaking with you when your first drawing appeared in the magazine and you told me that the one that appeared was not actually the first one you sold.  What was that all about?  And did that first sold drawing eventually appear?
Peter Vey: I think I might have been referring to ideas The New Yorker bought from me for Charles Addams. That was in the early 80s.  The Yugoslavia cartoon to the best of my memory, was the first drawing they bought and published.
MM: So you're a member of the Charles Addams Gagman Club, which includes Jack Ziegler, Leo Cullum, Mick Stevens, Peter Steiner, Frank Modell, myself, and a number of others.  Which ideas of yours did he do?
PV: One had the title HOT TUB SABBATH with three witches in the cauldron having a time of it. The only other one I remember was a business man with a briefcase standing in front of an opening elevator opening onto another elevator opening onto another elevator etc.
MM: Some cartoonists work changes over time, but your drawings –– as long as I've seen your work, it's always looked as it does now — I can't remember an early Vey period.  What did your drawings look like when you were say, 15?
PV: When I was a teenager my drawings were much more complicated, even ornate.  I filled up as much space as possible with as many lines as I had the energy and stamina to draw.  Which was quite a bit.  An infatuation with the black and white work of Virgil Finlay, Aubrey Beardsley and Peter Max had a lot to do with it.
MM: I admit not knowing Virgil Finlay's name/work, so I looked him up  Where were you seeing his work when you were a teenager?
PV: I saw his illustrations in science fiction and fantasy magazines [a Finlay illustration to the left]. I used to read a lot of them when I was a teenager. In fact, I read a lot of science fiction up until a few years ago. I especially like Philip K. Dick, Arthur C. Clarke, J. G. Ballard and Robert Sheckley. Incidentally some of those magazines had cartoons. I remember one of them had a full page Gahan Wilson cartoon every month.
MM:Many cartoonists construct captions that are inherently amusing, some bounce the caption off the drawing, or use the drawing itself as the caption – in your case I often feel ambushed – in the best sense – by your captions. Do you know you're ambushing us when you write these captions?
PV: I kind of think of it as stopping the thought process or creating a mind freeze by taking an inexplicable or unexpected or unanticipatedturn in a direction that nobody, including myself, was prepared to go.
MM: How did you end up at The New Yorker?  –and please don't say you went up 6th avenue and made a right on 43rd Street.  What led up to your first sale?
PV: Actually I went up 5th Avenue and made a left.  I started submitting in 1978. I didn't sell the first drawing till '93, between '93 and '97 three or four more. It wasn't until Bob [Mankoff, the magazine's current  cartoon editor] became cartoon editor that I started selling regularly. In those days I did a lot cartoons and illustrations for many magazines and newspapers including The New York Times and The Wall Street Journal. The first gag I ever sold was to Saturday Review in 1979. While waiting for the elevator at the Saturday Review offices I met Bob [Mankoff], Jack [Ziegler] and Mick [Stevens] and they invited me to the Wednesday cartoon lunch. The rest is history.
MM:  Not long ago, you told me that the cartoon collection, The World of George Price was meaningful to you. 
I can see some of Price's geometry in  your style, but not in an obvious way [to the left: an example of Price's work].  Meaning that your lines aren't Sempe-like, but more straight-edged.  Am I totally off on this?
PV: No, you're not off.  I use the lines to divide the space. I enjoy a pleasing arrangement of space, a balance. Not particularly well balanced but balance that's interesting, the line just happens, depending on the age and or deterioration of the pen nib.
MM: For many years, up until very recently, I was unable to sell a bar drawing to the magazine. It wasn't a goal or anything, but it did seem kind've odd I couldn't break through. Is there a cartoon staple that's so far eluded an OK for you?    
PV: The desert island cartoon. I did hundreds of them, whole batches of them and not one was bought. A lot of those were eventually sold to other markets but most were never seen again.
MM: Is there a typical day of work for you?  Do you tend to follow a –  I hate using this word – routine?
PV: After getting up and making coffee I walk four feet to the computer to check the emails.  When I'm sure I don't have any I walk a different four feet to the work table where I drink more coffee.  I put a lot of graphite on a lot of paper getting no place. So I get more coffee.
After a while I have a bunch of half done drawings of people in various situations so I start having conversations with them or they have conversations with each other, I'm never sure which. Sometimes I'll start adding objects or people that don't seem to belong like a caveman or a toaster. When somebody says something funny I think I have a gag.
MM: When I see you at events, we often end up talking about music rather than cartoons.  Does music play a part in your work day?
PV: I use music as background noise to distract myself so all those "great ideas" can sneak past the forebrain. I start off with Mozart and end up with Sun Ra and Bill Dixon.
MM: Without counting them, I feel as if a good number of your drawings concern business people.  If we were allowed to see your weekly batches, would the batches contain a large percentage of business drawings, or are what we're seeing in the magazine just happenstance due to editing? (i.e., they just happen to buy a lot of business cartoons when the batches actually contain a wide variety of subjects).
PV: I do do a lot of business cartoons. I enjoy the spatial dynamics of cubicles and hallways. No really, most of the cartoons I do aren't really about business. They just happen to be people in an office situationalthough, I suppose, some of them are about business but only because when I start to draw some guy, a lot of times I put a tie on him which suggests to me that he's probably in an office setting. So I draw an office around him along with other people in work attire. Then the conversation tends to be about the office stuff, which, if things go according to plan, is funny.
MM: You seem such a creature of New York City.  Whether that's true or not, do you feel as if the city has crept into your cartoon being? 
PV: Oddly enough we did move to Brimfield, Massachusetts more or less for about a year. We lived in the middle of the woods and I took the cat out for walks on a leash. (The life expectancy for an outdoor cat who came from an apartment in the city was about three and a half minutes.) I did a fair number of leash jokes sometimes with trees in the background but the leashes were always attached to dogs and the trees were in a small plot of land surrounded by concrete. So to answer your question, I don't know.
MM: What's it like walking a cat on a leash?
PV: At first it was scary. He really didn't like it. But then after a while he seemed to get used to it or maybe he was ignoring it, becoming very interested in chewing on plants and rubbing against the earth. One day he was so happy to be out there he plopped himself down on the dirt and gravel of the driveway and rolled around basking in the sun. Suddenly the harness gave way but he didn't even notice. I was terrified he'd see his chance and run away into the mouth of a coyote or a fisher cat. But he stayed right there while I fastened the strap again. I was always concerned that one of the neighbors might see me and use it as a constant source of amusement.
MM: I wonder: Do you imagine you'd be the same cartoonist if you lived in, oh, I don't know… Indiana?
PV: Most of the cartoons I do aren't necessarily about New York but they do take place in New York. If I draw a living room the building outside the window could be the building outside the window of my living room. But then the building across the street was torn down a few years ago and the building that replaced it looks nothing like a building I'd like to draw, so I don't.
Books by Peter Vey include Cats Are People Too, How to  Be Your Cat's Best Friend, If Cats Could Talk, and Bad Business: A Rescue Package for the Recession-Weary
His work has appeared in numerous cartoon anthologies and in publications including Barron's, The Harvard Business Review, National Lampoon, Playboy,  The Boston Globe, The Wall Street Journal and The New York Times
To see P.C. Vey's New Yorker work  click here.
To visit P.C. Vey's website, click here.