This has been an unusually tough year within this peculiar family — this family of New Yorker cartoonists. Within seven months our ranks have been thinned by four:  Frank Modell, William Hamilton, Anatol Kovarsky and now, this past week, Michael Crawford. Michael is remembered below by some of his  cartoonist colleagues. My thanks to all for their contributions.
Note: Link here to Mr. Crawford's New York Times obit...and here for The New Yorker's
Drew Dernavich: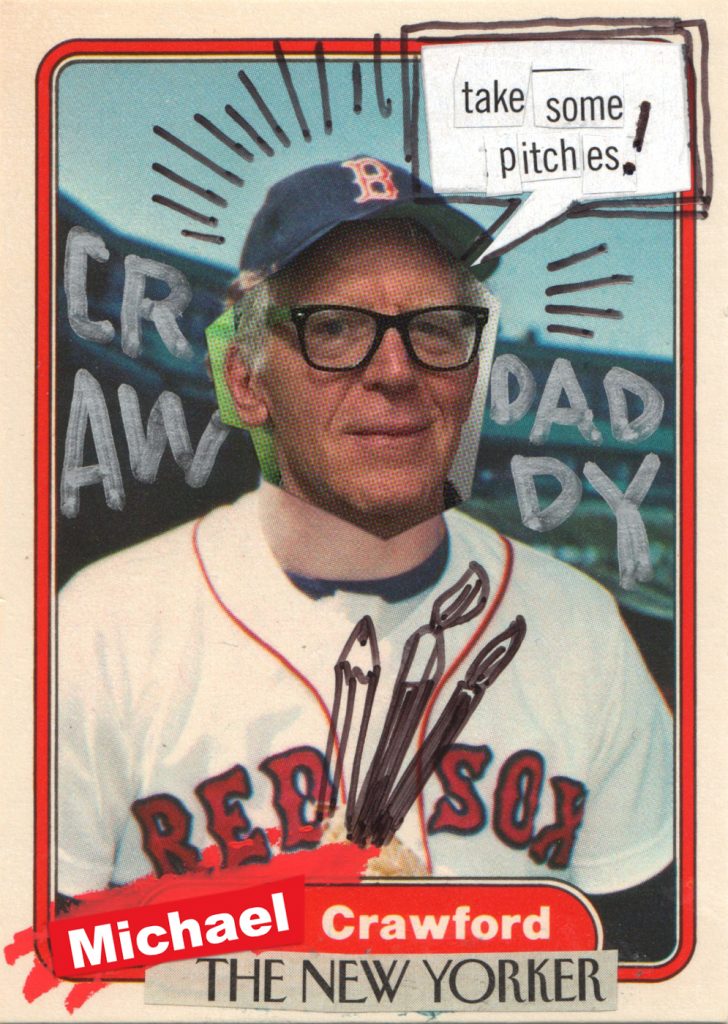 I made this for Crawford hoping to give it to him this week, but it was not meant to be. It was the only thing I could think of to do. I tried to capture his somewhat bonkers art aesthetic, which I liked a lot, and I thought it might bring a smile to his face.
Take some pitches" is a piece of baseball chatter (which is somewhat amusing in the context of recreational softball, which made it funny, and of course he knew that) which Michael frequently repeated during the New Yorker softball games, which was one place where he really enjoyed himself.
Joe Dator:
Mr. Crawford had an absurd space-cadet sense of humor that I always admired. One of his cartoons I'll never forget was a man walking down the street wearing a  t-shirt that said "Not A Fan Of My Ex Wife's New Boyfriend". It's a simple enough joke but when you look under the hood there's a lot going on. His logic trail must have been "t-shirts … people wear t-shirts to show what they are a fan of … other people use the passive aggressive term 'not a fan' … a person could wear a 'not a fan' t-shirt".
It takes a very supple mind to make those kinds of mental leaps, but that's pretty much the meaning of creativity. I always think about that cartoon and Michael's inspiring mental acrobatics.
On a more personal note, it meant a great deal to me that I once surprised him with an off-the-cuff joke. He asked me if a marker I was using was indelible, and I said "I've never known it to del" and he looked at me the way you'd look at a cat that suddenly opened a can of food by itself. It has always made me feel good to remember the moment when I must have gotten within hailing distance of his unique wavelength.
Jack Ziegler:
 When visiting at Casa Crawford in Newtown, MA, sometime in the early eighties, my kids would disappear downstairs with his kids into the basement where Michael kept all sorts of found objects in boxes: old castoff bits of wood, metal, office supplies, packaging, nuts and bolts, etc.  It was a workshop dedicated to fun creativity.  I still have the piece that my daughter Jessica created down there, a combined facial portrait of my then wife & me glued down on a slab of wood, she sporting hair curlers made of wine corks and me with a beard of paper clips, both of us with a cigarette butt drooping from our single mouth.  It hangs in my living room and you can't miss it as you come through the front door.  I always remember that visit each time I walk past it.  Now it's a treasured Michael Memento.
[photo: In Boston, 1993 for the opening of
Lines of the Times: 50 Years of Great American Cartoons
at the Art Institute of Boston. Left to right: Jack Ziegler, Michael Maslin, Michael Crawford, and Anne Hall (now Anne Hall Elser), Lee Lorenz's long-time Art Assistant  at
The New Yorker.
Ms. Elser's wonderful photographs of
New
Yorker
cartoonists, including one of Mr. Crawford in a rowboat
,  can be found

here
].
Liza Donnelly:
I've  always thought that The New Yorker is a place for cartoonists who are artists.  That sounds snooty, but it's not meant to be. People for whom drawing is their medium, but who also love to make people laugh. People who sometimes have ideas that are not just about the laugh and want to express them in a drawing.   This was the work of Michael Crawford. He made us laugh in his cartoons, but they were also little paintings that we just enjoyed looking at. He also created paintings and they were the flip of his drawings. Sometimes his paintings made us laugh.   I loved Crawford's work, and his embodiment of all this as a person. He was a unique mixture of funny and serious, here and there, present and not present.  He was always kind and generous to me when I saw him, smiling and laughing as if to say, "isn't this life just nuts?"  He will be sorely missed in the world, but his work remains and it will continue to make us very happy.
Robert Leighton:
The thing that stood out to me about Crawford's cartoons was the way he depicted married life. There were no thrown toasters in his cartoons. The couples always seemed to be pre- or post-coital. (Often with equipment.) They seemed playful, happy and fulfilled. I'd like to think that this reflected the satisfaction he found in his own life.
I'll never forget Michael's advice and support when I sold my first cartoon to the New Yorker. We were walking to our regular bar after softball and he explained his view of the never-ending grind that is New Yorker cartooning, and how he had batches of cartoons all ready to go in PDF form, in case he needed to send something in last minute. I remember thinking that's a smart idea and then I remember thinking how surreal it was that I just played softball with Michael Crawford and now he's giving me cartoon advice at Broadway and 103rd Street.
I'll never forget the button down shirt and red jeans he wore while diving head first into home plate.
I'll never forget his birthday party at Fanelli's and getting tipsy with Drew Dernavich.
I'll never forget his little red digital camera and how quickly he could get a hipshot of a play, the bench or the team on the sly.
I'll never forget his paintings he would post on social media. The US maps were my favorite.
I'll never forget the white shirt he wore one of the last games of the season – It was clearly homemade with a sharpie and read simply "take some pitches". No one really noticed it, but I did and I can still hear him yelling it to me nearly every time I was at the plate.
I'll never forget to take some pitches.
Peter Steiner:
When Michael Crawford died, we lost an interesting and gifted artist. He did paintings and cartoons, and his works in both genres were substantial and of a piece. You could recognize his distinctive style in both kinds of work.
 On the occasion of the deaths of Frank Modell and Anatol Kovarsky, Bob Mankoff, the New Yorker cartoon editor wrote "Ars longa, vita brevis. For cartoonists, especially long-lived ones like Frank Modell, who died two weeks ago, at the age of ninety-eight, or Anatol Kovarsky, who passed away last week, at ninety-seven, it's often the other way around. That just comes with the territory. The job of the cartoonist is to connect with your time, for a time, not for all time."
I think Mankoff is wrong about this.  Cartoons are more than current jokes with a picture attached, or at least they should be.  And while it is true that many, even most, gags grow stale with the times, the best ones don't.  And when the drawing is interesting and masterful, it lives on and on even as the joke grows stale, just as any interesting painting or drawing or etching does, even though its topic may no longer be "relevant."  It's true that very few cartoons rise to that level, but I think good cartoonists aspire to that with each cartoon they make.  That aspiration was true of Crawford's work whether he was painting or writing/drawing a cartoon.  And sometimes he hit the mark.
Mick Stevens:
I love Michael's work. He was among the first NYer cartoonists I met when I moved to New York City. I remember him taking a photo of a few of us, all but one relative newcomers to the NYer then, in the anteroom just outside Lee Lorenz's office. If I recall correctly after all this time, he set up the camera to shoot on a delay, giving him time to join us in the picture. The result is a photo of Jack Ziegler, Sam Gross, myself, Bob Mankoff, (long before Bob became the cartoon editor of the magazine), and Roz Chast. Michael is seen behind us, his smiling face just visible and slightly ghost-like. It seems to me he was always a little shy, always a bit on the periphery, and I only got a few chances to hang out with him over the years, but it was always a quality experience when I did. Michael lived in his own world more than some of us do, I think, and would drop into our worlds only for brief visits. In my experience, he never stuck around long enough.
Tom Toro:
I have a pet theory that if all of the captions from Michael Crawford's cartoons were put together it would create the great post-modern American novel.  He was certainly one of the cleverest humor writers to ever grace The New Yorker's pages – sharp, off-beat, always surprising – and yet what was it that he wrote, exactly?  Not gags per se.  Not zingers.  His wit didn't lean on outlandishness, his jokes weren't quirky just because.  What he produced were pure Crawfordisms.  They come across as wiser than typical cartoon punchlines, somehow hinting at deeper experiences best left unspoken, like comments that tipsy adults let slip when they think the kids are asleep.  A Crawford one-liner leaves us giddy and curious.  My reaction to his work typically swings during the span of a moment from "I don't get it" to "It gets me better than I get myself."  As with the passing of any true original, Crawford cannot be replaced.  Let's not even try.
Mort Gerberg:
While Michael Crawford was well-known as a wonderful cartoonist by a vast number of people, I'd guess that relatively few thought of him as a "sports guy" who was a terrific softball player.
But that's the first association I have when I think about Michael, since he and I, beyond being cartooning colleagues, were, more importantly, teammates for over 20 years on the usually- hapless New Yorker softball team. So, in a season of about 10 games, we might have played ball together 200 times.
It's said that shared adversity often brings people close together, and so, because the New Yorker softball team lost far more often than it won, Michael and I bonded and fretted more about our softball game than striving for OKs [an "OK" is the New Yorker's terminology for a bought cartoon] .
The team has been an odd assemblage that shows up in Central Park every Tuesday at 7pm in the summer months.  It's been made up of two distinct groups: the first, very large, composed of maybe two-dozen Twenty-Something writers, fact-checkers, etc., full of enthusiasm and team spirit, many of whom, however, possessing little knowledge of the rules of the game or an ability to run, throw or hit a ball with a bat; and the second group, much smaller, comprising "the old guys," meaning anybody over 30, who knew the game and could play it pretty well.
Michael was in the second group, along with myself, occasionally other "oldies" like Mark Singer and Rick Hertzberg and some other editors, and I guess I could safely say that until the last four or so years, Michael was an anchor of the team.
For one thing, he was a regular.  He hated missing a game and he was  missed when he did.  A passionate, baseball fan, he knew everything about the game, so he was a valuable tactician, as well as a sure-handed fielder and a dependable, long-ball hitter who would deliver a big hit to drive in a run in clutch situations.
On and off the field, he served as a coach and leader to those (and there were many) who were coming out to play for the first time.  As soon as he arrived at the field, he'd start warmups, play catch, or start batting practice.  And when the game started, he'd  stay involved in it, even when we'd find ourselves on the short end of a 19-2 score after only two innings.
But Michael made it fun.  When our less-proficient teammates would make errors in the field or strike out at the plate, Michael would still shout encouragement, cheering us all on.  Sure, he wanted to win the game, but, he would remind me, when I got upset over all the messing up, it still was just a game.
Because often 25 people came out to play 10 positions, the coach would rotate players from inning to inning so everyone got a chance to play, but Michael was always the reliable, sure-handed first baseman. Until recently, when I've been pitching,  I usually played second base, which meant that sometimes, after I fielded a ground ball, my throw to first might have been off line, but Michael would  grab it for the out.  If a batter hit a spinning pop fly between first and second base, I'd usually defer to Michael's shout, "I got it!" because I felt that he would be less likely to muff the catch. And if Michael remembered an opposing batter's previous hit, he might position our players to afford us a better defense.
Michael's softball presence even extended outside himself.  I remember that after he'd been playing for a few years, Michael's grown son and daughter showed up at the games — not just to watch Dad but to play themselves.  Not surprisingly, both were solid, in the field and at bat.  It was also not a surprise, after some more years, that Carolita [Johnson] also came to play.  Of course, being the free spirit she is, she participated in her own way, showing up on occasions after a photo shoot, wearing heels, and going out to play right field barefoot …very well.
It occurs to me now, that when Michael was at the softball game, he was totally in the moment, which, when I think about it, did not always seem the case.  Off the field he seemed different.  When I'd see him at normal social situations, like cartoonist gatherings, or on look days at the magazine, Michael might be operating on his own private wave length, there but, you know, not there.  But on the ball field, Michael was always present with everyone else around him.  Talking it up at first base, digging in at the plate, shouting encouragement to runners or batters if he was coaching at first or third.  And, if he wasn't "playing" in those roles, he would be roaming around the field taking photographs.  Photos of the action.  Photos of us playing.  Photos of us  just hanging out.  Baseball photos, probably thousands of them, many of which probably wound up in his paintings and cartoons.  A seamless blending of two of Michael's greatest passions — baseball and art.
So, a salute to a teammate, and a remembrance of a Most Valuable Player.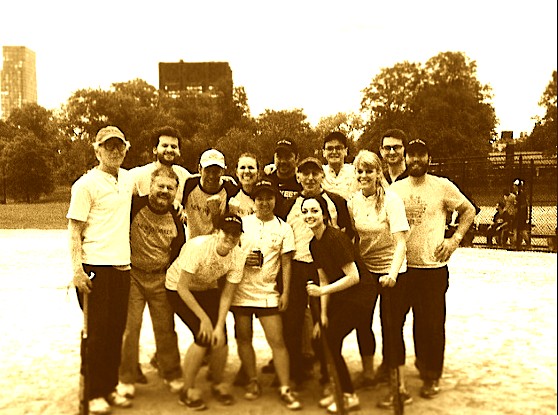 [Mr. Crawford, far left, with members of The New Yorker's softball team, celebrating an opening day victory]