Just a few days after a gathering of New Yorker cartoonists in Brooklyn (for the Not Ok exhibit) there was another gathering — this one last night at 1 World Trade Center. Conde Nast, The New Yorker's parent company hosted at get-together to introduce its new Cartoon Bank team to the artists. In the photo above from left to right: Felipe Galindo, Liana Finck, Colin Stokes, Jeremy Nguyen, Colin Tom, Farley Katz, Robert Leighton, and Ben Schwartz.
Above: the placard greeting visitors to the event.
Liza Donnelly provided all the photos here as well as this synopsis of the event:
We were greeted with glasses of wine and fancy little bites of food served on trays, and met by very friendly folks from Condé Nast. At 6:00 on the dot, there were already around six cartoonists there, and many more started filtering in — the number reaching probably 40-50+ cartoonists. Everyone seemed so happy to be able to just hang out with each other and catch up. I saw friends I hadn't seen for decades, and met new friends. It was a lovely mixture of new cartoonists and seasoned cartoonists, talking together. Remarks were made by our Condé Nast hosts, as well as from New Yorker editor David Remnick, who went casual in a short sleeved shirt. New cartoon editor, Emma Allen also spoke and welcomed the cartoonists.
There were classic cartoons framed on the gallery wall (all art from those in attendance). Interestingly, the breathtaking view from the 34th floor of the World Trade Center where the event was held quickly took a back seat to talking and laughing with pals. The whole evening had a fun buzz- and by 8:30 when I left, a large group was still lingering.
Left photo: foreground, Huguette Martel, David Borchart on the left in profile; Evan Forsch is directly above Ms. Martel, looking over his glasses. Robert Leighton in checked shirt. Photo right: Tom Hachtman in background, left. Chris Weyant in black polo shirt facing away from camera, Marisa Acocella Marchetto center. Mark Alan Stamaty in background in plum colored shirt talking with Tom Bachtell.
Below: the New Yorker's cartoon editor, Emma Allen on left, then Ed Steed, Julia Suits and the magazine's assistant cartoon editor, Colin Stokes
Below, left photo: David Borchart, Pat Byrnes, John O'Brien; Right photo: New Yorker editor, David Remnick addresses the crowd.
Below, left photo: Frank Cotham, Sam Gross, Ed Steed. Photo right: Julia Suits and Bob Eckstein
Below: Andrea Arroyo, Felipe Galindo and Peter Kuper
Below, left photo: Liana Finck and Liza Donnelly. Photo right: Sam Marlow and Ellis Rosen
Below: Felipe Galindo and George Booth
Below: front and center, Barbara Smaller with Chris Weyant, and to the left, Huguette Martel speaks with Arnie Levin
Below left photo: Emily Flake, Jeremy Nguyen, Sara Lautman. Photo right: Joe Dator and Ben Schwartz.
Below: Colin Tom, J.A.K. (Jason Adam Katzenstein) and Pat Byrnes, in profile
Below: Glen Le Lievre, John Jonik, and John O'Brien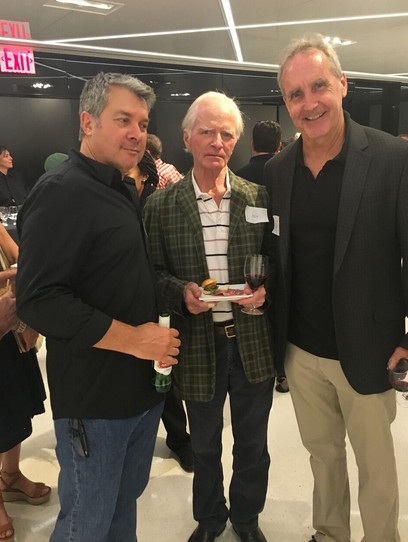 Below: New Yorker publisher, Lisa Hughes speaks with George Booth. In the background, center, is Teresa Nash, part of the Cartoon Bank team.
Below left photo: Tom Bachtell, Marisabina Russo. Photo right: David Sipress, Ben Schwartz.
Below, foreground, Emma Allen talks with Frank Cotham. That's George Booth on the left and Barbara Smaller on the far right.
Below: Mark Alan Stamaty, Marcellus Hall, and Peter Kuper
Below: Marisa Acocello Marchetto and Sam Gross (Tom Hachtman in the back, right)